How to Become a Sales Manager
How to Become a Sales Manager
How to Become a Sales Manager
Imagine you oversee a sales team. Then imagine one of your sales reps is having a difficult time closing a deal with a prospective client. After countless calls, lunches, and meetings, the prospect is still reluctant to sign. At this point, you tell the sales rep you'd like to attend the next meeting.
During the meeting, you ask the prospect why they are reluctant to move forward. Their concern is that they are still evaluating several service providers, and they want to be sure they are making the best financial decision for the company.
After taking a moment to pause, you ask about their bill rate, which you learn is $150 per hour. You then ask how many hours they have spent trying to decide which company to go with. After a little back and forth, you point out that spending close to 30 hours trying to decide on a vendor has cost $4,500 in billable time. You also note that by making a decision right now, they can get back to doing things that generate revenue.
The prospect signs immediately.
This scenario demonstrates that sales managers are active problem solvers, talented communicators, and skilled relationship builders. This valued, specialized profession within the broader field of marketing and communication serves a wide range of industries, enabling job seekers to apply their sales talents to businesses that share their values and passions. Sales management is about using empathy, networking, and active listening to create connections and find solutions.
A significant part of what a sales professional does is help customers and clients find the right product or service for their needs. The ability to apply sales experience from one industry to another makes this flexible and versatile position attractive to many.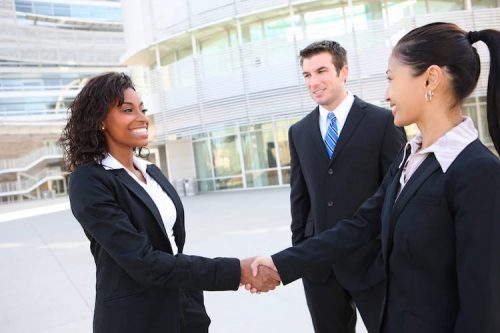 The path to becoming a sales professional can look different from person to person, but there is some common knowledge, education, and training that many find useful on their path. For instance, some sales professionals may pursue an online bachelor's degree in marketing to help them fulfill their sales management goals.
What Does a Sales Manager Do?
While there are a significant number of people who engage in sales as a part of their job description, not all are formally trained in the sales management skill set. Sales managers often have advanced knowledge of how to work with others and apply their expertise in marketing and communication to benefit businesses and customers.
Sales managers understand how to target prospective clients through cold calling and marketing campaigns, as well as how to guide prospects through the sales cycle. They are well versed in the ABCs of selling (Always Be Closing), and they educate other sales staff on how to improve their sales close rates.
Sales managers can fill a variety of roles, including positions in advertising and digital media sales. These agents may sell organizations and individual clients advertising space in print, online, and broadcast media, as well as billboards and other types of out-of-home (OOH) advertising. Sales may involve single ads or larger packages that run across multiple platforms.
An advertising sales manager oversees the account, cultivates relationships with prospective clients, and assists in the preparation of promotional plans. They also are clear communicators who understand how to help their clients promote their products, services, and messages to targeted audiences.
The specifics of a sales manager's day-to-day work will vary depending on some key factors. These include the services or products they have chosen to focus on, and the sales mechanisms they apply — whether in person, online, or over the phone. Regardless of the means, there are some skills and responsibilities that sales managers take on almost daily. These include:
Researching and cultivating potential clients. Sales managers use market research and networking skills to discover, meet, and cultivate clients. This ability to connect with others is one of the most basic requirements of the role. In this position, expect to interact with others at business and networking events, adding names to the list of potential clients. Sales managers must be expert networkers who are comfortable interacting with prospects in a variety of settings, such as in-office meetings, conferences, recreational outings, and client lunches or dinners.
Educating others about products and services. Working as a liaison between a business and its potential customers, sales managers must have a keen ability to educate others about the products and services they represent. Using their advanced communication skills, sales managers are able to make this process personalized and fun.
Maintaining relationships. Being a sales manager isn't only about meeting new people and making connections — it's also important to maintain these relationships over time. Repeat customers are essential to sales success. Many companies operate under the 80/20 rule, which states that sales managers generate 80% of their business from 20% of their customers, according to the Houston Chronicle. People in this position continue working with and supporting their clients through the entire sales process, and even long after the transaction has been completed.
Applying leadership and modern communication. Sales managers are strategic self-starters who understand they operate in a modern, digital society. They should be skilled in using technologies such as customer relationship management (CRM) software. They should also stay up to date on new communication advances to be ready to respond quickly to the needs of current and potential clients.
Hiring and training sales staff. Sales managers play an important role in the recruiting, hiring, and training of sales staff. They set training and travel budgets, assign sales territories, and closely monitor new hires to evaluate their performance. Sales managers may also advise sales representatives on how to improve their performance, and in some cases, they'll set targets or quotas for outbound calls and lead generation.
How to Become a Sales Rep or Manager
The path to becoming a sales representative varies widely. Individuals may begin their job hunt shortly after earning an undergraduate degree, or they may step into the role after many years of work at a company.
For sales management positions, individuals often pursue a college degree and then work their way into a supervisory role by gaining experience as a sales representative, account manager, or other related role. Account managers and account executives serve as liaisons between a business and its clients, conducting both sales and customer service duties. Account executives focus on cultivating relationships with newer customers, while account managers manage an existing client base.
Whatever path you take toward becoming a sales manager, it is important to spend time cultivating the appropriate expertise, knowledge, and skills that are demanded by this engaging profession. The following steps outline how to become a sales manager.
Earn a Bachelor's Degree
Many employers require candidates for sales management positions to have at least an undergraduate degree. Studying marketing can help equip professionals with the skills to succeed in the profession. For this reason, applicants for sales management positions often benefit from completing an online bachelor's degree in marketing, online bachelor's degree in communication, or related course of study. This type of program enables students to gain hands-on practice in strategic marketing and interpersonal communication skills that can lay the foundation for ongoing success in sales management.
Gain Sales Experience
Sales managers have nuanced interpersonal skills, cultivated through years of interacting with clients and business associates. As they connect with others, work with their team, research the market, and meet deadlines, they prepare themselves to advance professionally. Marketing degree programs often incorporate opportunities to gain practical, hands-on experience, including internships. By participating in an internship and working with faculty mentors, students can learn directly from seasoned professionals about how to apply key sales skills in real-world scenarios before they graduate.
Continuing Learning
Even after you've landed your dream sales manager position, it is important to stay up to date on all the latest marketing news and advancements in your industry. The digital age has changed the landscape of the sales profession in many important ways, and with ongoing technological improvements, that trend is likely to continue. As such, it is vital that sales managers continually educate themselves about new developments that could impact their business, adapt their techniques when necessary, and measure their success along the way.
Sales Manager Salaries
Sales manager salaries can range widely by position, industry, location, experience level, and other factors. For example, the U.S. Bureau of Labor Statistics (BLS) reports that as of May 2019 the starting salary for sales managers was $59,810. The top-range salary was about $208,000, with an average annual wage of $126,640. It should be noted that most sales manager salaries consist of a base salary plus commission structure. In some cases, sales managers may receive additional bonuses if their sales team meets or exceeds performance goals.
Employment Outlook for Sales Manager
Data from the BLS indicates that employment of sales managers is projected to increase by 5% between 2018 and 2028, which is about as fast as the average projected growth for all occupations. Employment opportunities for sales managers will vary widely based on the industries that employ them. Examples of the top industries that are hiring professionals in this field include companies in technology, healthcare, pharmaceuticals, financial services, and mobile/digital payment solutions.
As the economy expands, organizations in both the public and private sectors will rely on experienced sales managers to help generate leads, expand market share, and increase profitability. As such, employers in a range of industries are likely to continue seeking skilled salespeople who are adaptable and adept enough to build and maintain interpersonal relationships.
Sales Manager Education at Maryville University
In a world of rapidly developing technology and abundant options for connecting with potential customers, organizations put a premium on motivated, educated sales managers. If you're excited by the prospect of developing relationships and helping customers find the right products and services, you may want to consider a career in sales management.
Are you ready to be brave and take the first steps toward becoming a sales manager? Discover how Maryville University's online Bachelor of Science in Marketing can prepare you for a world of opportunities.
Recommended Reading
Marketing vs Sales: Similarities, Differences, and the Future of Marketing
Bachelor's in Marketing and Bachelor's in Business Administration Information Session
8 Types of Digital Marketing for Promoting a Business
Sources
Forbes, "The 5 Habits of Successful Sales Leaders"
Houston Chronicle, "The 80/20 Rule in Sales Team Performance"
Investopedia, Always Be Closing—ABC Definition
PayScale, Sales Manager Salary
Peak Sales Recruiting, "Top Industries for Sales Jobs in 2018"
Sales Hacker, "10 Essential Traits of Highly Successful Salespeople"
U.S. Bureau of Labor Statistics, Advertising Sales Agents
U.S. Bureau of Labor Statistics, Sales Managers
Be Brave
Bring us your ambition and we'll guide you along a personalized path to a quality education that's designed to change your life.