Online Bachelor's Degrees
Online Bachelor's Degrees
Online Bachelor's Degrees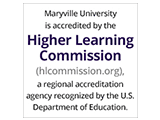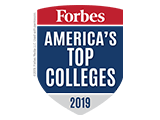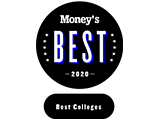 One brave decision.
Limitless possibilities.
The world is changing quickly. And if you want to thrive in it, you have to keep up. With an online bachelor's degree from a respected university like Maryville, you can gain the knowledge base to make you stand out to top employers.
Maryville offers 30+ bachelor's degrees that fit seamlessly into your busy schedule. They all feature a flexible format, helpful transfer tips, and personalized support to help you succeed every step of the way.
Ready to apply to Maryville University?
Complete this quick form to launch your application

Study 100% online

Apply with no entrance exams

Choose from multiple start dates

Apply to transfer eligible credits
Which online bachelor's degree is right for you?
The first step in selecting a bachelor's degree is knowing which direction you want to go. And with 30+ online bachelor's degrees — including high-demand degrees like a bachelor's in accounting, cybersecurity, healthcare management, and more — it's just a matter of where your passion lies.
Featured online bachelor's degree programs
To give you an idea of what you can expect from our online bachelor's degree programs, take a look at a couple of our more popular degrees and what they offer.
Give yourself a boost in the business world with our online bachelor's in business administration. There you'll have the opportunity to learn how to express your ideas more effectively, use data to support your decisions, and take concepts from production to promotion, all in a curriculum accredited by the Accreditation Council for Business Schools and Programs (ACBSP).
You can even specialize your online bachelor's degree by choosing an emphasis area such as accounting, finance, healthcare, marketing, management information systems, cybersecurity, or organizational leadership. These can help get you ready for your next job or provide the foundation for your MBA.
If your goal is to impact the world of law, criminal justice, corrections, and community service, our online bachelor's in forensic psychology can position you to do just that. Whether you're looking to enter the workforce immediately or pursue a graduate degree, this program offers the skills and knowledge to help you get there.
The well-rounded curriculum consists of psychology and criminal justice, combined with methodological courses. And the psychology coursework is designed to meet American Psychological Association standards.
Why choose Maryville for your online bachelor's degree?
Getting your online bachelor's degree is a brave step. It's also a big one. You want to choose the right university — one with a reputation for delivering a quality, respected curriculum in the online environment.
Maryville University believes in rewarding your brave decision by offering academic excellence at an economic value. After all, earning your degree online around your busy schedule shouldn't mean you have to sacrifice quality — in any way. The end goal is your success, and that's why 96% of our online undergraduate program graduates find a new career in their chosen field or enroll in advanced education programs within six months of graduating.
Plus, we're here for you every step of the way. Earning an online undergraduate degree takes courage, and that doesn't go unnoticed by our student support team. They know the commitment you've made to yourself and your future, which is why they do everything they can to ensure you have a positive experience at Maryville.
Learn more about their dedicated support.
Why earn your bachelor's degree online?
If you're like most people, your schedule doesn't really allow for full-time, on-campus education. You need a program that works around you and your life. Maryville's online bachelor's degrees use leading education technologies that are simple to navigate and fully supported, which makes getting your degree even more convenient.
Complete your coursework 100% online and apply with no fee.
Connect with faculty experts who work with your schedule.
Benefit from dedicated 24/7 technical support.
Start when it's convenient for you — fall, spring, or summer.
How do you choose your online bachelor's degree?
So you're feeling brave, and you've decided to get your online bachelor's degree. That's great — but Maryville offers so many degrees in high-demand fields. Which one will be best for you?
We can help.
Let's talk. About your ambitions; your passions; your motivations. We'll help guide you along a personalized path to a quality education designed to change your life. We believe in you. And we believe in you and us together.
What do online bachelor's degree students say?
We believe our online bachelor's degrees are special and offer a great value. But don't just take our word for it. Here are what some of our grads have to say.
"The online nursing experience is much different than the classroom experience. We work in groups as classmates, and we network with each other — sometimes with students in other states even. And that really helps us share ideas and get to know how other people do things."
— Elizabeth Miller, Online Nursing Student
"One of the best things about the cybersecurity program is that it's tailored to fit the certifications. So a lot of certifications that you need in the real world, you may not even know about in other programs until after you get out."
— Jonathan Tock, Online Cybersecurity Student
Meet our online bachelor's degree faculty.
Earning a bachelor's degree online doesn't have to mean compromising on quality. No matter which program you choose, you'll be learning from a renowned faculty made up of industry leaders with both real-world experience and a passion for helping you succeed.
Check them out for yourself.
Be Brave
Bring us your ambition and we'll guide you along a personalized path to a quality education that's designed to change your life.