Why Maryville?
Why Maryville?
Why Maryville?
Your legacy will inspire others.
Let ours inspire you.
We've been disrupting higher education since 1872. It's this bravery that fuels our mission to serve students' needs as we encourage them to push forward toward their goals. Learn more about Maryville's legacy.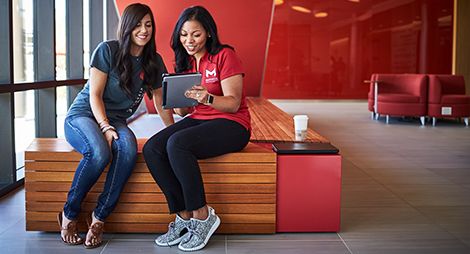 Learning is personal.
So is our approach.
Everyone learns differently. That's why we provide you with support from a student advisor the entire way. Together, we'll learn your strengths and develop a plan that fits your needs. Your future is a personalized path. Your education should be, too.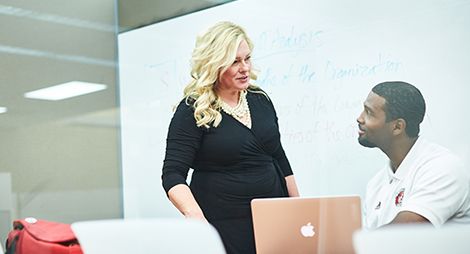 Get the support you need — every step of the way.
We believe everything in the classroom should be challenging, and everything outside of it should be easy. That's why we streamline the admission process, provide helpful transfer guides, and offer personalized support throughout your educational journey.
Why Maryville?
Choosing to further your education is a brave step. It's also a big one. You want to choose the right university — one with regional accreditation and a reputation for delivering a high-quality, respected curriculum in the online environment.
Maryville University's online bachelor's, master's, doctoral, or certificate programs can help you reach any goal you dare to set.
For nearly 150 years, we've continually offered a high-quality educational experience through the Maryville Approach ― a methodology that embraces innovation, a students-first focus, and a commitment to helping you accomplish your personal and professional goals.
Now, online access makes it possible for more students than ever to pursue higher education and earn their college degrees ― without disrupting their lives.
Nationally Recognized
Maryville has earned a long list of rankings and honors from some noteworthy organizations and publications. And as we grow, so does that list of achievements. In fact, Maryville was named the nation's 2nd fastest-growing private university by the Chronicle of Higher Education in 2022. Other accolades include:
Distinguished among Forbes'"Top Colleges" (2019)
Ranked as a "Best National University" by U.S. News & World Report (2022)
Listed as a "Best College Values" school by Kiplinger's Personal Finance (2019)
Accredited by the Higher Learning Commission
Named as an Apple Distinguished School (2021-2024)
Designated as a National Center of Academic Excellence in Cyber Defense by the National Security Agency (NSA)
And that's just a sample. You can see the full list at our rankings and honors page.
We're in it for your success.
When you earn your online degree at Maryville, you get the same high-quality education as our on-campus students. We don't compromise when it comes to academic excellence, and everything we do is designed to be student-centric, so you can be sure you have all the resources and support services you need to succeed in the classroom and beyond. The end goal is your success, and that's why 98% of our graduates have a job or enroll in advanced education programs within six months of graduating.
We even offer an Early Access program for eligible students that allows you to get a jump start on your graduate studies by taking graduate courses that count toward both your undergraduate and graduate degrees.
Our faculty is focused on you first.
Our faculty members are a large part of what makes us different, and the biggest reason our students are so successful. No matter which program you choose, you'll have the opportunity to learn from a renowned group of industry leaders and subject matter experts with both real-world experience and a passion for helping you excel.
Our faculty are professionals and leaders in their fields who bring their experiences and knowledge into the classroom, but what makes them truly unique is that they're about teaching first. They embody Maryville's philosophy of measuring our success by yours — and they are invested in helping you excel in the classroom, in your career, and beyond.
Learn more about them on our faculty page.
Support from every angle.
We get it. Enrolling to earn a college degree is a big transition — and we want you to feel empowered through it all. That's why we provide the support you need – the way you need it. At Maryville, you'll benefit from:
A faculty committed to your success
A hassle-free admissions process where enrollment advisors help you through the process, including transferring credits, financial aid, and more
Admission with no application fees and no entrance exams
Student Support Services to help guide you through your educational journey
A students-first mindset that helps ensure you gain relevant, real-world experience, so you're prepared to be successful in your career on day one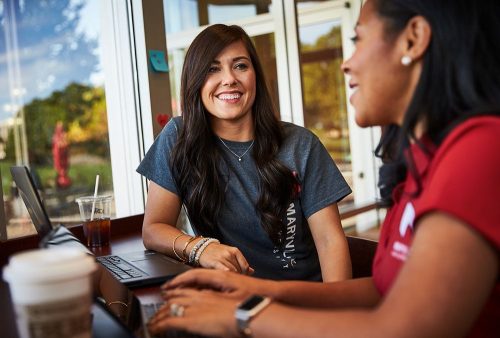 See how Maryville Online is right for you.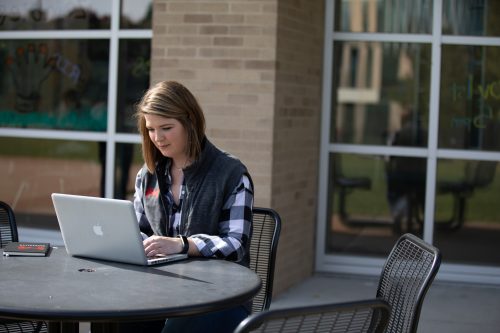 Take your next step.
Be Brave
Bring us your ambition and we'll guide you along a personalized path to a quality education that's designed to change your life.