Online Bachelor's in Digital Media
Online Bachelor's in Digital Media
Online Bachelor's in Digital Media
Your future is in motion.


Lead its design.
It's an exciting time to build a future in the global design industry. Every advancement in digital graphics and technology changes the way creative professionals think and work — and pushes designers to new heights of sophistication. That means the design and digital media field is shifting to appeal to evolving sensibilities, and businesses are looking to build the modern aesthetic to thrive. Our goal is to help you do the same.
Earn your bachelor's in digital media online from Maryville University and you can do more than design a career you're truly passionate about. You can become a visual communications professional with the creative chops to grow in this evolving field — and to help shape tomorrow's conversations.

Apply with no application fee and no SAT/ACT required

Explore financial aid and eligible transfer credit options

Access 100% online coursework that is NASAD accredited

Learn from experienced designers and industry leaders.

Evolve your digital media skills with industry-leading Adobe tools.
Create a dynamic portfolio with professional faculty feedback.
Why earn your online Bachelor of Fine Arts in Digital Media?
Visual communication isn't just the future — it's the present. New technological developments and burgeoning aesthetic sensibilities have changed the way design and digital media fit into our lives and our careers. As the industry grows, it fundamentally shifts the roles that creative thinkers and digital strategists take in the modern workplace — and the way we do business.
Businesses and organizations everywhere have adapted their models and strategies to take full advantage of the growing opportunities the digital landscape presents, making visual communication more valuable than ever. As this trend continues to grow, so does the need for skilled digital media specialists who understand technology and design.
Maryville's online bachelor's in digital media program provides the knowledge and skills you need to become a highly valued visual communicator, which can open doors to a number of different career paths in a dynamic field.
When you pursue an online bachelor's in digital media from Maryville, you stand to earn a highly respected degree from a private, four-year institution that's ranked as one of America's best colleges by U.S. News & World Report and Forbes. We've also earned the honor of being named an Apple Distinguished School for 2021-2024.
Flexible, affordable, and highly personalized.
Study on your schedule.
Access 100% online coursework with no campus visits required.
Benefit from streamlined admissions.
Apply with no application fee or entrance exams, and choose from six start dates.
Get the support you need.
Apply to be considered for financial aid and get transfer credits for eligible courses.
Professional and practical.
Create a dynamic portfolio with professional faculty feedback.
Learn from industry leaders.
Discuss your portfolio with our dedicated faculty, who help you connect the curriculum to your career vision.
What can you do with an online bachelor's in digital media?
Digital graphics and design technologies have transformed the way creative professionals work. That means career paths and roles in the field have evolved, too. Evolution keeps things interesting — especially when it comes to all things creative.
Consider the freedom of flexibility in design. You are no longer bound by the limitations of a single, in-office workstation. Now, you can access sophisticated design tools and software applications from anywhere in the world.
Consider how you'll create your future in design. Today's digital media and design industry is exciting, fast paced, and rewards innovation. It's a field offering abundant opportunities to put your passion for art and technology to work in a relevant, impactful way.
You can work in a variety of settings, including:
Graphic and interactive design
Advertising, branding, and marketing
Print production
Motion graphics (film and video)
Video game production
App, web, and software development
User Experience and User Interface (UX/UI) design
Career paths for online digital media degree grads include:
Digital media specialist
Graphic designer
Digital artist/illustrator
Digital media designer
Interactive designer
Web designer
User Experience (UX) designer
User Interface (UI) designer
Interaction designer
Motion graphics designer
What's the market outlook for B.F.A. in Digital Media?
Higher earning potential
While starting salaries vary based on experience and location, the median wage for roles like graphic designer and web designer range between $50,000 and $52,000. Earn your bachelor's in digital media, and you can ultimately qualify for positions like multimedia artist and art director — where average salaries can range between $86,000 and $121,000.*
Rising industry demand
There's opportunity in many fields for professionals with design and digital media skills. In fact, the U.S. Bureau of Labor Statistics estimates that graphic designer jobs in computer and related fields are expected to grow. Additionally, the BLS projects an increased demand for designers in companies seeking to further their digital presence.
Diverse career paths
The design profession has evolved dramatically in recent years. It's become a hybrid industry — one that's just as technical as it is creative. That means your role can transform alongside technology. Think about augmented and virtual reality. As tech advances, so will designers who can create immersive experiences. This program can be a foundation to explore emerging roles.
*Salary and growth data based on data compiled by the U.S. Bureau of Labor Statistics.
Why choose Maryville University's online digital media degree?
You're focused on the future of design. So are we.
As a student enrolled in our online digital media program, you will have access to certain courses that use industry-leading Adobe tools to help you evolve your digital media skills. All of Maryville's BFA degrees are accredited by the National Association of Schools of Art and Design (NASAD) — which means you can graduate from a university recognized for delivering the academic foundation to achieve significant accomplishments in the field.
Go beyond the books. Learn by doing.
Our goal is simple: We're here to help you evolve and grow as a designer in today's digital world. It's the reason our online bachelor's in digital media program puts the focus on real-world application.
We'll help you make connections, teach you to work collaboratively, and show you how to apply feedback from professional critiques. This includes the virtual reviews of your portfolio by faculty members. You'll also have the chance to apply your skills through immersive capstone projects and an optional internship.
Put our reputation to work.
Maryville University has been empowering brave students like you since 1872. We're proud of our reputation for quality academics and affordability, because it demonstrates our commitment to excellence and accessibility. Choose Maryville and know you'll receive the highest possible standards in education — especially when it comes to a BFA in Digital Media.
Maryville meets high standards: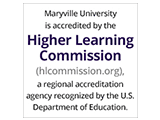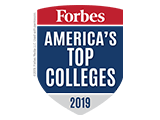 Faculty Spotlight
Jonathan Fahnestock, MFA


Director, Graphic & Interactive Design Programs
How do you become a leader in design? Learn from one. When you earn your BFA in Digital Media online at Maryville, you'll learn from industry-leading creative professionals like Professor Fahnestock. He has extensive experience as a graphic designer, art director, and multimedia specialist in the advertising, marketing, and e-learning industries.
Leverage his design experience — and build your own. Professor Fahnestock focuses on the aesthetic, technical, and theoretical aspects of design across a variety of mediums and specialties. He can help you develop foundational creative skills in areas like graphical user interface design, usability, web design, interactive application development and scripting, motion, and instructional interactive media.
He's an inspiring role model — and he's driven to help students like you develop the creative chops to shape the future of visual storytelling. This is your chance to learn from him. Let's be brave together.
Online Bachelor's in Digital Media Curriculum
Maryville's online Bachelor of Fine Arts in Digital Media is a dynamic degree that includes an art history core (to train your eye as a creative) and an interdisciplinary core (to help you hone business skills in communications, marketing, and design psychology).
The program requires that you complete a total of 128 credit hours:
Digital media major courses
General education courses
General elective courses
Build a strong foundation in art, interactive design, and digital media. Explore art history and build foundational skills in digital illustration, animation, game design, motion graphics, User Experience (UX) and User Interface (UI) design, visual thinking, and web design.
Learn how digital media is used across disciplines and fields. Study the psychology of design and explore its application in contemporary communication, new and social media, marketing and branding, and the broader business world.
Showcase your skills through professional projects. Design portfolio-ready pieces and complete immersive capstone projects that target your professional development — and aim to ensure you deliver the high-caliber creative today's employers, clients, and graduate schools want to see.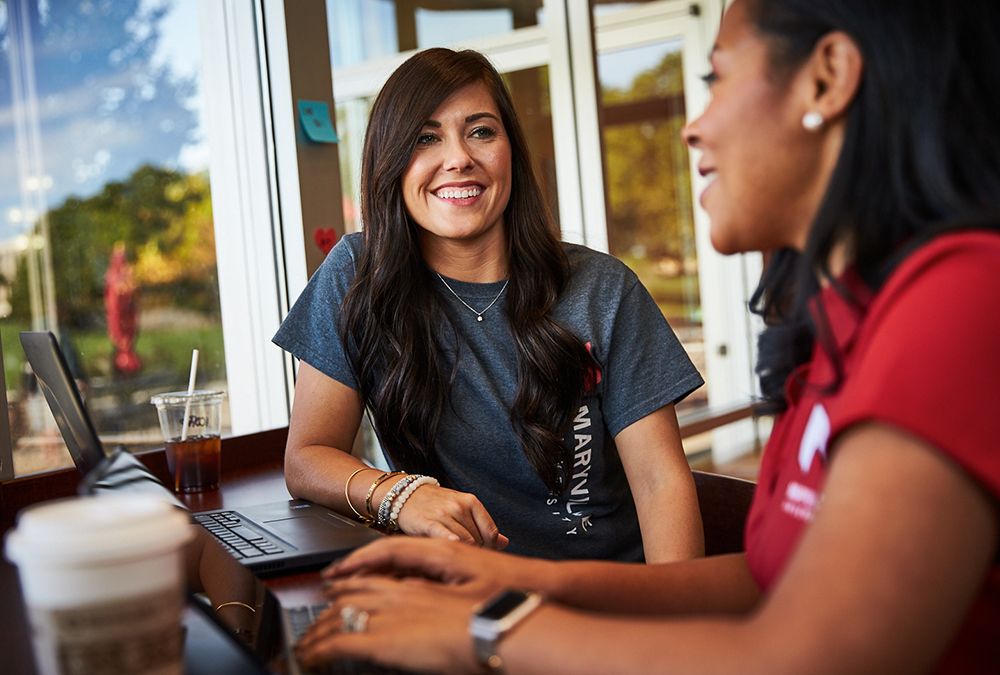 There's more to your digital media major.
Your BFA in Digital Media can serve as the springboard for your future as a visual storyteller. It's the reason we built the program to support your transition to one of our online graduate programs.
Get a head start with Early Access.
Maryville's Early Access program allows you to earn up to 12 credits toward your master's degree. We only require that you be a current Maryville undergraduate student, you've completed 90 credit hours or more, and you hold a GPA of 3.25 or better.
Contact your academic advisor to find out if you're eligible for Early Access and
learn more about some of our other online graduate programs:
Learn more about the online bachelor's in digital media at Maryville University.
Be Brave
Bring us your ambition and we'll guide you along a personalized path to a quality education that's designed to change your life.