Online Communication Degrees
Online Communication Degrees
Online Communication Degrees

The future of communication is online.
So is your education.
Wherever you want to go in your career, your communication degree can take you there. Businesses and organizations of all types, sizes, and industries need future-focused communication professionals to help them tell their story, connect with the public, engage with the media, and communicate with employees. And as communication makes the shift to digital, demand for brave leaders in the field will continue to rise.
At Maryville, we designed our online communication degrees to help you find personal satisfaction and professional success — no matter what your goals are. We have programs at the bachelor's and master's levels, so we can help you find your next step whether you're an established professional or a newcomer just discovering the field.

100% online with no campus visits required

Transfer credit friendly

Collaborative learning environment
Bachelor's in communication
We designed this immersive program to give you hands-on experience as you build your foundation in communication. Study topics relating to PR, marketing, journalism, advertising, media, and many other fields. And when you earn your bachelor's in communication online at Maryville, you can tailor your educational experience to your goals by choosing from two concentrations: strategic communication or emerging media strategy and social media.
Learn more about our online Bachelor of Arts in Communication.
The field of marketing has changed dramatically with advances in technology and digital media. And that means more career opportunity for professionals in the field. That's why we designed our online bachelor's in marketing to provide you with a project-based, future-focused curriculum that features core coursework in both business and marketing. You also will have the opportunity to build experience through a senior experience course and an optional internship. Learn the marketing and business techniques and strategies to help you excel in your career immediately — and well into the future.
Learn more about our online Bachelor of Science in Marketing degree.
Master's in strategic communication and leadership
As the way we do business evolves, so do communication needs. Our online master's in strategic communication and leadership can help you keep up and thrive. Learn the advanced skills and techniques to create integrated marketing campaigns, drive social and SEO initiatives, and position yourself to be a leader in your organization.
Learn more about our online Master of Arts in Strategic Communication and Leadership.
Industry-driven Certifications for Communication Professionals
By earning your bachelor's or master's in communication, you'll have the opportunity to complete real-world projects for nonprofits and businesses, and you can graduate with valuable certifications from organizations like:
Why choose Maryville for your online communication degree?

Technology, social media, and our increasingly interconnected society have disrupted the way businesses and organizations approach communication. At Maryville, we're no strangers to disruption. We have a nearly 150-year history of challenging the status quo and making high-quality education accessible to anyone with the courage and drive to pursue it.
Our online communication programs are no different. We designed them to focus on real-world scenarios and practical application, so you can graduate with relevant industry experience and a portfolio of top-level work. In addition, our courses are taught by industry professionals who know what it takes to succeed in the field — because they've done it.
When you earn your online communication degree at Maryville, we prioritize your success. That means we support you throughout your educational journey, from application through graduation and beyond. If you're brave enough to pursue your online education, let's be brave together.
Why earn your bachelor's or master's degree
in communication online?
The future of communication is online. And that's where your professional future starts, too. It takes courage to pursue your education with so much else going on in your life — but that's what our online communication degree curriculum allows you to do.
When you earn your bachelor's or master's degree in communication online, you work and study on your time, so you don't have to compromise on the things that matter to you: career, family, social life. At Maryville, we help you achieve your educational goals around your busy schedule — and on your terms.
Complete your coursework 100% online and apply with no application fee.
Connect with faculty experts who work with your schedule.
Benefit from dedicated 24/7 technical support.
Start when it's convenient for you — fall, spring, or summer.
What careers can you pursue with
your online communication degree?
Whether you're just preparing to start your career in communication or an established professional looking to move up or enhance your skill set, your online communication degree from Maryville can position you to take advantage of the opportunities in an exciting — and expanding — field.
You can begin your pursuit of many of these roles with a bachelor's degree in communication or marketing. However, some employers may prefer for you to have a graduate-level degree, like your master's in strategic communication and leadership, to seek higher-level positions.
Here are some roles you can pursue:
Account executive
Communications director
Communications specialist
Community manager
Copywriter
Digital media manager
Editor/copy editor
Journalist/reporter
Marketing director
Marketing manager
Media planner/strategist
Promotions manager
Public affairs specialist
Public information officer
Public relations specialist
Social media manager/strategist
What is the career outlook for communication,
media, and marketing?
According to the U.S. Bureau of Labor Statistics (BLS), demand for media and communication professionals is rising as new technologies, platforms, and social media applications arise. While demand is growing at the same rate as the average across all industries, the breadth of opportunities is expanding as communication becomes increasingly digital.
These new opportunities mean that professionals in communication and marketing can command high salaries. According to the BLS, median annual pay in media and communication is about $56,340 — almost $20,000 higher than the median salary across all occupations. While salaries vary depending on factors like location and experience, top earners in fields like communication, public relations, marketing, advertising, and writing can earn well over $100,000. Here are a few popular career choices and median salaries:*
Public relations specialist
$59,300
Reporter/correspondent/broadcaster
$40,910
Advertising/promotions manager
$106,130
Public relations/fundraising manager
$111,280
*Salary information based on data compiled by the U.S. Bureau of Labor Statistics.
Meet our online communication degree faculty.
When you earn your degree online with Maryville, you can be sure you're getting a top-quality education with real-world application. That's because our courses are taught by expert faculty who have succeeded at all levels of communication — and who inform their lessons with their knowledge and experience.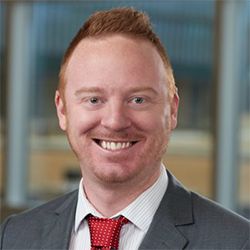 Meet Dustin York.
Associate Professor of Communication
After quickly rising as an expert media professional and consultant, Dr. Dustin York began his academic career in 2010 and has been helping to shape the next generation of strategic digital media professionals ever since.
EdD, Lindenwood University
MA, Communication, Lindenwood University
BS, Public Relations, Southeast Missouri State University
The energy that Dr. York brings to Maryville University's online communication programs helps our students embrace the pace of this dynamic, shifting industry. He knows from experience what it takes to keep up. He has consulted on political campaigns and contributed to strategic communication for major brands like Pepsi and Nike.
Now, thanks to his experience and his attention to today's trends, he can help you pursue similar success in your career. In Dr. York's classes, you'll have the opportunity to work with the latest digital tools and techniques to prepare yourself to thrive in communication today — and well into the future.
Dr. York exemplifies the relevant training and career guidance Maryville's faculty can offer you.
Be Brave
Bring us your ambition and we'll guide you along a personalized path to a quality education that's designed to change your life.