Online Bachelor's Degree in Marketing
Online Bachelor's Degree in Marketing
Online Bachelor's Degree in Marketing
There's never been a more exciting time to be a marketer. As time and digital technology have transformed the consumer journey, today's marketers need more than just wide-ranging knowledge of traditional marketing principles and business practices. They must also be skilled in search engine marketing (SEM), content management, social media engagement, data analytics, multimedia, and basic user experience (UX) design.
That's why Maryville University has developed its online Bachelor of Science in Marketing program to prepare you with the skills, knowledge, and tools to face the challenges ahead, whether you're just starting out or looking to take your marketing career to the next level.

Access coursework 100% online

Choose to start in fall, spring, or summer

Connect to our faculty of active business leaders

Apply with no application fee or entrance exams

Explore financial aid and eligible transfer credits options
Gain Early Access eligibility – get a head start on your graduate degree
Why earn your online degree in marketing?
Every organization needs skilled marketers. In fact, some of LinkedIn's top in-demand skills are consistently related to marketing. Companies large and small need highly qualified professionals to plan, create, manage, and analyze marketing programs, and that need is growing every day.
Maryville's online Bachelor of Science in Marketing degree not only focuses on the content side of marketing but also gives you a foundation in the strategic, financial, and operational side of business. You'll explore diverse topics such as digital and interactive marketing, consumer behavior, product development, business policies, managerial accounting, and statistics. This broad knowledge base can make you an attractive candidate for hiring managers.
Highlights of the online bachelor's in marketing major:
Complete coursework 100% online — no campus visits are required.
Benefit from a curriculum that includes a marketing and business core.
Build professional experience with internship opportunities.
Earn a flexible and convenient degree.
Benefit from transfer-friendly admission and explore financial aid options.
What can I do with an online marketing degree?
Maryville's accredited online bachelor's degree in marketing will help prepare you for success in a wide range of marketing careers across all sectors — public, private, and nonprofit. It can serve as the foundation of your continually evolving marketing expertise or even give you a head start on your MBA.
Marketing career path options
With your online marketing degree, you can build the expertise to pursue careers including:
Marketing, advertising, or promotions manager
Demand generation specialist
Market research analyst
Social media strategist
Events and product marketer
Operations manager
Social media manager
Graphic designer
Copywriter
Web developer
User experience developer
In settings such as:
Traditional ad agencies
Direct marketing agencies
In-house marketing departments
Government and nongovernmental organizations
Retail businesses
Nonprofits
Sales teams
Research and analytics firms
An online marketing degree from Maryville University can help you reach for the stars in your professional career.
What is the typical salary for marketing professionals?
Marketing professionals earn a wide range of salaries that vary depending on factors such as industry, location, and experience. Take a look at the median marketing salaries for a few careers:
Marketing, advertising, or promotions manager
$141,490*
Demand generation specialist
$56,000**
Social media strategist
$53,000**
Market research analyst
$65,810*
Sources: *BLS, May 2020; **PayScale.com, May 2021
Marketing job outlook
Here's an overview of the marketing employment landscape: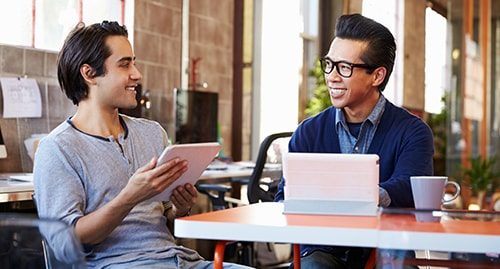 Digital is in demand.
Digital marketing is the top sought-after skill set in the field. According to a McKinley Marketing Partners hiring survey, 61% of hiring managers reported hiring for these skills in 2019.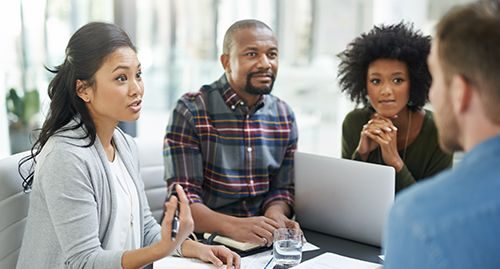 Qualified candidates are in short supply.
According to McKinley, 44% of hiring managers report not being able to find qualified candidates to fill their open positions.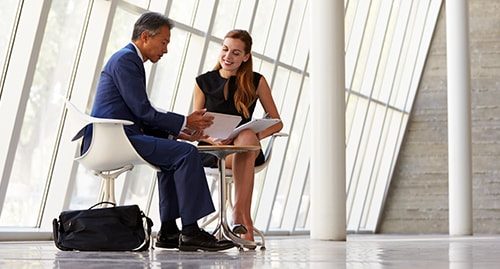 Above-average growth is expected.
The U.S. Bureau of Labor Statistics (BLS) projects the employment of advertising, promotions, and marketing managers to grow 6% from 2019 to 2029, faster than the average for all occupations.
Why choose Maryville's accredited online Bachelor of Marketing degree program?
Since 1872, Maryville University has built a reputation of academic excellence that now extends beyond our St. Louis campus to all of our online learners. We offer small class sizes and employ renowned faculty members.
In addition to the prestige and flexibility of studying online with Maryville, the online bachelor's degree in marketing offers every student the opportunity to experience what it's like to work in a real-world marketing environment.
In our senior experience course, you'll create a marketing plan, conduct research and analysis on the forces that shape market opportunities, and develop strategies for a target market. Along the way, you'll enjoy valuable opportunities to network, interact with mentors, and learn hands-on through internships.
That's why 96% of our online undergraduate program graduates find a new career in their chosen field or enroll in advanced education programs within six months of graduation.
We're distinguished by our dedication to your success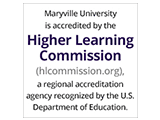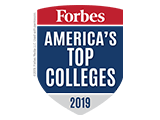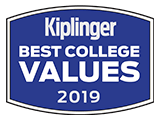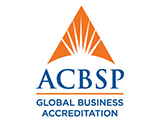 Our students are finding success at Maryville. So can you.
"The teachers are great. They will help you get the internships, they're always there for you, and there are just so many opportunities you have being a marketing student."
— Abby Duethman, online bachelor's in marketing student
Online Bachelor of Science in Marketing curriculum
The 128-credit online bachelor's in marketing curriculum features a robust business focus along with marketing coursework, giving you a competitive edge in the job market and preparing you for graduate study.
General Education — Strengthen your critical thinking, creative strategy, and data analysis abilities with courses in liberal arts, psychology, and math.
Business Core — Develop your management and marketing expertise with a foundation in financial accounting, economics, business law, and statistics.
Marketing Major — Study the many facets of marketing, from research and development to marketing management and consumer behavior.
Insights from our faculty
From the beginning, be as fearless as possible in exploring the nature of marketing in the modern world. Marketing is a multifaceted, highly interconnected, wildly interesting discipline that transcends career limitations. Along with seeking multiple internship experiences, being open to learning as much as you can — from analytics to consumer behavior — will expose you to the dynamic elements of marketing that will help you find your niche as a professional.

Our students gain the knowledge required to understand the consumer experience and how marketers can "meet" consumers where they are. This means understanding what customers want, what they value, and what they will ultimately benefit from. Students learn to acknowledge the consumer's position and then use research, data, and insights to strengthen a brand's position to reflect consumer interests.

We put a lot of emphasis on connecting students with opportunities for off-campus internships and on-campus apprenticeships, and we provide ample academic credit for students who pursue real-life opportunities as part of their core marketing curriculum.

We've experienced a tremendous global shift in e-commerce out of necessity. Although things were trending in that general direction, the pandemic added fuel to the fire. Direct-to-consumer marketing is gaining traction, as is the use of AI in popular apps to steer consumers to products seamlessly as they browse social media. Privacy is also becoming a growing issue for digital marketers as new technology puts data ownership into the hands of consumers, allowing them to opt out of tracking.
Get started on your graduate education
with Early Access
At Maryville University, you can get a head start on your graduate degree while earning your Bachelor of Science in Marketing online.
With our Early Access program, you can earn up to 12 credits that count toward both your master's degree and your bachelor's. Best of all, credits you earn through Early Access are charged at the undergraduate tuition rate, saving you time and money.
To qualify for Early Access, you must be a current Maryville undergraduate student, and you must have completed at least 75 credit hours with a GPA of 3.25 or better.
If you qualify and have not yet completed your elective requirements, we invite you to contact your academic advisor to explore Early Access and learn more about our exciting online graduate programs.
When you're ready to go further, we offer many online graduate degree options:
Frequently Asked Questions
With its core focus on business and marketing, Maryville's online marketing degree will prepare you for success in a wide range of careers across all sectors — public, private, and nonprofit.

Take the reins as a marketing manager or market research analyst in an advertising agency, direct marketing agency, or in-house marketing department. Shape the public perception of your business as a public relations professional working with various news and media outlets. Or focus your passion on digital marketing, using your knowledge of search engine marketing (SEM), content strategy, social media, paid advertising, and data analytics to connect with prospects and convert them into paying customers across multiple platforms.

Other potential marketing roles include product manager, promotions and events manager, operations manager, marketing consultant, sales professional, copywriter, and web developer. With a Bachelor of Science in Marketing, you have a world of career options to choose from.

The median annual salary for professionals holding a Bachelor of Science in Marketing from a U.S. institution was about $63,500 as of May 2021, according to PayScale.

Yes. Our online bachelor's in marketing program is accredited by the Accreditation Council for Business Schools and Programs (ACBSP).

In addition, Maryville University proudly holds regional accreditation from the Higher Learning Commission (HLC). Maryville has maintained accreditation from the HLC since 1941, and this status was most recently reaffirmed in 2015.

Most students complete the online bachelor's degree in marketing in four years or less. Students with existing credits to transfer may be able to complete their programs sooner. Contact your advisor for more information.

With Early Access, students in our online bachelor's in marketing program can get a head start on earning a graduate degree by taking graduate-level courses that count toward their undergraduate and graduate degrees. Furthermore, graduate-level Early Access courses are billed at the undergraduate tuition rate — so students save time and money.

Our Master of Business Administration (MBA), Master of Arts in Management and Leadership, Master of Arts in Strategic Communication and Leadership, and Master of Science in Data Science are among the many Maryville graduate programs that offer Early Access options for online bachelor's in marketing students.

If you want to participate in the program, you should apply one semester before you plan to start taking Early Access courses. To apply, you must have completed at least 75 credit hours and have a cumulative GPA of 3.25 or higher. Through the program, you can earn up to 12 credit hours toward your master's degree. Talk to our advisors about selecting your Early Access courses, which must be taken one at a time.

Learn more about the Early Access program.
Ready to apply to the online Bachelor of Marketing program at Maryville University?
Be Brave
Bring us your ambition and we'll guide you along a personalized path to a quality education that's designed to change your life.