8 Types of Digital Marketing for Promoting a Business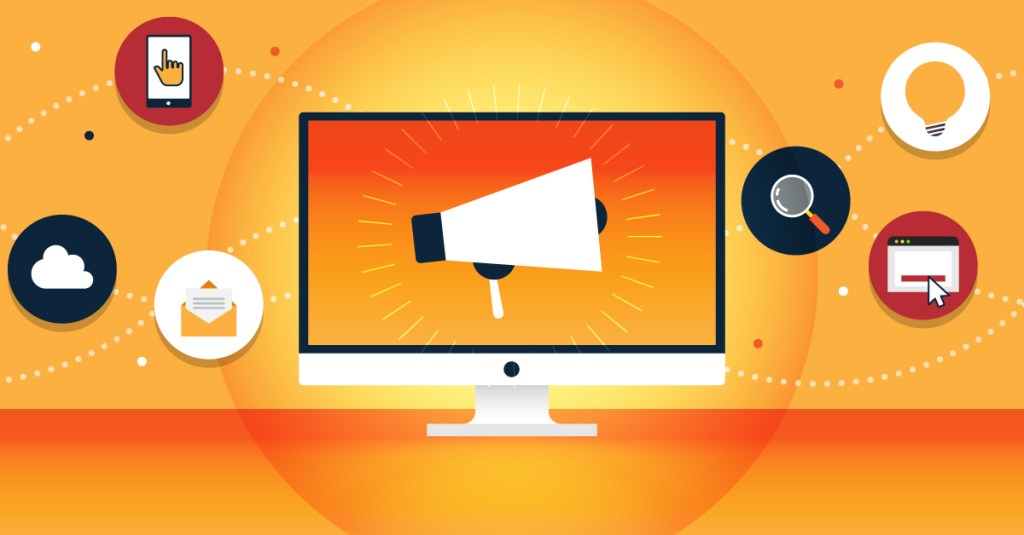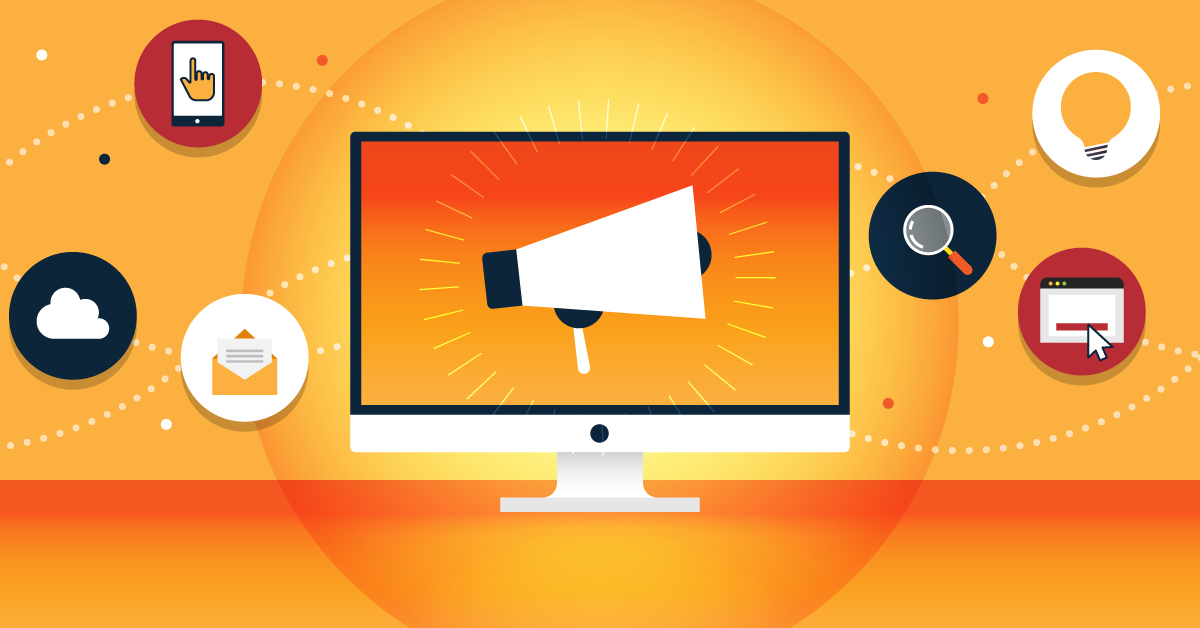 In recent years, digital devices and social media have transformed the field of marketing. Businesses no longer rely solely on radio advertisements, billboards, and print ads, but reach their audiences online through content, email, social media, and other types of digital marketing.
How can business owners take advantage of the benefits of digital marketing if they aren't digital marketing experts? How can they know which marketing channels would best promote their product or service?
At a time when more customers are looking to shop online, digital marketing tactics have become an integral aspect of business. Let's look at eight types of digital marketing that can help business owners promote their products and services in this digital age.
Email Marketing
Email marketing is one of the easiest, most effective types of digital marketing, as it consistently reaches an audience of regular customers and potential buyers. Many businesses send daily emails to their contacts, with over 100 billion emails sent and received around the world every day.
Advantages of Email Marketing
Email marketing allows businesses to regularly update clients on new products and promotions. It also allows customers to find out when a company is offering coupons or having a sale.
Emails can feel more personal than other types of digital marketing. Customers appreciate regular updates being sent to their inbox rather than stumbling upon advertisements.
Emails can feel like a good balance for customers, as phone calls and text messages often feel too intrusive.
Those who opt into email subscriptions tend to become active visitors to a website and regular customers of its products.
When customers become regular buyers, they can be grouped into categories with other buyers who share similar interests, so email messages can be tailored to each segment of buyers.
Tools for Email Marketing
Retail stores can ask in-store customers to provide their email address to receive a digital receipt, and then add them to a subscription list.
When individuals are shopping online, coupons or promotions can be offered in exchange for an email address. This can be an effective way of providing incentive for reluctant subscribers.
Some stores require customers to create an account, with their contact information, before completing a purchase.
Here are some of the most popular email marketing tools:
Email Marketing Challenges
One disadvantage of this type of digital marketing can be the specific process of getting individuals to opt into email subscriptions.
In-person customers may bypass digital receipts in favor of paper receipts.
Customers may be reluctant to provide their email address to businesses if they're concerned about receiving an excessive number of unnecessary emails.
Future Potential of Email Marketing
Email was one of the earliest forms of digital marketing and is still one of the most effective. Email marketing is inexpensive and offers high return on investment (ROI). The average email marketing ROI is $44 for every dollar a company spends, according to Lyfe Marketing. Email marketing is predicted to grow and continue to yield further benefits for businesses.
Search Engine Optimization Marketing
Search engine optimization (SEO) marketing is another one of the most important and effective types of digital marketing for promoting a product or business. SEO is the process of optimizing a site and its content to establish higher visibility in search engine results, according to Search Engine Journal. SEO is crucial because many consumers shop online, using search engines such as Google. When they type in certain keywords or phrases, the search engine generates results based on those specific keywords or phrases. According to Backlinko, the top Google search result has a 31.7% click-through rate.
Advantages of SEO
There are several advantages to using SEO for a business. The following are the most important:
SEO optimizes visibility with unpaid, organic search results.
SEO leads traffic to relevant sites with specific keywords.
SEO changes according to the changing demands of the customer.
SEO helps establish and maintain an online clientele.
Tools for SEO
SEO relies on keywords in a company's article or website that align with what a consumer types into a search engine. Businesses often hire SEO experts to help them establish higher traffic and reach a wider audience. Buffer offers a list of free SEO tools to help improve marketing, including:
SEO Challenges
One potential disadvantage of relying on SEO marketing is that search algorithms can change to factor in different site elements, such as:
Design
Keyword ranking
Link building
Domain authority
While this can benefit larger businesses, it can be a drawback for smaller companies that don't have the budget to continually update their websites.
Future Potential of SEO
SEO can benefit both businesses and customers because it draws in users based on what they're already searching for. With the rise of voice search and artificial intelligence (AI), SEO marketing has the potential to help a business reach more internet users and establish more consistent customers. It's projected to continue to grow in importance in upcoming years, according to Search Engine Land.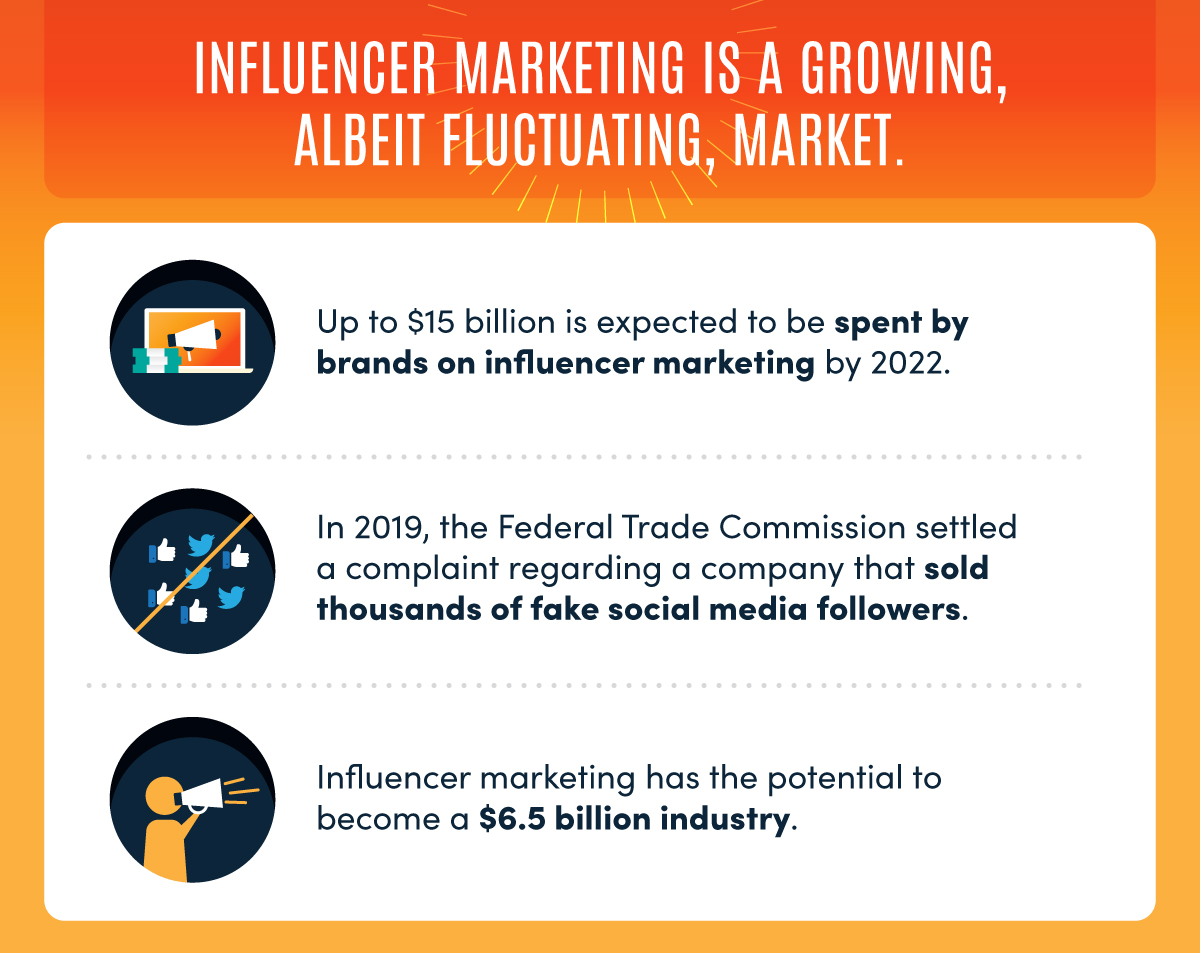 Influencer and Social Media Marketing
About 3.8 billion people use social media in 2020 — a 9% increase from 2019, according to Smart Insights. Given the size and growth of that audience, it's no surprise that social media marketing, coupled with the use of influencers, has become one of the fastest-growing types of digital marketing. Social channels have become even more prominent in recent years as more businesses and brands pay to have their products or services advertised on social media platforms.
Social media influencer marketing comprises product placement by people, companies, or organizations that have credibility or are well known, particularly on Instagram and Snapchat. While endorsements are by no means a novel marketing strategy, social media influencers aren't just typical celebrities.
Companies have noticed that individuals respond to products when they're promoted by their peers or people they admire. Often, brands and businesses offer personalities with large online followings discounted or free products in exchange for posting pictures with the product and using certain hashtags to engage viewers.
Advantages of Social Media Marketing
Because so many people are active social media users, social media marketing can reach a vast audience.
Product placement is mutually beneficial, as social media influencers receive pay or products, and businesses get exposure.
Businesses can directly engage with social media users through direct messaging.
Customers can directly ask social media managers questions about products, promotions, and sales.
Tools for Social Media Marketing
Large brands and small businesses alike can use similar tools when it comes to social media marketing.
It's important to post regularly, whether daily, weekly, or biweekly, to maintain a consistent online presence.
It's important to determine what will be the most effective way for them to market their product: simply posting, paying for advertisements, or paying influencers.
Social media managers can time posts to correspond to online and in-store promotions.
Businesses can use messaging to directly interact with current or potential customers.
Challenges of Social Media Marketing
Social media platform algorithms can make it difficult for social media users to see certain posts or advertisements.
The steady churn of social content can make it difficult for social media users to find older posts that initially caught their interest.
Some social media users might not admire the celebrity or organization promoting a product, and may be negatively influenced to avoid it.
Future Potential of Social Media Marketing
While trends change, social media trends are simply growing and showing more potential. As previously mentioned, social media platforms gained 9% more users than 2019. Smart Insights predicts that growth will continue.
Content Marketing
Content marketing comprises the use of visual and written communication, from blog posts to memes and videos, to promote a business, brand, or product. Content can be anything posted online, from social media platforms to business websites.
The most important aspect of content marketing is understanding the target audience. To craft a piece of content most effectively, it's crucial to know what potential customers want to purchase.
Advantages of Content Marketing
Content marketing is important because it affects all other types of digital marketing, from SEO to social media posts and email. Anything a current or potential customer reads is considered content, and it's essential that the content is appealing and engaging. Content marketing:
Engages an audience
Draws clients in by anticipating their desires
Helps maintain relationships with customers through consistent communication
Promotes products
Informs customers about sales, coupons, and new products
Content Marketing Tools
While different types of marketing have their own specific platforms, content marketing is an integral aspect of all platforms. It can include:
Instagram posts, advertisements, and promotions
Facebook posts, advertisements, and promotions
Tweets
YouTube videos and advertisements
Vimeo videos
Blog posts
Websites
Email blasts
SMS text or instant messages
Spotify playlists
Challenges of Content Marketing
Because content marketing is such an important aspect of digital marketing, it can be a major disadvantage for the company if a content marketing team is unfamiliar with SEO or doesn't create a strategy for social media posts.
Another drawback can occur if the content marketing team doesn't produce consistent and effective content.
Future Potential of Content Marketing
Content marketing comprises the words and images that promote a business or product, and has been around since the first person sold the first product. So long as businesses exist, content marketing will exist. Even though the platforms may continue to evolve and change, businesses will always rely on informative, effective content for promoting their products. The future will focus on customized, conversational, timely content, according to the Content Marketing Institute.
Pay-Per-Click Marketing
Pay-per-click (PPC) marketing is another type of digital marketing used to promote a business or product. PPC marketing is almost the opposite of SEO marketing: While SEO marketing is organic and unpaid, businesses pay for search engines to advertise their products through PPC ads.
When consumers use a search engine such as Google, they'll see sponsored advertisements based on keywords they input. If they click through one of those advertisements to a company's website, that company then pays Google.
Advantages of PPC Marketing
PPC marketing can generate a lot of revenue with a high ROI.
PPC marketing can benefit all parties, as customers find the products they're looking for, businesses sell their products, and search engines make a profit.
PPC Marketing Tools
While PPC marketing is different from SEO marketing in being a paid type of digital marketing, it resembles SEO marketing in relying on keywords. Businesses should make sure that the keywords, ad groups, and negative keywords in their PPC advertisements are relevant, exhaustive, and expansive.
PPC Protect lists some tools for planning PPC campaigns:

SpyFu tracks competitors' PPC advertisements
Ahrefs researches competitors' advertisements and keyword bids
Google Trends serves as a research tool for trending keywords
Unbounce helps build a landing page with specific keywords
Challenges of PPC Marketing
Clicks don't always lead to sales; if users click through links but don't buy, the company still pays, which can add up.
Successful PPC campaigns require skill and expertise to pinpoint the best ways to promote products. Many small companies hire outside marketing experts, which can be expensive.
Future Potential of PPC Marketing
As with other types of digital marketing strategies, PPC marketing is relatively new. With the advent of voice search and AI-driven marketing, PPC is entering new realms and is expected to be a major element of digital marketing, according to Inferno.
Affiliate Marketing
Affiliate marketing involves individuals not working as full-time employees who earn a micropercentage sales commission. Affiliates differ from social media influencers in that they're paid based on conversion rates.
Affiliate marketers choose products they think they can sell, and then promote them online. The affiliates then make a small profit from each product they sell for a company.
Advantages of Affiliate Marketing
Affiliate marketing benefits businesses as well as affiliates, as both make a profit from the product.
Affiliates can determine how much they want to work, and they make as much or as little as they desire.
Businesses can also work with other businesses as affiliates. In these situations, companies can promote each other's products and earn a profit from them.
Affiliate Marketing Tools
Some affiliate tools include the following:
Social networks
Personal connections
Digital billboards
Blogs
Content marketing
Stores and shops
Websites
Affiliate Marketing Challenges
While affiliate marketing can be mutually beneficial for businesses and affiliates, there can also be drawbacks.
Affiliates may not generate as much revenue as they expected.
An affiliate campaign may be inconsistent with brand identity or official marketing strategies.
Future Potential of Affiliate Marketing
As different types of digital marketing grow in importance, affiliate marketing is projected to grow as well. In a Mobidea interview with 21 experts in affiliate marketing, one expert predicts that 2020 will be the most profitable year yet for affiliates.
Mobile Device Marketing
Mobile device marketing allows businesses to reach out to customers via smartphones, tablets, iPads, and other devices. Mobile marketing can comprise location-specific notifications, in-app and in-game advertising, push alerts, and Quick Response (QR) codes.
Advantages of Mobile Device Marketing
Allows businesses to contact people who may not use home computers, but do have cellphones
Can benefit businesses that offer services over products, such as a push notification from a user's gym when driving by a new location
Can help local businesses engage with their clientele and bring them into physical stores
Mobile Device Marketing Tools
Businesses interested in mobile device marketing should consider:
Mobile-specific ads that implement click-to-call or live map links
Advertisements that specifically appeal to users of a certain app or game
Location-based marketing that reaches out to customers when they pass by a brick-and-mortar outlet
QR codes with special offers
Challenges of Mobile Device Marketing
While mobile device marketing can reach a population of inactive internet users, they may not be as likely to shop online.
Unsolicited contacts to a mobile device can feel intrusive.
Future Potential of Mobile Device Marketing
Mobile device marketing through apps and games is projected to grow exponentially in upcoming years, reaching $25 billion by 2024, according to Business Wire.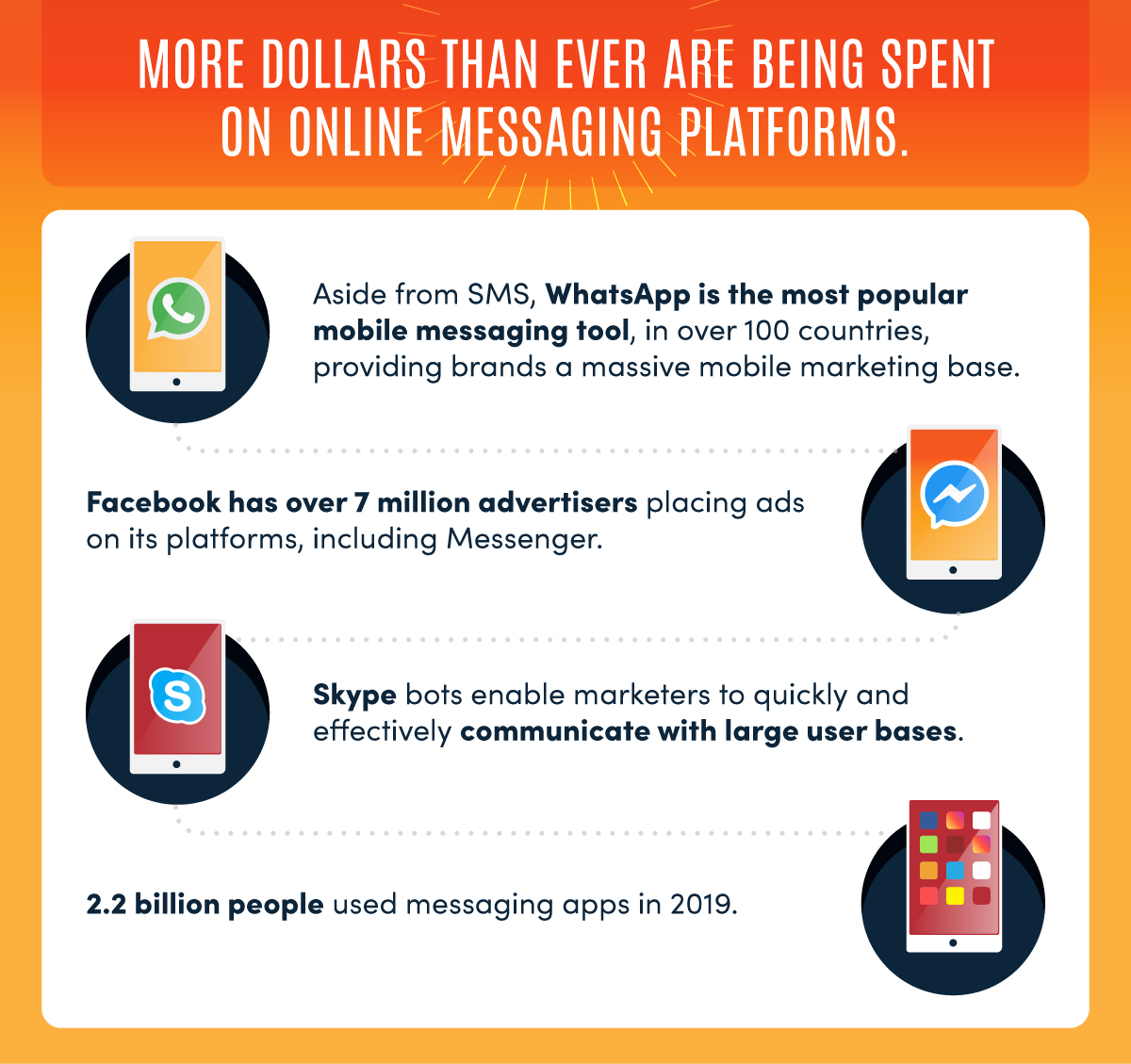 Instant Message Marketing
Instant message marketing allows businesses to reach out to current or potential customers via methods such as SMS text message, WhatsApp, Instagram direct message, and Facebook Messenger. Instant message marketing, like email marketing, can also help establish a contact list of customers.
Advantages of Instant Message Marketing
One of the benefits of instant message marketing is that it gives businesses a contact list of customers they can reach out to regularly with special coupons, sales, and new product promotions.
Another benefit of instant message marketing over mobile device marketing through phone calls is that individuals are more likely to quickly skim through a text than answer a phone call from an unknown number.
Instant Message Marketing Tools
Businesses should consider the range of ways to reach out to customers on various platforms, keeping in mind that different services have different audiences:
SMS text message
Instagram direct message
Facebook Messenger
WhatsApp
WeChat
Viber
Instant Message Marketing Challenges
Unwanted messages from companies can feel invasive
Future Potential
With millions of users on messaging platforms like WhatsApp and Facebook Messenger, businesses and brands can reach a vast audience. With higher open rates than email marketing and ever-increasing smartphone adoption, instant message marketing will continue to be a powerful element of digital marketing campaigns, according to Landbot.
Mastering Digital Marketing
In an online era, digital marketing has become an integral aspect of business. Companies must consider the array of ways to reach and engage with customers, using all of the tools at their disposal in a competitive marketplace. From influencers to affiliates to SEO, it's important to learn how digital marketing can shape the future of your business.
Recommended Readings
Digital Marketing Trends Marketers Need to Know
Exploring Entrepreneurship: Starting and Operating a Small Business
What Is Copywriting in Marketing?
Additional Sources
Forbes, "Five Digital Marketing Trends For 2019"
Smart Insights, "Global Social Media Research Summary 2020"
Sprout Social, "41 Must-Have Digital Marketing Tools to Help You Grow"
"TechAffinity, "4 Types of Digital Marketing You Should Consider for Your Business
"TechCrunch, "How Do Startups Actually Get Their Content Marketing to Work?"
WordStream, Pay-Per-Click Marketing: Using PPC to Build Your Business