Is a Psychology Degree Worth It?
Is a Psychology Degree Worth It?
Is a Psychology Degree Worth It?
Psychology is consistently ranked among the most popular degree paths for undergraduates. Many possible explanations for this phenomenon exist, including the inherent interest in the subject matter and the degree's wide-ranging utility. Earning a psychology degree can provide the foundation for a number of career paths, equipping students with flexibility as they consider different professional trajectories.
These are just some of the reasons why students may wish to seriously consider pursuing a psychology degree. Take a moment to learn more about the benefits of this degree program, including professional growth and personal development.
Psychology Degree: Is It Worth It?
Determining whether pursuing a psychology degree is worth it means considering several factors.
Preparation for a Wide Range of Careers
A degree in psychology provides knowledge of human cognition and behavior and fosters important skills such as communication and critical thinking. These skills and competencies can be applied across a range of disciplines, meaning that while some graduates may go on to become psychologists, others are prepared to succeed in marketing, social work, organizational leadership, and beyond.
Promising Job Growth
Before pursuing any professional trajectory, it is natural to have some questions about career prospects. There are a number of great career opportunities available for those with a psychology degree: The U.S. Bureau of Labor Statistics (BLS) predicts that positions for psychologists will increase by 6% between 2021 and 2031, on par with the average for all professions.
But there are many other positions that psychology graduates pursue: the BLS projects that between 2021 and 2031, marriage and family therapists will have a job growth rate of 14%, school and career counselors will have a job growth rate of 10%, and social workers will have a job growth rate of 9%.
Understanding People
Some students are drawn to psychology out of intellectual interest. Psychology studies can provide an invaluable opportunity to better understand how human cognition and emotions work, leading to a better comprehension of others and an improved understanding of self.
Making a Difference
Obtaining a psychology degree can also provide the skills needed to make a positive impact in the lives of others, whether through work as a teacher, counselor, or social worker.
What Is It Like to Work in Psychology?
Completing a degree in psychology provides training in human behavior, emotion, cognition, and social processing. This training offers broad utility, meaning it imparts the skills needed to excel in a wide range of different fields.
Jobs Available with a Psychology Degree
Those who complete the full length of a psychology degree will be equipped to pursue a number of potential career paths. Some common options include:
Therapist
Social worker
Marketing specialist
Market research analyst
Human resources specialist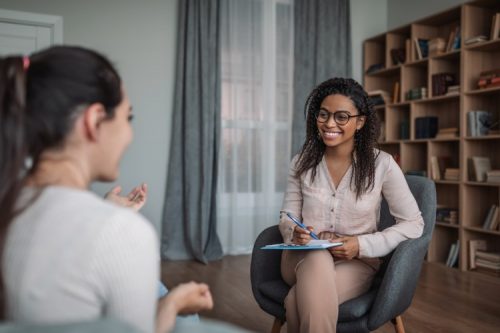 Some positions may require candidates to earn a master's degree in addition to a bachelor's degree. To work as a psychologist, individuals should complete a doctorate degree, such as a Doctor of Psychology (PsyD).
Where Do Psychology Professionals Work?
Due to the sheer number of jobs available to psychology professionals, it should come as no surprise that there are many possible work environments. Some of the most common professional environments for psychologists include private practices, extended care facilities, and corporate office settings. They can also work in school settings, collaborating with teachers, students, parents, and counselors, or independently as researchers.
How a Psychology Degree Prepares You to Help People
Those who are equipped with a psychology degree gain the skills needed to make a positive impact in the lives of others, whether in a therapeutic role or as part of a professional team. Some of these invaluable skills include:
The field of psychology is largely concerned with how human cognition works, how people process and respond to different events, and why people make certain kinds of decisions. All of this can help individuals develop a greater sense of empathy, which is crucial to a career in professions such as counseling and social work.
Learning about how humans receive and process information can provide valuable insight into how to connect with others and communicate efficiently.
Research skills. Obtaining a psychology degree requires developing academic competencies, including the ability to efficiently gather, analyze, and synthesize different types of information.
Critical thinking. Earning a psychology degree can help with the formation of critical thinking skills, which can be helpful in analyzing organizational efficiencies or helping a counseling patient overcome hurdles.
Understanding the Value of a Psychology Degree
Pursuing a degree in psychology can provide a depth of understanding regarding human behavior. This, in turn, can lead to success in a range of professional settings.
Maryville University's online Bachelor of Arts in Psychology program is designed to provide rigorous insight into contemporary psychology and prepare students to excel in whatever vocation they choose, whether in healthcare, counseling, or business. The coursework is completed online and is designed to comply with the robust standards of the American Psychological Association.
Take the first step toward developing the wide-ranging skills necessary for success across many professions. Learn more about the online psychology program at Maryville today.
Recommended Readings
The Psychological Factors of Entrepreneurship
What Is the Impact of Social Isolation on Cognitive Health?
Degree in Sociology vs. Psychology: Careers to Promote Change
Sources:
Indeed, 15 Top Psychology Degree Jobs
National Center for Education Statistics, Undergraduate Degree Fields
Payscale, Average Psychologist Salary
U.S. Bureau of Labor Statistics, Marriage and Family Therapists
U.S. Bureau of Labor Statistics, Psychologists
U.S. Bureau of Labor Statistics, School and Career Counselors
U.S. Bureau of Labor Statistics, Social Workers
VeryWell Mind, 10 Great Reasons to Earn a Psychology Degree
Be Brave
Bring us your ambition and we'll guide you along a personalized path to a quality education that's designed to change your life.