How to Become a Career Counselor: Salary and Job Description
How to Become a Career Counselor: Salary and Job Description
How to Become a Career Counselor: Salary and Job Description
Choosing a career can be exciting, challenging, and for some, a bit daunting. From students to working professionals of all ages, selecting or changing career paths is a life-altering endeavor. But with the help of a career counselor, the process can be made easier. By providing preparation, guidance, and resources, counselors help set people up for success in their professional lives.
In schools and the workplace, career counselors play a vital role in helping others find their professional path. For those who are passionate about helping people, career counseling can be a fulfilling role. By pursuing a quality education, such as a Bachelor of Arts in Psychology online, students can prepare themselves with the skills to succeed in an exciting career in counseling.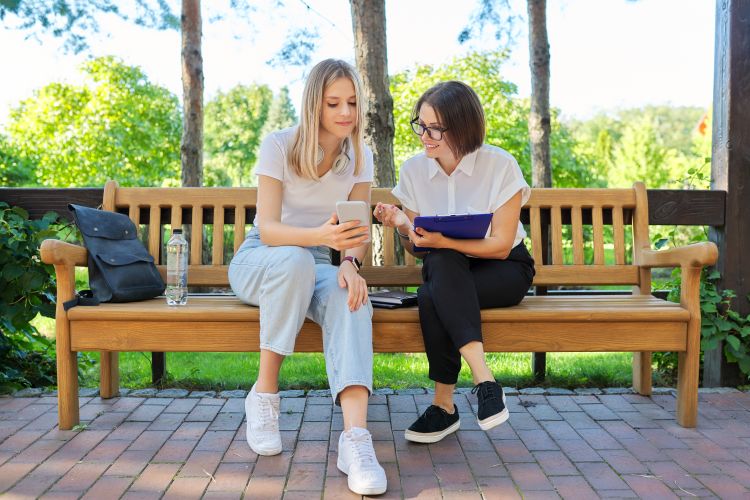 What Is a Career Counselor?
Before embarking on a career in counseling, students may be asking themselves what a career counselor is and what they do. In short, career counselors are professionals who offer guidance to people as they navigate or prepare to navigate the job market.
Supporting clients throughout different stages of their education and professional lives, the role and responsibilities of a career counselor can range from helping students prepare academically for professional success, to guiding working professionals in taking the next step toward their goals. By offering resources such as assisting in job searches, creating resumes, and preparing for interviews, counselors help their clients put their best foot forward and pursue a role that suits their strengths and interests.
Steps to Become a Career Counselor
Becoming a successful career counselor requires advanced education and work experience. Depending on the state, there also may be licensing, certification, and work experience requirements to become a career counselor.
Education
In most cases, aspiring counselors must earn a master's degree in counseling or a related field. Prior to earning a master's in counseling, many students choose to pursue a bachelor's degree in psychology to gain foundational knowledge of human behavior that will help them guide their future clients.
By pursuing higher education, students can gain experience through supervised clinical hours to prepare for the real-world scenarios they will face as counselors. Exploring work settings ranging from the school system to private practice and taking the time to research career paths allows aspiring counselors to broaden their horizons and better advise their clients.
Licenses, Certifications, and Work Experience
Licensing and certification requirements, as well as required work experience, vary by state and employer. Many states require counselors to have a state-issued license and have completed an internship to work in public schools. Additionally, some public school employers require career counselors to hold a teaching license or have teaching experience. Given the variability of requirements between states, it is important that candidates thoroughly research and understand their state's licensure standards.
Gaining work experience, pursuing advanced education, or earning additional certifications can also help career counselors be more competitive in the job market, allowing them to seek higher-paying roles, apply to esteemed organizations, and reach their own professional goals.
Career Counselor Salary
Career counselors work in a variety of environments, from public schools and colleges to government agencies, businesses, and private practice. Depending on where they land, counselors take on different roles and responsibilities to meet individual client needs.
According to the U.S. Bureau of Labor Statistics (BLS), the median annual salary for school and career counselors and advisors was $58,120 as of May 2020, with the highest 10% of earners making about $97,900 per year. Factors that may affect career counselor salaries include the type of employer, the level of work experience, and the industry. These factors can also affect the types of clients counselors encounter, the hours they work, and their responsibilities.
Guide Others as a Career Counselor
Finding purpose and direction when choosing a career can be challenging. Fortunately, career counselors can provide the support, assurance, and guidance people need to take the next step. With understanding, knowledge, experience, and the right resources, counselors can help students and clients chart their professional path and take their careers to the next level.
Pursuing a quality education, such as the Maryville University's Bachelor of Arts in Psychology online , can provide students with the knowledge, tools, and insight to make a difference in the lives of others. The degree program consists of fully online coursework that is designed to meet American Psychological Association standards. With classes such as Social Psychology, Multicultural Psychology, and Human Cognition, a psychology degree from Maryville can equip you with the knowledge to succeed.
Discover what you can do with a bachelor's in psychology from Maryville University, and learn how to become a career counselor today.
Recommended Reading
Degree in Sociology vs. Psychology: Choosing a Career to Promote Change
How We Become Ourselves: Exploring Human Development in Psychology
Sources
BetterHelp, "How Can Career Counseling Help Me?"
Indeed, "What Is Career Counseling and Coaching?"
Truity, School or Career Counselor
U.S. Bureau of Labor Statistics, School and Career Counselors and Advisors
Verywell Mind, Career Counseling Job Profile
Vocation Village, "How to Become a Career Counselor or Career Coach"
Be Brave
Bring us your ambition and we'll guide you along a personalized path to a quality education that's designed to change your life.