How to Become a Psychiatric Technician
How to Become a Psychiatric Technician
How to Become a Psychiatric Technician
Psychiatric technicians act as vital links between mental healthcare providers and the patients they serve. Their core mission is to assist physician-directed medical teams in providing hands-on care to individuals with mental illnesses and developmental disabilities. However, psychiatric technicians often go above and beyond the standard job description, offering a level of personalized, face-to-face engagement that can improve both treatment outcomes and quality of life.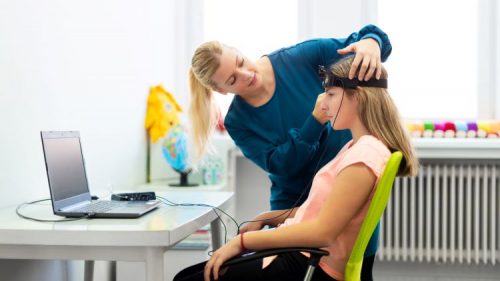 If you're interested in pursuing a career with opportunities to learn on your feet and help people live healthier lives, read on to discover how to become a psychiatric technician.
What Does a Psychiatric Technician Do?
The core responsibility of a psychiatric technician is to provide care to patients with mental illnesses or developmental disabilities. They dispense this supportive care through a mix of observation, patient interaction, and treatment strategies, typically in conjunction with overarching care strategies developed by physicians or other health care professionals. They're also tasked with monitoring an individual's physical and emotional well-being, providing staff with vital information if they observe something awry like the development of unusual symptoms. Additionally, psychiatric technicians usually help patients participate in rehabilitation and treatment programs. They can also provide assistance with minor and large-scale personal hygiene practices.
Experienced psychiatric technicians may have more advanced responsibilities related to patient care strategies. This could include taking an active role in the development, design, and implementation of an individual's treatment. Other advanced duties may include overseeing therapy sessions, administering medications, conducting patient interviews, and handling administrative duties.
To succeed in this role, aspiring psychiatric technicians should have a desire to help people, demonstrate patience, and exhibit a high degree of personal compassion. They should also be good listeners, have excellent interpersonal communication skills, be professional in all dealings, and be able to follow directions.
Steps to Become a Psychiatric Technician
If you're interested in discovering how to become a psychiatric technician, you can start by learning about your education options, the kinds of previous experience employers typically look for, and licenses and certifications you may need.
Step 1: Meet Education Requirements
Organizations that hire psychiatric technicians generally require candidates to have at least a postsecondary certificate or associate degree in an area related to psychiatric or mental health technology, according to the U.S. Bureau of Labor Statistics (BLS). Earning a bachelor's degree can position aspiring psychiatric technicians to advance even further in their careers.
For example, bachelor of arts in psychology online offer courses in experimental methodology; critical thinking; human development; and the biological, social, and clinical aspects of human behavior. Developing these types of knowledge helps equip psychiatric technicians with the skills to not only assist with clinical care, but also effectively analyze and provide insight into human behavior. Studying this variety of subjects helps prepare candidates for the multifaceted role of a psychiatric technician.
Step 2: Become Certified as a Psychiatric Technician
Some states require psychiatric technicians to be licensed. To attain a license, candidates must meet minimum education requirements (which vary by state), pass an exam, and pay licensing fees. In states that do not require licensure, professionals may seek voluntary certifications offered by the American Association of Psychiatric Technicians, which awards four levels of credentials. Attaining certification can help psychiatric technicians widen opportunities for employment and advancement by demonstrating their knowledge of the fundamental concepts associated with the profession.
Step 3: Complete On-the-Job Training
Some employers require psychiatric technicians to complete on-the-job training before they can start work. The amount of time spent in training can vary from a few weeks to several months. Psychiatric technicians typically participate in a variety of training exercises during this time, including attending lectures, workshops, and in-service training, as well as receiving direct training from experienced professionals.
Step 4: Advance as a Psychiatric Technician
A career as a psychiatric technician offers a myriad of opportunities for advancement. Psychiatric technicians who have many years of experience may advance to supervisory positions. Additionally, those who have demonstrated superior knowledge, skills, and passion about psychiatry have the potential to move beyond administering therapeutic care to other related positions, such as nursing or psychiatric therapy. In most cases, additional academic training is required.
Psychiatric Technician Salaries
The median psychiatric technician salary was $32,870 in 2018, according to the U.S. Bureau of Labor Statistics (BLS). Psychiatric technicians earn the most in California, where the average annual pay is approximately $64,500. Additionally, the BLS reports that the top three states with the highest employment rates for psychiatric technicians are California, Florida, and Texas.
Employment Outlook for Psychiatric Technicians
Overall employment of psychiatric technicians and aides is projected to grow by 6 percent from 2016 to 2026, according to the BLS. Demand for this occupation will likely be bolstered by America's aging population. Seniors typically experience elevated rates of mental illnesses, and the healthcare sector will need greater numbers of qualified medical professionals to administer care as patient needs continue to grow.
Learn More About Your Career Options
The path to becoming a psychiatric technician can lead to a rewarding career with opportunities to help people lead healthier lives. Maryville University's Bachelor of Arts in Psychology online provides students with foundational knowledge that can prepare them to apply analytical and critical thinking skills in clinical environments. Visit the program website to learn more today.
Sources:
American Association of Psychiatric Technicians
Maryville University, Careers for Psychology Bachelor's Degree Graduates
Maryville University, Online Psychology Bachelor's Degree
Recruiter, "Psychiatric Technicians"
U.S. Bureau of Labor Statistics, "Occupational Employment and Wages, May 2018"
Be Brave
Bring us your ambition and we'll guide you along a personalized path to a quality education that's designed to change your life.