PMP vs. CAPM Certification: Different Project Manager Credentials
PMP vs. CAPM Certification: Different Project Manager Credentials
PMP vs. CAPM Certification: Different Project Manager Credentials
Increased earnings, enhanced work opportunities, greater competency and knowledge — these and other potential benefits often motivate individuals to pursue professional certifications. Many employers view professional certifications as confirmation that a candidate possesses the specific skills they're looking for. Project management certifications, for instance, can help prospective employers verify that an applicant understands industry standards.
Business professionals interested in project management should consider the Project Management Professional (PMP) and Certified Associate in Project Management (CAPM) certifications. Understanding the differences between the PMP vs. CAPM certifications allows individuals to make the best decision about which to pursue.
What Is the PMP Certification?
The Project Management Institute (PMI), a leading professional association for project managers, created the PMP certification. Many consider this the gold standard when it comes to project management certifications, and some employers may prefer or require PMP certification for new project managers.
The designation recognizes project managers with extensive experience and proven track records leading teams and achieving project goals.
To obtain certification, professionals need to demonstrate highly developed skills in key areas of project management. More specifically, they should show they can:
Successfully coordinate and motivate teams during the course of projects
Effectively maneuver different project management styles, including predictive and agile approaches
Highlight the pivotal role of successful projects in advancing an organization's goals
The PMP exam asks comprehensive questions to measure knowledge of concepts core to project management, such as the triple constraint. The triple constraint states that cost, time, and scope impact the success of every project, and to successfully manage projects, professionals need to balance these constraints by making tradeoffs. For example, to stay within budget, a project manager might need to limit a deliverable's scope.
Additional topics covered by the exam include:
Risk management and assessment
Team building and leadership
Stakeholder engagement
Budget management
Conflict management
What Is the CAPM Certification?
The PMI also issues CAPM certification. Tailored for those beginning their project management careers, the CAPM helps professionals demonstrate that they possess the skills needed for entry-level project manager positions. The certification often serves as a useful tool for professionals who hope to break into a project management career.
Students, recent graduates, and professionals looking to assume responsibilities in more complex projects stand to gain from pursuing this certification. Additionally, because the certification focuses on developing a strong project management foundation, professionals can use the CAPM as the perfect stepping stone toward earning a PMP certification later down the line.
To obtain CAPM certification, individuals need to demonstrate knowledge of core competencies in project management. This involves building a foundational knowledge of concepts laid out in A Guide to the Project Management Body of Knowledge, also referred to as the PMBOK Guide.
The CAPM exam tests candidates' skill levels in five essential project management processes. These include:
Starting a project: Establishing a work product's objectives based on information from stakeholders, setting clear expectations for team members, and clearly defining a project's scope
Planning and budgeting: Creating an action plan, budget, and defining project deliverables
Executing the project: Tracking progress on assignments in relation to established milestones and allocating resources appropriately
Controlling and Monitoring: Problem-solving and managing changes as they arise as well as staying within budget and meeting deadlines
Finishing and Closing: Handing off deliverables and getting approval from all stakeholders as well as reviewing the performance of the project in terms of expenses, quality, and schedule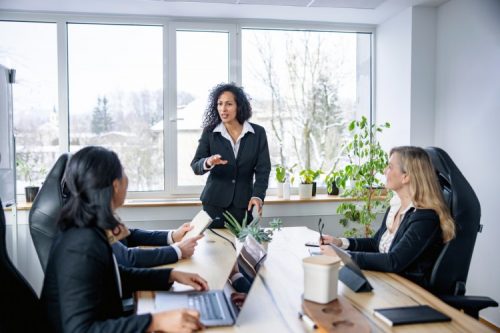 PMP vs. CAPM Certification: The Differences
Individuals mapping out their career and educational paths can benefit from comparing degree programs, professional certifications, and job descriptions. They may consider the differences between business management vs. business administration degrees or project manager vs. program manager roles. Understanding how PMP and CAPM certifications differ also helps people plan strategically.
The PMP and CAPM each serve a unique purpose and come with their own requirements. Additionally, the certifications have varying costs, and holders of the two certifications can expect varying job opportunities.
PMP and CAPM Certification Requirement
As PMP and CAPM certifications target professionals at different stages in their project management careers, the requirements for each vary accordingly.
PMP Certification Requirements
To earn PMP certification, candidates need both a specified amount of training and real-world experience. Professionals can earn their PMPs in one of two ways.
Individuals holding a bachelor's degree are eligible for the PMP certification exam if they also have:
36 months of experience managing projects within the last eight years
35 hours of training in project management or a CAPM certification
Individuals holding a high school diploma or associate degree are eligible for the PMP certification exam if they also have:
60 months of experience managing projects within the last eight years
35 hours of training in project management or a CAPM certification
CAPM Certification Requirements
Requirements for CAPM certification are less rigorous. To take the CAPM exam, candidates need a high school diploma and an associate degree or the global equivalent. They also need to have completed 23 hours of project management education.
PMP and CAPM Certification Costs
Professionals seeking project management certifications should also consider the monetary investment required. In addition to the expense of obtaining the necessary training and education, candidates need to pay to take the PMP and CAPM exams.
PMP Certification Cost
Fees for PMP candidates as of December 2022 are as follows:
$405 for PMI members
$555 for nonmembers
CAPM Certification Cost
Fees for CAPM candidates as of December 2022 are as follows:
$225 for PMI members
$300 for nonmembers
Job Opportunities for Those with PMP and CAPM Certifications
Both PMP and CAPM certifications can expand job opportunities. The PMP has the potential to help candidates compete for the most competitive project management roles in top organizations across the globe, while the CAPM certification can help professionals land entry-level project management roles and distinguish themselves from other candidates.
PMP Certification Jobs
Jobs with PMP certification requirements or preferences may include:
Portfolio and program manager
Project director
Project manager consultant
Product manager
Information technology (IT) project manager
Construction project manager
CAPM Certification Jobs
Jobs with CAPM certification requirements or preferences may include:
Project coordinator
Junior project manager
Associate project manager
Business analyst
PMO specialist
Resource coordinator
PMP vs. CAPM Salaries
Both project management certifications can increase a professional's earning potential, but those with PMP certifications stand to earn significantly more than individuals with a CAPM. Those with PMP certifications earned annual median salaries of approximately $113,000, according to December 2022 Payscale data, while those with CAPM certifications earned median incomes of around $69,000 a year.
Build a Strong Future in Project Management
Planning a career in project management? Consider PMP vs. CAPM certification requirements, job opportunities, and salaries in the process. Aspiring project managers also need the right education to pursue the project management certification best for them. Discover how Maryville University's online Bachelor of Science in Business Administration program prepares graduates to launch successful careers in project management.
Recommended Reading
LLC, DBA and corporations: What Do Business Types Mean?
Organizational Leadership vs. Business Administration Degree: What's the Difference
Sources
Entrepreneur, "4 Benefits of Earning a Certification in Your Field of Expertise"
LinkedIn, "Benefits You Can Get After PMI CAPM Certification"
LinkedIn, "Why You Should Spend Money to Get a PMP"
Payscale, Salary for Certification: Certified Associate in Project Management (CAPM)
Payscale, Salary for Certification: Project Management Professional (PMP)
Project Management Institute, "Ahead of the Curve: Forging a FutureFocused Culture"
Project Management Institute, Certified Associate in Project Management (CAPM)
Project Management Institute, Project Management Professional (PMP)
ProjectManager, "The Triple Constraint in Project Management: Time, Scope & Cost"
TechTarget, Certified Associate in Project Management (CAPM)
Be Brave
Bring us your ambition and we'll guide you along a personalized path to a quality education that's designed to change your life.