Program Manager vs. Project Manager
Program Manager vs. Project Manager
Program Manager vs. Project Manager
A business is only as strong as its strategic plans and goals. But it takes more than a thoughtful mission statement and an inspiring vision to drive an organization's success. While their roles differ in scope and responsibilities, Program managers and project managers are critical to strategizing, planning, and executing the projects and products on which profits and success are built.
What Is a Program Manager?
Program managers design the programs required to reach the goals of the company or organization. Successful program managers are strategic thinkers who understand their organization's overall mission, vision, and business needs. They often oversee multiple projects that will, when completed, work together to achieve organization-wide goals. Common components of effective program management are design creation, financial oversight, and communication with management.
Program Design
Program managers design entire programs, which may consist of multiple projects, in line with current strategic objectives in an effort to achieve their organization's goals. This often involves coordinating the work of multiple departments that each contributes specific elements to the program.
Program Cost
Program managers must maintain sound financial practices that align with organizational expectations. They create reasonable and comprehensive budgets and oversee expenditures and cash flow associated with completing individual projects.
Communication
The communication responsibilities of program managers are twofold:
Program managers report on the progress, challenges, and budget issues of each project to upper management and department heads impacted by the program. They must be familiar with every aspect of each project and keep all stakeholders well informed.
Program managers also serve as the communication link between upper management and the project managers who oversee individual projects. They provide important organizational information about the program and the project to project managers, and they listen to project managers' concerns and questions, answering them when possible and taking them to the proper committee or department when necessary.
What Is a Project Manager?
The responsibility for successfully completing each project involved in an organizational program lies with project managers. Although the ultimate results and deadlines for projects may be directed by the program manager, the project managers who oversee each project are responsible for setting their own project's timelines, staying on budget, assigning tasks, and remaining alert for unexpected challenges.
Goal Setting and Decision-Making
Although project managers are responsible for only a portion of the program goals, they consider how a project fits into the company's strategic vision to create a practical project timeline. Establishing and publishing a timeline with both short- and long-term goals is essential for smooth transitions from one task to the next. Making strategic decisions at the outset of the project's work gives project managers and workers a time and workload structure on which to build high-quality results.
Budget Management
Project managers may have little input into the final budget for an assigned task, so they need to plan carefully and keep detailed accounts of money spent. In the event of unexpected costs, a project manager must be ready to explain how and why every expense arose and why additional financial resources were required.
Task Assignments
After setting goals and reviewing the scope of each project, the project manager must find the workers and vendors whose skills and experience match the individual tasks, and then ensure that these teams and contributors have the resources they need to achieve the project's goals and quality expectations. This may involve appointing team leaders and providing guidance regarding job responsibilities, decision-making, and how teams will work separately as well as together.
Project Vulnerabilities
Project managers often face unforeseen challenges like employee conflicts, supply-chain delays, and even mid-project budget cuts. Project management author Moira Alexander refers to remaining calm and successfully managing such uncertainties as "the ability to work in the gray."
Communication
Each project of a program must fit together with other projects, which may be handled by teams in other areas of the organization. That means project managers must be prepared to keep the other project managers, as well as the program manager, informed about the progress, vulnerabilities, and outlook of their project. They also must be open to suggestions and questions from workers, and willing to bring any large concerns to the program manager.
Program Manager vs. Project Manager: Key Differences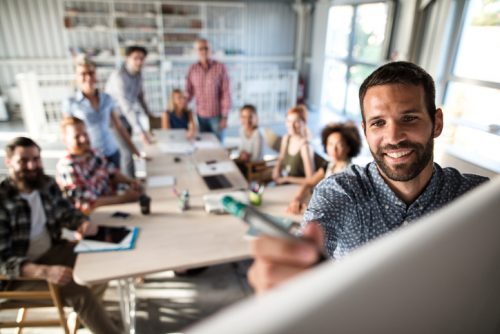 Similar skills and experience are required for program manager and project manager roles. For example, professionals in both positions need good organizational skills, they must be able to take a general idea and turn it into a cohesive plan, and they must have the ability to realistically schedule a project based on the available resources. Along with effective communication skills, these are abilities that can be developed in a strong bachelor's in business administration program and applied to a variety of business careers.
The major differences when it comes to program manager vs. project manager roles are related to the scope of the oversight, day-to-day responsibilities, and work products such as timelines, deadlines, and task completion.
Program vs. Project
In business terms, the primary difference between a program and a project is the scope of the work. A program is developed to accomplish the overarching goals or strategies of an organization and can include many projects performed by many teams and departments. A project, on the other hand, has a much more focused scope of work, with more specific tasks and objectives.
Program managers, then, look at the big picture. They identify and imagine how the projects together will achieve a common goal. Project managers understand how their individual project aligns with others in the program, but they concentrate their efforts on one practical target at a time.
Daily Responsibilities
A program manager's daily responsibilities involve making sure all moving parts of the program are running smoothly. These are just some of the jobs they do in a typical day:
Meet with project managers to ensure all projects are progressing smoothly and on time. Inform project managers of any new organizational developments that affect their projects, and answer questions regarding project concerns and completion.
Meet with executives, department heads, and related stakeholders to report on and answer questions about project progress.
Maintain awareness of how the schedule, materials, and personnel of each project may impact the final results of other projects involved in the program.
The day-to-day tasks of project managers revolve around details. Here are some tasks that may be necessary during a project manager's day:
Ensure that all necessary materials and resources are available to workers and teams.
Make new task assignments as they emerge, based on the timeline and project goal.
Meet with the program manager regularly to report on the project's progress and resolve challenges.
Coordinate tasks to ensure products or processes move uninterrupted through the planned flow of the project.
Address unexpected issues such as staffing shortages and late material deliveries.
Goals and Deadlines
Another way of evaluating program manager vs. project manager roles is to note their different focus in terms of goals and deadlines.
Program managers set long-term goals and depend on multiple departments and products to achieve them. Their deadlines are usually more fluid and may change as projects evolve and challenges arise.
Project managers, on the other hand, set short-term goals with much tighter schedules and less flexibility. Their deadlines are more fixed, and due dates are closely monitored so that the project does not experience delays that may affect other departments or teams.
Program Manager vs. Project Manager Salary
In November 2022, the median salary for program managers was about $87,000, and the median salary for project managers was about $76,000, according to Payscale. These median salaries include possible bonuses, profit sharing, and commissions along with a base salary.
Become a Leader Who Gets Results
A strong business education, such as a degree in business administration, coupled with an understanding of the complexities of leadership can build a solid foundation for success as either a program manager or a project manager. Whether you want to design large-scale programs or manage associated projects, earning a Bachelor of Science in Business Administration online from Maryville University will prepare you for either job. Find out how you can develop your business skills and become a leader in program or project management.
Recommended Readings
How Long Is an Online Bachelor's Degree?
Organizational Leadership vs. Business Administration Degree: What's the Difference
Sources:
Asana, "Program Manager vs. Project Manager: Key Differences to Know"
CIO, "10 Traits of Highly Effective Project Managers"
CIO, "What Is a Project Manager? The Lead Role for Project Success"
Indeed, What Does a Program Manager Do?
Indeed, "What Does a Project Manager Do? (With Duties and Skills)"
Payscale, Average Program Manager (Unspecified Type/General) Salary
Payscale, Average Project Manager (Unspecified Type/General) Salary
Zalando, "The Art of Seeing the Bigger Picture in Managing Programs"
Be Brave
Bring us your ambition and we'll guide you along a personalized path to a quality education that's designed to change your life.