Comparing Business Management and Business Administration Degrees
Comparing Business Management and Business Administration Degrees
Comparing Business Management and Business Administration Degrees

What is the difference between business administration vs. business management? On the surface, the two degree paths are similar: both are four-year degrees, both are offered by many major accredited universities, and both are popular among undergraduate students. However, look a little closer and you can see there are important differences between the two business options.
While both degrees offer a foundation in the basics of business, they each have a different emphasis. For starters, a Bachelor of Science in Business Management (BSBM) degree focuses on business management. Coursework may include business communication, basics of accounting, and management theory. On the other hand, a Bachelor of Science in Business Administration (BSBA) can have different specializations. Students can focus on more practical applications of business, such as finance, marketing, economics, and operations. While business theory is taught, students of BSBA programs also learn the tangible skills that drive business management, leadership, and ethical decision-making.
Students considering the differences between business administration and management should consider an online bachelor's degree in business administration from Maryville University.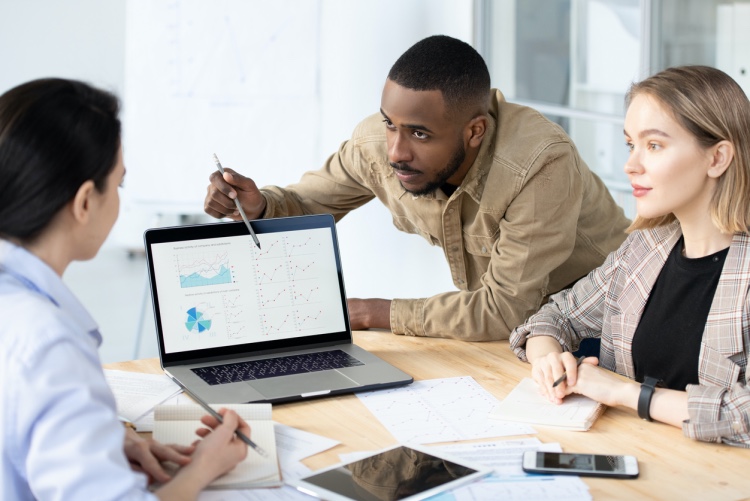 What Is Business Administration?
Before looking into a business degree, individuals should understand the definitions of business administration and management. In smaller organizations, the roles may not differ greatly. However, despite the tendency to lump business administration and management into a single category, they each are distinct in their own right.
Business administrators deal with the efficiency of a company's day-to-day operations. Students who pursue a degree in business administration learn about effective forecasting, strategic planning and research, and entrepreneurship. These abilities are crucial to success in a fast-paced business environment and offer graduates the opportunity to make critical, far-reaching decisions for their companies.
What Is Business Management?
Business administration and management both involve directing the operations of an organization. Students who train in these fields may be exposed to ideas including finance and economics, the functions of human resources, and how to apply statistical analysis to better guide the long-term plans of an enterprise. However, as the size of a company grows, the responsibilities of each role diverge into more specialized areas.
Enterprises tend to rely on business managers to deal with issues such as managing teams and dealing with interpersonal issues. The human-centric nature of a business management degree usually appeals to students who are better at communicating face to face with others. To this end, conflict resolution and diplomacy form core elements of a future business manager.
Similar But Not Identical
Business administration and business management have clear similarities, but the ways in which these two degree paths differ are just as notable. If an individual is searching for the broader of the two educational paths, business management may fit that bill. As noted by the Houston Chronicle, the focus of a business management program is typically on the bigger economic picture. Students in business management programs aim to have a broad understanding of modern business trends but may not necessarily concentrate on the specifics of any market.
Conversely, business administration is sometimes considered most appropriate for people who plan to take specialized business roles when they complete their studies. Those looking to work as high-level accountants, chief technology officers, chief operations officers, and similar roles may likely be best served by a BSBA degree before possibly moving on to graduate-level education.
In some ways, the two primary business degrees are different in a way similar to how public policy and public administration degree programs differ. Management is about vision, planning, and communication, while administration concerns itself more with ensuring the nuts-and-bolts operations of a business continue to function in optimal fashion.
What Is the Difference Between Business Administration and Management?
Business administration and business management degrees offer different things to students. They have core courses in common, including the broad topics of finance, economics, accounting, and marketing. However, each degree has a focus that defines a distinct career path.
Business management tends to deal with the human aspects of running a business. To this end, the curriculum in a degree program covers topics such as human resources, information systems, logistics, and communication. Management programs prepare graduates to be leaders of teams, anticipating their coworkers' needs and motivating them to perform efficiently.
On the other side of the spectrum, business administration also may include personnel management, but with an emphasis on the daily running of a company and its long-term strategic goals. Business administration degree programs focus on the technical aspects of planning and execution.
Choosing a Path
Both BSBA and BSBM degree programs offer a multifaceted foundation that can serve students well upon graduation and when they begin searching for careers. Those participating in either program should, for example, develop a strong understanding of the most essential business principles ― finance, accounting, marketing, and ethics, to name just a few. These skills can be useful in dozens of different industries. By the time of graduation, students will know what qualifications are required for various levels of managerial positions, and will have the skills and education to be able to apply them.
While both degrees offer a broad understanding of business, deciding on one over the other doesn't necessarily limit career prospects. Students who graduate with administration degrees can still pursue jobs in management if that suits their interest. Immediately after graduation, the two paths may seem indistinguishable, as graduates are likely to begin in similar entry-level positions. However, job performance, experience, and degree specialization will all help to determine final career paths.
As the programs progress, curricula will grow more specialized for both paths. In management, students sometimes move away from strict business practices and toward areas of study such as communication and human resources management, because they will more regularly deal with fellow employees, clients, and business partners. Administration students, meanwhile, can find their ideal specialty and take courses focusing on personal finance, business law, consumer behavior, and project management. According to The Balance Careers, this can involve highly specific subcategories within preexisting specializations ― tax accounting and auditing principles versus the finer points of managerial or cost accounting, for example.
Graduates of business administration and management programs must still work their way up and gain relevant experience to reach managerial positions. Armed with the skills that BSBA and BSBM programs offer, they will be well-equipped to navigate the hierarchy of business leadership positions and executive management.
Career Options and Job Outlook
Career outcomes for those with a bachelor's degree in business administration vs. business management cover a wide range of options. BSBA graduates often pursue roles in sales management, finance management, healthcare administration, and marketing management, among others.
BSBM graduates may work in similar roles, as well as in financial analysis, management analysis, real estate sales, supply chain management, public relations, and other areas.
Overall, the U.S. Bureau of Labor Statistics (BLS) projects job growth of 7% for all business and financial occupations between 2018 and 2028. The BLS also reports 2019 median salaries for a variety of business administration and management careers:
Accountants earned $71,550
Budget analysts earned $76,540
Logisticians earned $74,750
Financial examiners earned $81,090
Financial analysts, a popular choice among BSBM graduates, earned $81,590
Public relations specialists earned $61,150
The top earnings levels for these positions — many of which the BLS reports usually require only a bachelor's degree at the entry level — edge well into the six figures.
Earn a Business Degree
Ultimately, the choice between business administration vs. business management is the student's to make. However, in today's business climate, students may find an administration education more widely applicable and versatile. Maryville University offers an online bachelor's degree in business administration program for qualified students.
If you are interested in learning more, explore the online bachelor's degree in business administration (BSBA) degree program and contact an enrollment advisor today. Now that you better understand the distinctions between business administration vs. business management, look into potential career paths with a degree in business administration.
Recommended Readings
Technology Trends in the Future of Manufacturing
The Future of Business Ideas: Where Creativity Meets Data Analysis
Sources
Career Trend, "Difference Between Business Administration vs. Business Management"
Houston Chronicle, "What Is the Difference Between Business Administration & Business Management?"
Investopedia, "Comparing Business Administration Degree vs. Finance Degree"
The Balance Careers, "Business Administration Major Career Paths"
U.S. Bureau of Labor Statistics, Accountants and Auditors
U.S. Bureau of Labor Statistics, Public Relations Specialists
Be Brave
Bring us your ambition and we'll guide you along a personalized path to a quality education that's designed to change your life.