Business Ideas of the Future: Emerging Entrepreneurs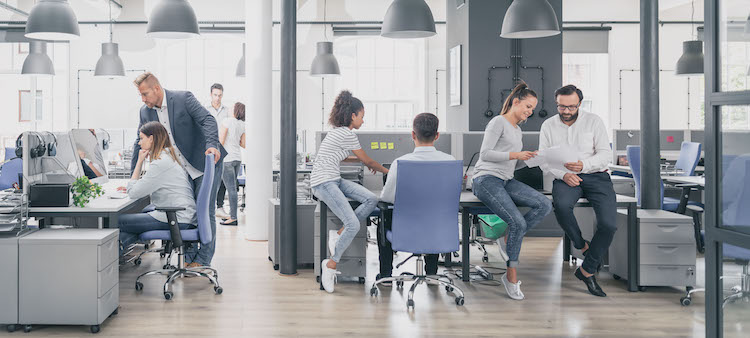 As many businesses struggle to adapt to fast-changing market conditions, their leaders will need to keep an open mind and remain flexible to stay innovative and responsive to new trends. Successful business managers and emerging entrepreneurs must combine creative thinking about markets with business solutions that use new tools and techniques to extract useful intelligence from the massive data pools being generated.
For instance, business planning and market forecasting tools based on artificial intelligence (AI), automation, and other advanced technologies are allowing entrepreneurs to be more creative when it comes to reaching their target audience.
According to a 2022 PwC survey, 42% of business leaders are accelerating AI implementation to reduce general hiring needs, and another 51% of leaders are planning to do so. This involves handing off repetitive tasks to machines and focusing employees' human efforts on other parts of the business.
With AI integration and automation rising, entrepreneurs can prepare for success in future markets by developing a solid foundation in business principles, keeping up with current business technology trends, and focusing on creativity and collaboration opportunities driven by the new tech-integrated business world. Earning an advanced business degree such as a Master of Business Administration (MBA) can help business professionals develop these entrepreneurial skills.
Benefits of Thinking of Business Ideas of the Future
The world continues to evolve at a rapid pace, and in recent years businesses have been one of the greatest reflections of that. Between the mass movement to remote work and the emphasis on technology, a lot has changed in recent years, and these changes have happened quickly.
Emerging entrepreneurs and business owners must stay agile and aware to maintain a sustainable business model. They should have their finger on the pulse of evolving trends and changes in human behavior and expectation. This way, their companies can be at the forefront of the evolution, generating business ideas and creating unique products and solutions to complement these changes. Here are some key benefits of thinking ahead and focusing on innovation, according to a recent guide from Info Entrepreneurs:
Reduce expenses and improve profitability
Increase competitiveness and productivity
Build brand value
Establish business relationships and partnerships
Without the positive impact of innovation, companies are at risk of losing their ability to compete in the marketplace.
Who Are Emerging Entrepreneurs?
Generation Z has a zest for entrepreneurship unlike any other generation. According to a survey from Ernst & Young and JA Worldwide, 53% of Gen Z members hope to launch a business within the next 10 years.
Gen Z entrepreneur, speaker, and author Jonah Stillman points out in a Fast Company article how Gen Z members feel confident that they're capable of managing many entrepreneurial tasks on their own. Because Gen Z has access to so much information, they are more of a "DIY" generation than ever before.     He asserts that having access to the internet has led to independence, empowerment, and ultimately an entrepreneurial spirit.
Maybe Gen Z is more aware of the access they have, but outside of this generation, everyone can build businesses with more ease than ever before. In the same Fast Company article, Stillman describes how tasks like opening an online store or legitimizing your business can be done with a few clicks of the mouse. Today, the tools are available to everyone, and it's a lot less complicated to get started.
The emerging entrepreneurs of today have more access to information and resources than ever before. Creating a business is more accessible than ever before, and younger generations are eager to take advantage of that.
How Can Future Aspiring Entrepreneurs Generate Business Ideas of the Future?
Emerging entrepreneurs, businesspeople, and business students can prepare for success in the markets and industries of tomorrow by thinking creatively about business problems. They will need to apply advanced analytics techniques — such as automation and AI — to generate business ideas for the future and devise business plans to help their organizations achieve their goals.
Foster Collaboration and Communication in Business
As technology advances and business moves to an even more global scale, shifts will occur not only in the business ideas of the future but also in how people interact. Many companies are employing people from around the world based on their skills and interests instead of their geographic location.
Historically, a shared workspace meant literally working in communal office settings; now it means people are geographically apart but connected through technology. As Ragu Bhargava, the CEO of Global Upside, mentioned in a recent Forbes article, the pandemic helped us recognize that employees are productive at home and they really benefit from the freedom of managing their own schedules.
How people collaborate in person is evolving too. Instead of brainstorming individually and conducting weekly or biweekly meetings to gather ideas, many companies are moving to open workspaces and daily catch-ups to promote collaboration. Startups with tangentially related areas of focus are working in the same spaces with the intent of accelerating the formation of good ideas between them.
Current and future entrepreneurs can stay up to date with changes in creative workspaces and intercompany collaborations using skills tailored to those areas. Advanced degrees, such as an online Master of Business Administration, allow students to gain or sharpen skill sets in analytical thinking, technology, communication, and leadership.
Such preparation may prove critical to the future success of managers and executives who need to identify opportunities, anticipate obstacles, and devise and implement winning business ideas of the future.
Use Automation and AI to Maximize Creativity
Technological advances that lead to disruptions in the workplace often end up adding more jobs than they replace. A recent report by the World Economic Forum (WEF) predicts that while automation, AI, and other related technologies could displace about 85 million positions between 2020 and 2025, the same technologies may lead to the creation of 97 million new jobs.
These new employment opportunities — which the WEF describes as "more adapted to the new division of labor between humans, machines, and algorithms" — could allow for more creative freedom in roles that can be partially automated. Businesspeople who possess the right training, skills, and growth mindset can capitalize on this workplace evolution.
The tasks replaced by AI algorithms are typically repetitive, time-consuming tasks that can be done more efficiently by robots and machines. With the routine aspects of a job handled by technology, entrepreneurs can focus their energy on innovative solutions and the creation of completely new ideas.
Explore New Ways to Reach and Interact with Customers
Tools like mobility, social media, and digital feedback loops fundamentally change the way businesses engage and interact with their customers. Business ideas of the future will include data analysis techniques to attract new customers and retain existing ones by listening carefully, responding deliberately, and then listening some more.
One way that data feedback is impacting customer relations is through technology-based customer support tools. For instance, researchers have developed AI-powered sentiment analysis software that is capable of discerning tone when processing customer interactions and tailoring customer support responses. This ability to gauge human emotion and respond accordingly may greatly improve the client and customer experience, which would reflect well on the company.
Develop Future Business Ideas for 2023 and Beyond
Planning for the future of business will require entrepreneurs to stay up to date on global and tech-integrated business practices. With AI, automation, and other technologies driving the world of business into new intersections of data and creativity, it will be crucial for entrepreneurs to be knowledgeable about potential future business ideas for 2023 and beyond.
Gaining that knowledge through advanced education, such as Maryville University's online business degrees, can help current and future entrepreneurs find success in the business world to come. Maryville's online Master of Business Administration program includes 12 concentrations in fields including information technology, health administration, data analytics, cybersecurity, and marketing. Explore how the MBA program can help you develop advanced skills in technology, communication, and business strategies to launch successful business ideas of the future.
Recommended Readings
Best Master's Degree for the Future: Planning Ahead
Startup vs. Small Business: What are the Differences?
Brand Engagement Guide for Your Business
Sources:
Amazon Web Services, What Is Sentiment Analysis?
Ernst & Young, "How Business and Education Can Help Gen Z Reframe the Future"
Fast Company, "Why Gen Z Is So Keen on Entrepreneurship, and What That Means for Employers"
Forbes, "As AI Advances, Will Human Workers Disappear?"
Forbes, "Remote Work Is Here to Stay and Will Increase Into 2023, Experts Say"
Infoentrepreneurs, "Use Innovation to Grow Your Business"
PwC, AI and Analytics 2022 AI Business Survey
United Nations, "With AI, Jobs Are Changing But No Mass Unemployment Expected – UN Labour Experts"
World Economic Forum, "Don't Fear AI, It Will Lead To Long-Term Job Growth"