Brand Engagement Guide for Your Business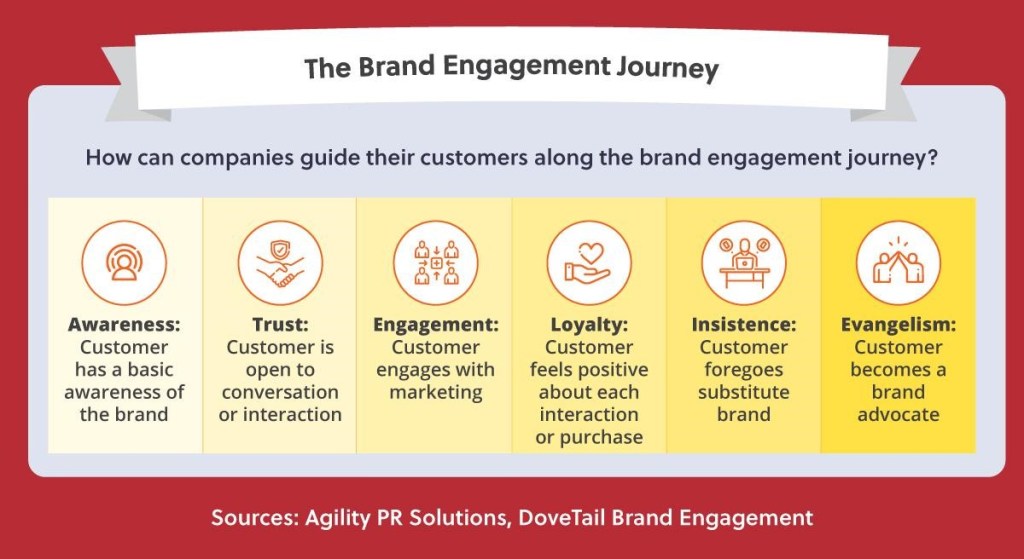 Tables of Contents
A company's success depends on the quality of its products or services, its customer base, and its sales and marketing strategy. A well-executed marketing strategy that includes brand engagement can be highly effective at winning repeat business and bringing in new customers.
How does brand engagement work? Brand engagement invites customers to interact with a company or its products via social media and other forms of communication. It's a way for customers to become emotionally invested in a product or service. They may even become evangelists for the brand.
A brand engagement strategy is an essential part of any modern business marketing strategy.
What Is Brand Engagement?
Brand engagement refers to the connection between customers and a company or product, and the ways in which the company maintains that connection with customers. This connection is often emotional and is characterized by a customer's loyalty and repeat business.
However, the goal of brand engagement is more than just feel-good relationship building. Effective brand engagement is measured according to the following metrics:
Customer retention. Engaged customers are loyal customers.
Repeat business. Loyal customers equate to repeat sales.
New business acquisition. Brand engagement boosts new customer sales too, as brand awareness and engagement grow.
Improved products and services. Responding to customer feedback improves product development.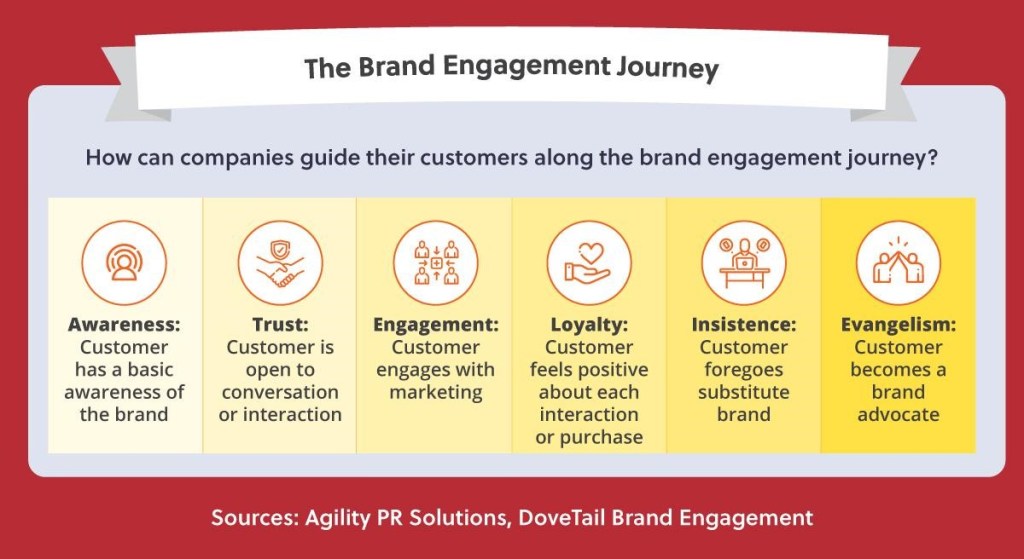 The goal of brand engagement is to take customers on a journey that starts with awareness and builds toward customers becoming advocates for a product or service, the highest form of engagement. It's a two-way form of marketing that invites customers to respond to communications and rewards their interactions.
The elements of brand engagement include:
Social Media
Social media is essential to brand engagement. Used properly, social media lets companies connect with their customers in a common area. However, brand engagement on social media is more than just creating content for Twitter, Facebook, Instagram, or Snapchat. Social media brand engagement requires interacting with customers in a meaningful way, with a focus on emotional connection.
Email
Email remains a powerful way to connect with customers that can be targeted to specific customer segments. Some examples of topics for brand engagement emails include thank you notes, loyalty rewards, re-engaging lapsed customers with offers, resolving customer complaints, and deals and discounts. Email metrics such as open rates and conversions can help measure the effectiveness of a brand engagement strategy.
Customer-Provided Content
Customer-provided or user-generated content is brand information sourced from customers. It can be an unboxing video, which helps boost excitement about a product. It could be content on a user forum, in which users engage with one another regarding a product or service. Since customers control their brand engagement, customer-provided content can be part of successful brand engagement, but it can also be risky, if the engagement leads to negative behavior.
Customer Interaction
Brands with brick-and-mortar locations must interact with customers in person as well as online. In-person interactions are vital. Companies must train staff and managers to be responsive, welcoming, educational, and efficient in dealing with customers' needs. Companies using omnichannel marketing — in which customers interact with brands online, via websites, apps, and social media, and in person — must ensure that their messaging and customer engagement flows seamlessly among websites, storefronts, and social media.
Surveys, Polls, Contests, and Feedback
Social media polls are an efficient way to get feedback from customers and prospects. Email surveys can help companies understand what existing customers think about a brand. Contests, especially those that ask followers to tag a friend, can help boost brand awareness and generate excitement about a product or service. Customer feedback, whether on review pages or on a person's personal social media profile, offers solid insight into customers' feelings about a brand. If feedback is negative, it's an opportunity to create loyalty by responding promptly.
Engagement Metrics
Engagement metrics should be part of any new brand engagement initiative from the get-go. They are essential to measuring the effectiveness of a brand engagement strategy, and the only way to understand which elements are working — and which are not. Metrics such as social media follows and likes, reviews, email open rates and click-throughs, and in-person repeat visits all tell the story of what customers think about a product or company.
Brand Engagement Examples That Help Promote Businesses
Companies across industries use the elements of brand engagement in a variety of creative ways. What works for one company may not work for another. They must understand their own business model and customers to identify the best brand engagement tools for their business. Companies must know their goals, whether that's brand awareness, new business, or improved customer retention. And they must capture the data so they can quantify the results of their strategy.
Brand engagement examples include use of the following tools:
Omnichannel Engagement
Many people use their phone as their point of access to every company they interact with, from the grocery store to the movie theater. They may click on an Instagram ad and browse for products, and buy them later at the store. Companies can take advantage of this customer behavior by creating an omnichannel presence that focuses on the mobile interface and provides a streamlined experience. This can create a welcoming presence for customers both online and in person.
Chatbots
Companies that provide services such as insurance, banking, or healthcare may use chatbots to help create a positive customer experience. Chatbots use artificial intelligence and natural language processing to respond to customers' needs. The more interactions they have, the more they "learn," so they get better at serving customers. Chatbots can help with information, education, and scheduling.
Real-Time Interaction
Customers appreciate real-time responsiveness from companies. Businesses that promptly respond to social media messaging, emails, website feedback, or other communications convey their commitment to customer satisfaction. A successful customer interaction strategy ensures that the messaging from the company is consistent, professional, and helpful.
Premium Content
Companies can use their social media and web presence to provide premium content, such as tips to get the most out of a product or service. They can offer free swag or coupon codes to followers, or to customers who download the mobile app. Newsletters can also be a source of premium content for loyal customers, but beware: People receive a lot of emails and offers, and a little can become too much quite quickly.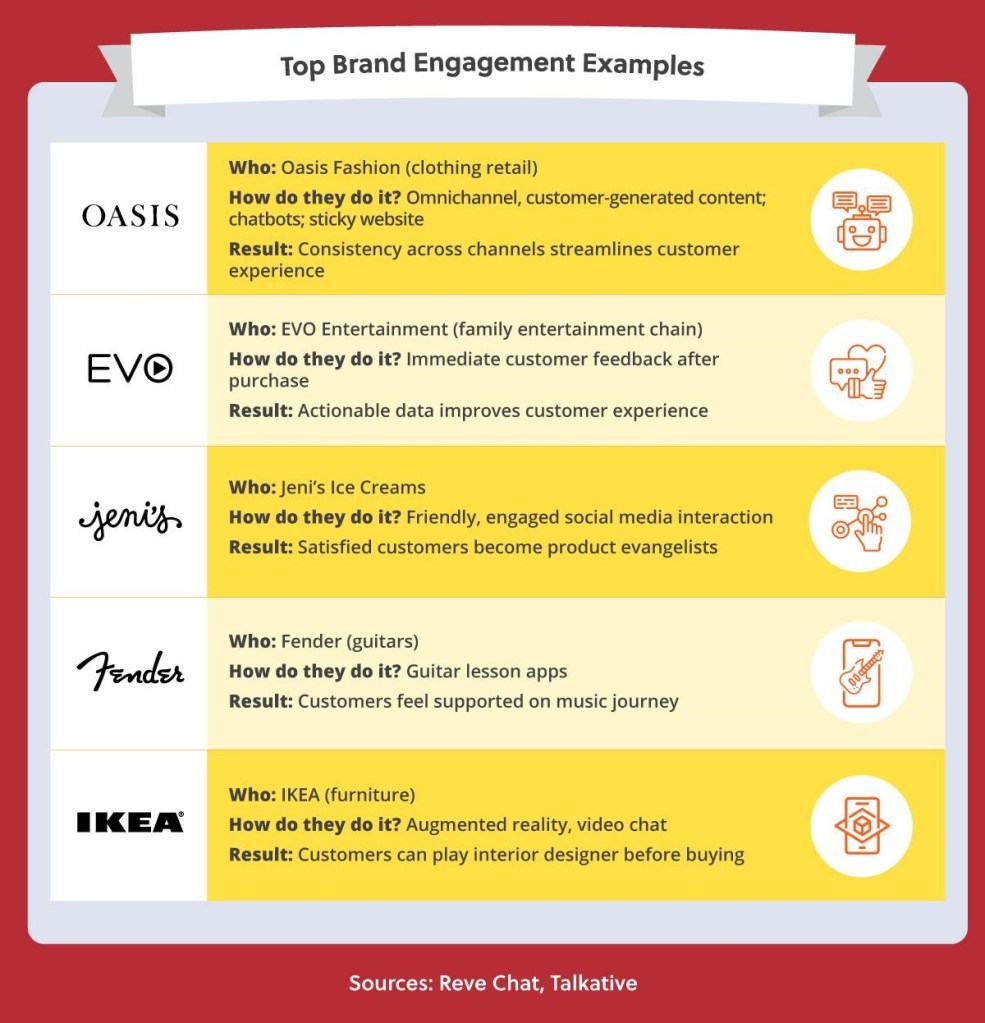 How to Build Brand Engagement
It may seem daunting to build a brand engagement strategy from scratch. Most businesses already have many of the elements in place — email, a website, an e-commerce platform (if applicable), and at least one social media account. Now it's a matter of putting together a model that is intentional and can be measured and monitored. The following steps will help in building brand engagement.
1. Start with Market and Customers
Companies already know their market and customers. They know whether they are a business-to-business (B2B) or a business-to-consumer (B2C) company. Now it's time to dig deeper. If their customers are other businesses, what are their industries and social media presence like? If their customers are individuals, what are they reading and listening to? What else do they buy?
2. Identify Brand Awareness
Before a company can build brand engagement, it has to identify the level and type of brand awareness that currently exists in the marketplace. Businesses need to understand how their customers find them, whether that's through Google searches, word of mouth, or advertising. They can search on social media platforms to see if their company name, brand, logo, or products come up in discussions. Once companies have a baseline for understanding their current state of brand awareness, they can move on to improving it.
3. Create a Social Media Presence
A successful social media presence goes beyond a Facebook page or a Twitter handle. Companies that use social media to be accessible to customers are likely to see more engagement than businesses that "set it and forget it." Social media requires constant monitoring and usage to attract customers.
4. Put Email to Work
Companies use email campaigns to reach out to existing customers and strengthen their customer engagement. They can remind customers they have items in their shopping cart and offer a discount. They can build on relationships and offer additional services. They can ask for feedback. They can report on feedback and what changes they plan to make. Companies can use email metrics to measure their email's effectiveness and pivot accordingly.
5. Develop a Customer Community
Brand engagement and customer service can go hand in hand. That's because one way to meet customer needs and concerns is to create a user community. Online forums let customers connect with each other and with the company. This allows customers to create a community, helping one another solve problems and celebrate successes.
6. Analyze Website Metrics
Countless analytics tools are available to help companies identify the effectiveness of their website, including their e-commerce setup. Metrics include how customers find the site, how long they stay there, how often they buy a product, and how often they abandon shopping carts. Companies can use this data to reconfigure their web presence and improve their sales and customer satisfaction metrics.
7. Prioritize SEO
SEO, or search engine optimization, is part of website metrics, which help with understanding customer satisfaction. Using SEO strategies that are based on what customers search for, companies can rise in search results, helping customers find their products on a crowded internet. SEO can also be used for the creation of email newsletters and other web content, such as blogs, to make them more effective.
8. Conduct Feedback Surveys
Why do customers buy a product? How do they use it? Will they buy it again, or recommend it to a friend? Surveys, whether they have only one or two questions or are pages long, provide valuable information. Companies can use polls and surveys to boost customer engagement and understand customer behavior.
Brand Engagement Marketing Tactics
Once companies commit to a brand engagement strategy, they have a number of options for how they put the different elements together. Not all marketing tactics work for all companies and customers, but all of these tactics enable companies to be flexible in how to reach out to customers and how customers can interact with them. Social media interaction can drive customers back to the website, where chatbots can help them find what they're looking for. Videos can create excitement among users, allowing them to showcase their creativity. And email can open up a channel for customer feedback, among other benefits.
The following are examples of brand engagement marketing tactics that use various channels to connect with customers.
Social Media Brand Engagement
Social media is what most people think of when they think of customer engagement. Many companies have Facebook pages or Twitter accounts and post statuses and tweets. However, social media can be a powerful way to interact with customers as well. Companies can put out a call for user-generated content. They can set up contests and offer prizes. They can allow customers in with behind-the-scenes views. They can also use surveys and polls to get feedback, and use social media to drive customers to visit their businesses in person, making use of omnichannel marketing.
Some examples include:
Email Brand Engagement
From the first moment a business contacts a customer with an email, they have an opportunity to build a relationship. Companies that use email to welcome customers to their business can personalize their messaging. They can use email to introduce new products or services, make offers, or let customers know about premiums they might not remember they had. Email can be used to remind customers about an abandoned shopping cart. Companies also can identify customers who haven't opened an email in a while (open rates are an excellent brand engagement metric) and seek to re-engage their interest.
Video Brand Engagement
Video is an excellent way to get exciting content in front of customers and prospects. Companies can use video to showcase user-generated content. They can create video stories that highlight their employees and the work they do. They can take advantage of influencers in both the B2C and B2B market segments to provide exciting information to customers. Note that video brand engagement is different from advertising. Rather, it tells a story that invites customers to interact with the product or service.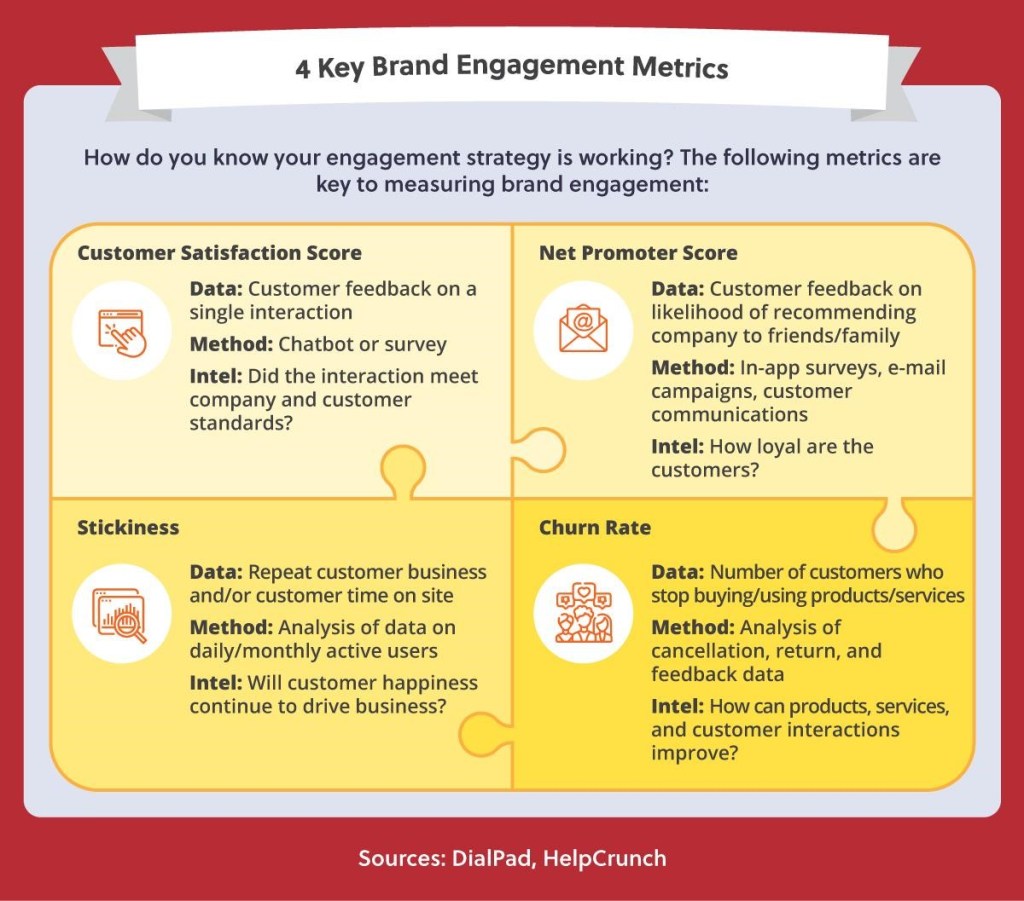 How to Measure Brand Engagement
The best brand engagement marketing program is nothing without measurement. Even though engagement may be considered qualitative rather than quantitative, several important metrics provide plenty of information to businesses about their customers.
Brand engagement metrics measure how invested customers and prospective customers are in a product or company. They can identify which customers are satisfied and which have had a negative experience. Metrics can tell companies which of their strategies are successful and which aren't. Measurement is vital for an effective brand engagement strategy. All of these metrics put together a story of brand engagement.
Metric examples include:
Customer satisfaction score. Customer satisfaction can be measured at the point of contact or sale, usually through a quick one-question survey. A simple formula lets companies know how they're doing and helps them identify trends.
Net promoter score. Companies can survey customers or prospects about whether they would tell a friend or family member about a product or service. These surveys can identify both promoters and detractors.
Do your customers keep coming back? Stickiness measures repeat business both for an in-person visit or online. It measures daily and monthly active users.
Open rates. People get a lot of emails. There's a tremendous amount of competition for a customer's attention. Open rates measure how often customers open a company's emails and read the messages.
The churn rate is the number of customers, subscribers, or users who stop buying or using a company's products or services over a given period. A low churn rate means most customers are happy with a product or service.
Other metrics. Other metrics that provide valuable information include first week engagement scores, customer effort scores, feature usage, and visit frequency.
The Importance of Brand Engagement for Your Business
Brand engagement is important for all companies in all market sectors, not just household names. The methods and metrics covered here can help companies successfully provide the goods and services their customers value. Developing a connection with customers, encouraging their feedback, and being responsive to their needs will build repeat business, encourage word-of-mouth promotion, and make customers feel heard. See what brand engagement can do for your business by tailoring these tools to your products and customers.
Infographic Sources
Agility PR Solutions, "Mastering the Six Steps of Brand Engagement"
Dialpad, "The Top 15 Key Customer Engagement Metrics to Measure (but You Don't Always Need Them All)"Dovetail Brand Engagement, "7 Steps to a Perfect Brand Engagement Strategy"
HelpCrunch, "8 Most Essential User Engagement Metrics to Measure"
Reve Chat, "Top 10 Examples of Customer Engagement Campaigns in 2022"
Talkative, "7 Great Customer Engagement Examples That Boosted Brand Loyalty"