Bachelor's in Accounting Career Path
Bachelor's in Accounting Career Path
Bachelor's in Accounting Career Path
The accounting profession comprises a wide range of career types and opportunities for people with a keen understanding for math and number crunching. Businesses of all types value skilled professionals who are able to research, understand, and evaluate their finances in order to create business models that ensure financial success.
Bachelor's in accounting career paths include many different possibilities with high growth and income potential, including accountants and auditors, budget analysts, financial advisors and analysts, and finance managers, just to name a few. According to the U.S. Bureau of Labor Statistics, the accounting industry is experiencing a growth rate of 4 percent, and the bureau predicts the industry will add 61,700 new positions between 2019 and 2029.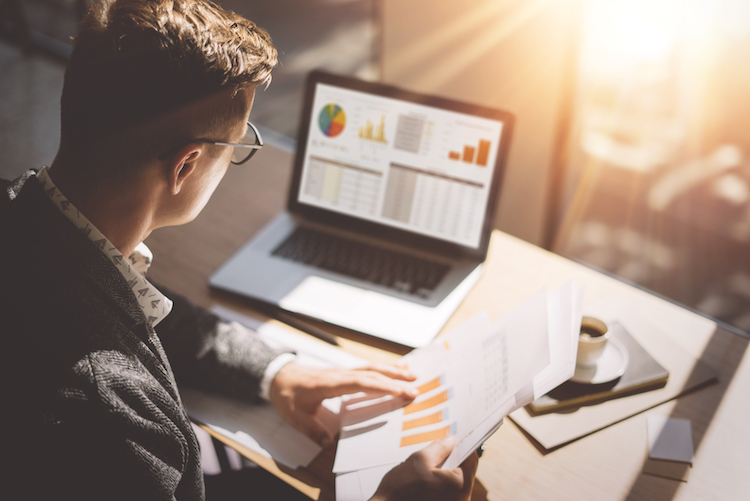 Industries Hiring Graduates with Accounting Degrees
There are many exciting opportunities for accounting professionals within both the public and private organizations. Typically, accounting degree holders can expect to work in the following specific industries, among others:
Tax preparation
Publicly traded companies
Tax law
Business analysis
Popular Careers for Accounting Degree Graduates
Accounting degree graduates can find work in many different industries and fields, such as corporations, small businesses, government, and nonprofits. The following positions are some of the most common for those with accounting degrees. There are jobs for those who like to analyze financial statements and formulate spreadsheets, as well as for those who prefer analyzing a company's management style and practices. The three primary types of accounting are public, industry, and governmental. But within those three categories, accounting professionals can also specialize in a particular niche that could be tailored to fit their individual skill sets and personal interests. However, it is important to note that while a degree in accounting can help an individual to start down the path towards becoming an accountant, additional training, certifications, or even advanced degrees may be required for actual employment.
Financial Analyst
In order to keep earning money, a business must understand and monitor its financial status. Finance analysts facilitate this by collecting and studying data, then recommending actions to maximize earning potential. Some of a financial analyst job duties include researching operating costs by collecting and studying operational data. The analyst identifies a company's financial status by analyzing results from financial forecasts and guides the cost analysis process by establishing policies and procedures for tracking trends and forecasting methods. These professionals help improve an employer's financial status and output by finding and monitoring variances, identifying financial trends, and recommending actions to management.
U.S. News and World Report ranks financial analysts No. 14 in its Best Business Jobs list, with approximately 488,000 positions nationwide. The median salary for financial analysts is just more than $80,000 per year.
Skills recommended to succeed:
Attention to detail
Research and analysis
Budget creation
Financial forecasting
Financial Manager
All types and sizes of businesses require a comprehensive and effective financial plan in order to continue generating a profit for themselves, which leaves many options for those seeking an accounting career path. Financial managers fill this role by overseeing investments, developing money-making strategies, and preparing financial reports. Financial managers work in many industries, including healthcare and banking, as well as in government agencies and small businesses.
Typical job duties include investigating business and investment opportunities, planning expansions and mergers, and preparing financial forecasts. Financial management positions require attention to detail, mathematical acumen, communication skills, and organization. The median salary for financial managers is nearly $130,000 per year with almost 698,000 available positions nationwide.
Skills recommended to succeed:
Consulting
Management
Communication
Data analysis
Financial Advisor
Financial advisors are responsible for helping their clients set and implement long- and short-term financial goals. These could include buying a home, paying off debts, saving for retirement, or paying for a college education. Day-to-day duties of financial advisors often include researching and recommending investments to clients that are suitable and affordable based on each client's objectives, budget, time frame, and risk profile. Financial advisors negotiate and execute such things as insurance, investments, taxes, debt reduction and management, and estate planning. They're responsible for knowing and abiding by all industry rules and regulations, including maintaining proper documentation and keeping clients informed of opportunities and guidelines.
Financial advisors' median salary comes in at about $88,000 per year, and U.S. News and World Report ranks the job at No. 6 in its Best Business Jobs report. There are approximately 263,000 financial advisor jobs available nationwide, and the U.S. Bureau of Labor Statistics expects the job outlook for this career to grow through 2029.
Skills recommended to succeed:
Communication
Consulting
Forecasting
Managing
Budget Analyst
Budget analysts can find careers in many areas, including the private sector, colleges and universities, and the government. These professionals develop and implement budgets, prepare annual reports, evaluate budget proposals, and perform benefit-and-cost analyses for various programs. These cost-benefit analyses are used later to review financing requests, determine best practices for program funding, and assess budget requests. Budget analysts must be able to work with a variety of management personnel within different departments in order to create the organization's budget and must be able to consolidate the different departments' proposed budgets to outline an overall budget for the entity as a whole. They need to be able to forecast for future needs and monitor daily outcomes to ensure the organization is on track to meet both short- and long-term budget goals and projections.
The U.S. Bureau of Labor Statistics reported budget analysts' median salary was about $77,000 as of May 2019, with those employed in federal government and science, and technical services earning the most, and those working for state government earning the least, by comparison.
Skills recommended to succeed:
Math and budgeting
Communication
Attention to detail
Organizational skills
Cost Accountant
Cost accountants generally work in office environments but are also needed in production facilities and manufacturing areas. They're responsible for keeping track of ongoing processes, targeting cost constraints, analyzing financial margins, and tracking costs as they proceed. They collect and analyze financial data to account for organizational costs and review data reporting systems. Cost accountants are often involved in an organization's inventory process, where they coordinate and conduct physical inventory counts, update costs, review cost accounting for inaccuracies, track overhead costs, and offload obsolete inventory. Oftentimes, cost accountants prepare reports on break-even points and profit margins, as well as track and report on unexpected variances and their causes.
Depending on responsibilities and work environment, cost accountants can make between $44,000 and $124,000 per year, with the median salary estimated by the U.S. Bureau of Labor Statistics at about $72,000 as of May 2019. Employment of professional accountants is predicted to grow by 4 percent between 2019 and 2029.
Skills recommended to succeed:
Mathematics
Long-term planning
Data analysis
Budgeting
Credit Analysis Manager
A credit analysis manager applies the knowledge gained throughout their bachelor's in accounting career path to develop and implement procedures that are used to determine the creditworthiness of their customers. Managers in this field oversee a staff of credit analysts, and they often review credit applications based on the analysts' recommendations. They may also perform the analysis duties themselves for more complex accounts and typically report to a department head.
These first-level managers ensure that their departments meet goals and adhere to budgets and policies, with full authority over staff actions.
Credit analysts typically make around $85,000 per year, depending on their department standing, and there were almost 74,000 positions nationwide in 2019, according to data from the U.S. Bureau of Labor Statistics.
Skills recommended to succeed:
Management
Data analysis
Budgeting
Mathematics
Anti-Money Laundering Specialist
As government scrutiny and regulatory demands increase, so does the need for anti-money laundering specialists. These professionals must be skilled in forensic accounting, research and data analysis, and understanding risk management. Financial institutions often hire these specialists to oversee their systems in an effort to prevent the financial institution from violating any regulatory requirements and to monitor day-to-day transactions for any suspicious activity. These professionals ensure banks or other financial organizations operate efficiently and within the law. They must be able to compile reports several times a year for the board of directors and explain the contents.
Anti-money laundering specialists, also known within the field as financial examiners, had a median salary in 2019 of almost $82,000 per year, with 66,900 jobs available, according to the U.S. Bureau of Labor Statistics. The job outlook in this area is healthy, with a 7 percent growth predicted between 2019 and 2029.
Skills recommended to succeed:
Accounting
Attention to detail
Time management
Data analysis
Corporate Controller
A corporate controller is responsible for overseeing all accounting operations within a company, including producing financial reports, maintaining all accounting records, and implementing a system to mitigate risk, verify the accuracy of periodic financial results, and ensure the company is adhering to generally accepted accounting practices. These professionals handle accounts payable and receivable, process payroll, make periodic bank reconciliations, maintain a general ledger, manage the annual budget and calculate variances within the budget, and provide reports on each of these tasks.
Corporate controllers' median income, according to the U.S. Bureau of Labor Statistics, was $62.45 per hour in 2019, and there were more than a half million positions in the U.S. The industry is growing at a 15 percent rate, which is much faster than average.
Skills recommended to succeed:
Personnel management
Budgeting
Mathematics
Organization and attention to detail
Bachelor's in accounting career paths can be varied. Since most businesses require financial and accounting specialists, a professional with a bachelor's degree in accounting has the potential to explore a wide range of industries and careers. Earning a bachelor's in accounting can help a professional develop an understanding of not only critical accounting skills and concepts, but pursuing the degree can also help an individual gain a better comprehension of their potential overall career path.
Maryville University's online accounting degree prepares aspiring finance professionals for any accounting career path they may choose to pursue. Learn more about Maryville's online Bachelor of Science in Accounting program.
For more details about what an accounting program involves, check out an overview of a typical bachelor's in accounting curriculum.
Sources
Forbes, "Be The Best Consultant Ever: 6 Things That Will Make You Great"
Forbes, "Help Wanted: Young Financial Advisors (Finance Degree Not Required)"
Salary.com, "Credit Analysis Manager"
U.S. Bureau of Labor Statistics, "Occupational Employment Statistics"
U.S. Bureau of Labor Statistics, "Occupational Outlook Handbook – Budget Analysts"
U.S. Bureau of Labor Statistics, "Occupational Outlook Handbook – Financial Analysts"
U.S. Bureau of Labor Statistics, "Occupational Outlook Handbook – Financial Examiners"
U.S. Bureau of Labor Statistics, "Occupational Outlook Handbook – Financial Managers"
U.S. Bureau of Labor Statistics, "Occupational Outlook Handbook – Personal Financial Advisors"
Related Articles
Be Brave
Bring us your ambition and we'll guide you along a personalized path to a quality education that's designed to change your life.