How To Become a Compliance Manager
How To Become a Compliance Manager
How To Become a Compliance Manager
Many components contribute to a business's or organization's success. One crucial component is ensuring it adheres to established rules, regulations, guidelines, best practices, and ethical policies. The person responsible for overseeing these considerations is the business's compliance manager.
In this article, we'll discuss what a compliance manager is and how you can start your path toward becoming a compliance manager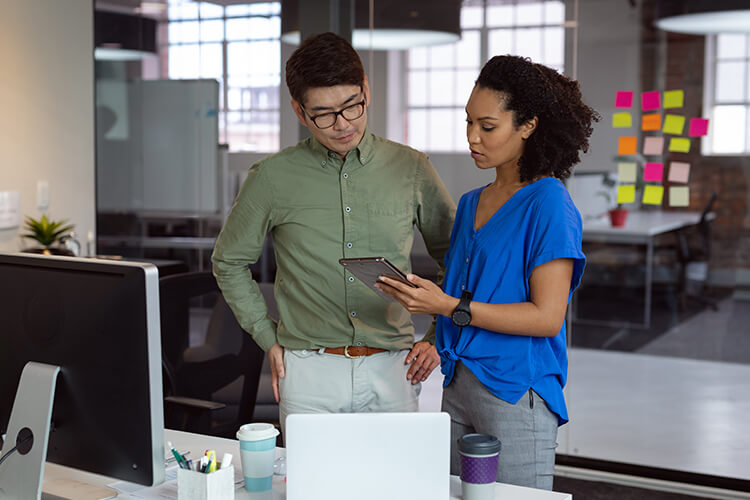 What is a compliance manager?
Businesses operate to maximize shareholder profit, yet consumers want to know the goods and services they are purchasing are safe and reputable. To help companies operate safely while also turning a profit, the local, state, and federal governments have enacted a web of rules, regulations, and laws to govern business' actions. Compliance managers perform the vital role of advising companies on how to comply effectively and efficiently with these legal requirements.
What are the roles and responsibilities of a compliance manager?
As stewards of a corporation's reputation, compliance managers create the policies and procedures that ensure the company is operating consistently with local, state, and federal regulatory requirements. The compliance manager also may help ensure ethical integrity.
As a compliance manager, you may:
Track and respond to developments in corporate law
Design programs, such as control and risk management systems, to minimize the risk of noncompliance and prevent illegal activity throughout the corporation
Enforce codes of conduct and ethics guidelines
Create steps to mitigate harm if illegal actions or violations occur
Report to executive leaders on the corporation's daily activities and compliance and provide guidance on compliance obligations in investments and policy developments.
What skills do you need to become a compliance manager?
To be an effective compliance manager, you should be detail oriented. You should feel comfortable reading and understanding lengthy policies and thrive in a continually evolving landscape. Because you are responsible for guiding a corporation and communicating with employees from the C-suite to summer interns, you should also possess strong leadership and communication skills.
You'll also need a breadth of knowledge to be effective in this role, including areas like:
Corporate governance
Internal audit and controls
Regulatory reporting
SOX compliance and 404 auditing
Risk assessment
Ethics
Serving as vital leaders in ensuring the ethical operations of a corporation, compliance managers are integral to the health of a company and require a diverse skill set. If this sounds like you, you might be the perfect fit for compliance management.
What is the employment outlook for compliance managers?
Careers in compliance management can be finically rewarding. While potential salary depends on factors like experience, location, and industry, the average total compensation for a compliance manager in 2022 is approximately $86,000, with salaries for some compliance management positions exceeding $100,000.*
Not only that, but demand continues to grow for qualified compliance managers. Regulations, laws, and public opinion change constantly, and for businesses to remain successful, they need experts to help them navigate the continuously changing landscape, according to Robert Half.*
How to become a compliance manager
If you want to protect and promote a corporation's ethics and integrity, you may find becoming a compliance manager a rewarding career. But you'll need the proper credentials to be successful. Here's a look at how earning your online bachelor's or master's degree could help you become a compliance manager.
Bachelor's degree in Accounting
A bachelor's degree in accounting can be your first step toward becoming a compliance manager. The future-focused, 100% online Bachelor of Science in Accounting at Maryville University may help lead you to a career in compliance management. With courses like business law and operations management, you'll have the opportunity to build a strong foundation in understanding the regulatory landscape as you develop your management skills.
Master's degree and advanced certification
If you're exploring entering a new career field or are seeking to increase your earning potential, your online Master of Science in Accounting at Maryville may be the bridge between where you are and where you want to be. In this career-focused program, you'll learn about advanced financial reporting and accounting regulation. Not only that, but Maryville was one of the first universities in the nation to update its curriculum to focus on the upcoming changes to the CPA Exam, meaning you can earn an education focused on the future of the field.
Depending on your industry and field, you also may consider seeking advanced compliance certification relevant to your field. Two trending certifications include the Finance and Banking: Certified Regulatory Compliance Manager (CRCM) and the Data Privacy: Certified Privacy Professional (CIPP) certifications.
You're only one brave step away from pursuing your professional goals — and we're here to help you on your pathway to success. If you want to learn more about how your Maryville education can connect you to the next step in your career, schedule a call with an advisor.
Sources
Glassdoor.com, "How much does a Security Compliance Manager make?"
Robert Half, "Compliance Officers: What They Do and Why They're in Demand"
Be Brave
Bring us your ambition and we'll guide you along a personalized path to a quality education that's designed to change your life.