Financial Advisor Job Growth: Advancing Your Career
Financial Advisor Job Growth: Advancing Your Career
Financial Advisor Job Growth: Advancing Your Career
Students interested in working in a field that allows them to help clients develop individualized financial plans for investments, retirement, and long-term saving may be drawn to a career as a financial advisor. In addition to helping clients set and work toward financial targets, financial advisors' guidance often makes a substantial long-term impact on their clients' lives.
Financial advisors can pursue careers in a variety of settings, such as insurance companies, financial institutions, mutual fund companies, and banks. Professionals with significant experience and expertise sometimes opt to open their own advising firms or move into management positions.
Aspiring financial advisors need to first develop the skills they'll need to succeed. Earning a degree in a related field, such as a bachelor's in accounting, can help prepare graduates with the business and accounting skills to pursue their professional goals.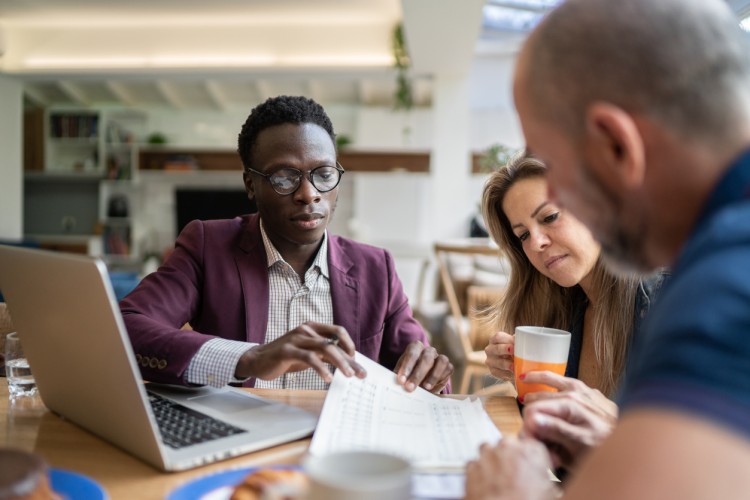 How to Advance Your Career as a Financial Advisor
After earning a bachelor's degree, entry-level financial advisors often complete on-the-job training to improve competencies in areas such as estate planning, tax planning, investment strategies, and risk management. Many professionals work under the supervision of senior staff for a year or more. During this time, they learn how to develop investment portfolios, assess clients' needs, and build and expand their client base.
Certifications such as the Certified Financial Planner designation from the Certified Financial Planner Board of Standards can enhance a financial advisor's reputation and be helpful in landing new clients. Eligibility requirements for the CFP include holding at least a bachelor's degree from an accredited institution, passing an exam, and having between 4,000 and 6,000 hours of professional experience. Additionally, individuals who have completed a non-financial or accounting degree program may be required to take additional college-level coursework in topics such as financial plan development, tax planning, income planning, and risk management before they can sit for the CFP exam.
In addition to certification, individuals may also want to earn a master's degree in a field such as finance, accounting, or business to improve their chances for advancement. This can help advisors build successful practices or move into management positions in larger organizations.
Skills Needed to Build an Individual Practice
Students interested in launching their own practice will find that developing the following skills and competencies can help them succeed:
Math Skills: Financial advisors need to be adept at analyzing and working with numbers.
Sales Skills: Professionals who run their own businesses should understand how to upsell current clients and how to sell financial advisory services to new ones.
Analytical Skills: Individuals who choose this career path should be comfortable assessing information, including regulatory changes and economic trends.
Interpersonal Skills: Financial advisors need to be able to communicate with clients of various ages, professional backgrounds, and education levels.
Niche-Market Skills: Professionals who focus on a specific niche often find they're better able to develop a targeted client base. For example, they might work with specific types of organizations, such as tech companies, or particular financial products, such as solo 401(k)s.
Benefits of Financial Advisor Career Advancement
Advancing one's financial advisor career has numerous benefits, such as increased autonomy and improved earning potential.
The U.S. Bureau of Labor Statistics (BLS) reports that as of May 2020, the median annual wage for financial advisors was $89,330, with earners in the top 10th percentile reporting earnings of more than $208,000 per year. Top earners often have more experience and may receive bonuses, incentive pay, and commissions on top of their base salary.
Salaries also vary based on other factors, such as the geographical region of the position, the company an individual works for, and whether an applicant has completed an advanced education, such as an online master's in accounting.
Statistics on Financial Advisor Job Growth
Job growth for financial advisors appears to be quite favorable. The BLS projects approximately 21,500 jobs for financial advisors to become available each year between 2020 and 2030. Many factors will contribute to these openings, including the need to replace professionals who retire, change career paths, or leave the workforce for other reasons, such as to care for children or aging family members.
Job Settings for Advanced Financial Advisor Careers
The BLS reports that as of 2020, 58% of financial advisors worked at securities and commodities companies, as well as other related companies focusing on financial investments, and 20% were self-employed. Most worked full time, Monday through Friday, in an office setting, although some reported working from home. Additionally, the job may require travel, as some financial analysts teach seminars, participate in networking events, and attend conferences to attract new clientele.
Make a Long-Term Difference for Others
Financial advisors guide clients as they strive to reach their financial goals. From helping individuals accommodate life changes, such as getting married, starting a family, or caring for aging relatives, to setting aside money for specific uses, such as buying a home or saving for retirement, professionals in the field help clients navigate financial markets, reduce costs and expenses, and make careful, educated decisions about their money.
The first step toward growing your financial advisor career is to gain the necessary knowledge and expertise. Completing a degree such as an online bachelor's in accounting from Maryville University can provide graduates with the accounting and financial skills they'll need. The curriculum includes courses such as Principles of Finance, Business Statistics, Individual Income Tax, and Accounting Theory, offering students a solid foundation in the principles of finance.
Discover how the online Bachelor of Science in Accounting from Maryville University can help you advance your financial career.
Recommended Reading
Uses of Data Analytics in Accounting and Finance
Tax Planning Strategies: Tips, Steps, and Resources for Planning
Going Back to School for Accounting: Advance in Your Career
Sources
The Advisor Coach, "5 Best Niches for Financial Advisors"
Certified Financial Planner Board, About CFP Board
CNN, '7 Important Reasons to Talk with a Financial Adviser Right Now'
Investopedia, "5 Growth Strategies for Financial Advisors"
Investopedia, "What Do Financial Advisors Do?"
U.S. Bureau of Labor Statistics, Personal Financial Advisors
Be Brave
Bring us your ambition and we'll guide you along a personalized path to a quality education that's designed to change your life.