What Is the Typical Human Resources Career Path?
What Is the Typical Human Resources Career Path?
What Is the Typical Human Resources Career Path?
The human resources (HR) department plays a critical role in how a company recruits and maintains its workforce. From small businesses to massive tech firms like Apple, virtually every company needs an HR department to find candidates for open positions, oversee employee benefits, and cultivate company culture.
HR departments encompass several different positions, and the typical human resources career path begins with education in a related field, such as a human resource management degree. But what are an HR representative's day-to-day responsibilities? What opportunities lie beyond entry-level HR positions?
What do human resources departments do?
HR is one of the few departments whose staff members interact with every employee in the company, beginning with hiring. As part of the recruitment process, HR reps publish job postings on the company website and professional networking sites such as LinkedIn, Indeed, and Glassdoor. When candidates respond, HR representatives review resumes, weed out unfit candidates, interview promising candidates, and pass high-quality candidates to the hiring manager for additional review.
However, finding and recruiting new talent is only one part of the human resources department's role. HR is also responsible for certain aspects of new-hire training, managing employees' health insurance enrollments and other benefits, and monitoring new laws or regulations that affect the company's workforce. For instance, human resources communicates changes in health insurance carriers or tax policy to employees.
HR departments also manage disputes, such as those involving conflicts between employees and formal complaints filed against supervisors. They also are involved in employee terminations and disciplinary proceedings such as formal written warnings.
Collectively, human resources is involved at all points of an employee's time at the company, from the application process to the exit interview. Because of their various tasks and responsibilities, most human resources departments have a team of HR professionals who each focus on specific duties that align with their skill set and experience.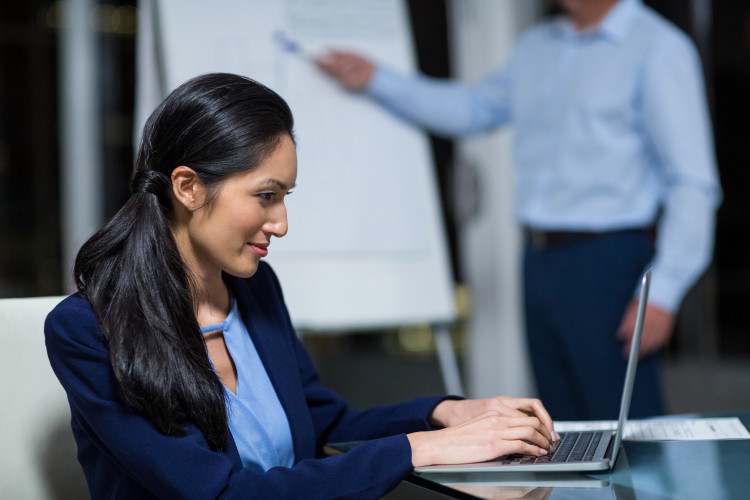 What is the career path for human resources professionals?
Not all human resources departments are the same. Some are staffed by a large team, while a small company might only need a single person. Those starting out in HR usually enter the field in an entry-level position, then work their way up toward the executive level.
HR assistant
This entry-level position focuses on administrative duties, such as helping with payroll, inputting data, and assisting with the employee recruitment process. A college degree is often not required for this role.
HR coordinator
An HR coordinator plays a supporting role to their superiors, handling healthcare plan enrollments, payroll, employee requests, record-keeping, background checks, new employee onboarding, and several other tasks. They also perform many clerical functions such as making photocopies, sending emails to candidates, and maintaining employee records. A bachelor's degree or relevant experience is preferred for this position, but not always required.
HR specialist
HR specialists are considered midcareer-level employees. They focus on finding and recruiting new talent to fill open roles. Their day-to-day responsibilities include creating job postings, reviewing resumes, screening candidates, and conducting interviews. A bachelor's degree and relevant experience are usually required for this position.
HR generalist
Unlike specialists, HR generalists perform virtually every task their department requires, from conducting a training session to finding new talent or negotiating with a health insurance provider. As a midcareer-level employee, a generalist often oversees coordinators or assistants and delegates tasks when necessary. A bachelor's degree and relevant experience are usually required for this position.
HR manager
An HR manager is considered a senior-level employee. In small- to medium-sized companies, the HR manager is usually the highest-ranking member of the HR department. In large companies, the HR manager may report to an HR director or a higher-ranking member. HR managers work closely with their team of specialists and generalists, ensuring that staffing goals and HR department objectives are met.
HR managers are in charge of recruitment, interviewing, hiring, and onboarding of new employees. They approve job postings to ensure compliance with local, state, and federal regulations. Additionally, HR managers routinely develop training materials, create compensation strategies, and help resolve conflicts between employees. A bachelor's degree in human resources is preferred, but business administration, psychology, and communication degrees are also acceptable to many employers. This role also requires several years of experience in HR or a leadership position.
HR director
An HR director is one of the human resources department's most senior-level employees. Directors oversee the entire HR department and collaborate with senior leadership and C-suite executives to plan a company's overall goals and strategy.
It's possible to become an HR director with a bachelor's degree alone, but many companies prefer candidates with a master's degree and at least five years of HR management experience. Additionally, they may also require an SHRM-certified professional or SHRM-senior certified professional credential. These certifications are offered through the Society for Human Resource Management (SHRM) and attest to an individual's education and experience in the field of HR via a four-hour, 160-question exam.
The minimum requirement to sit for the SHRM-CP exam with no degree is three years in an HR role. With a bachelor's degree, only one year in an HR role is required. Additional HR professional certifications are available through the HR Certification Institute (HRCI).
Vice president of HR
Vice president of human resources is an executive leadership position that oversees all HR operations. These leaders are responsible for the entirety of the HR department's procedures, policies, best practices, and short- and long-term strategies. The VP of HR must be well versed in employment-related laws and regulations. A large part of their job responsibility is ensuring their company is legally compliant with all matters related to employment, insurance, benefits, and workplace safety.
A bachelor's degree in HR, business administration, or a related field is required for this role. A master's degree in law or business along with professional certification is often preferred. At least a decade of HR management experience is typically required for this position as well.
Chief HR officer
The chief human resources officer (CHRO) holds the highest position in the human resources department. This role typically only exists in very large corporations with many employees. They oversee strategic leadership as it relates to HR, working directly with other executive leadership and responsible for reporting to shareholders and the board of directors. The main responsibility of the CHRO is to develop a comprehensive recruiting and retention plan along with a competitive and cost-efficient benefits and insurance plan.
A Master of Business Administration, or a Master of Arts or Master of Science in HR or a related field, is preferred for this role, and professional certification is strongly preferred. A minimum of 15 years of HR experience is required as well, with at least five years' executive HR experience.
How do I advance my career in human resources?
The two key elements required for moving up the professional ladder in HR are education and experience. The career path for human resources professionals usually begins with an education in human resources management or a related field. This ensures that you have the background and skill set necessary to qualify for an entry-level or midcareer position in HR. Once you are working in the field, you can begin to accumulate experience and learn the many different facets of HR, which will enable you to move up the ladder.
For senior- and executive-level roles, the certifications offered through SHRM or the HRCI are invaluable. Obtaining these credentials validates your experience and shows that you've met the standards set forth by the professional associations. It also shows your professional peers and executive leadership that you're ready to take on a role in the upper echelons of human resources.
Take the first step toward a career in human resources
Human resources offers opportunities from entry-level assistant roles through executive leadership. As an HR professional, you'll play a critical role in helping a company find the right talent for open positions and handling other important functions related to health insurance, employee training, and company culture.
Maryville University's online Bachelor of Science in Human Resource Management degree is an ideal program for those interested in launching a career in HR. Coursework in subjects such as financial accounting, principles of management, human resource management, and training and development will prepare you to hit the ground running and make an immediate impact.
Take the first brave step toward a career in human resources today with Maryville University.
Recommended Reading
How to Become a Human Resources Specialist
Human Resource Manager vs Specialist
Sources
Criterion, "What Is the Human Resources Career Path? The Complete Guide"
HR University, "What Is the Human Resources Career Path?"
HR Certification Institute, "Our Certifications"
HR Certification Institute, "What Is HRCI Certification?"
HR Certification Institute, "HRCI-HR Certifications: Eligibility"
Indeed, "The Hierarchy of HR Job Titles (with Salary and Job Descriptions)"
Investopedia, "Human Resources (HR)"
​​Society for Human Resource Management, "Chief Human Resource Officer"
Society for Human Resource Management, "Human Resource Director"
Society for Human Resource Management, "SHRM-CP"
Society for Human Resource Management, "SHRM-SCP"
Society for Human Resource Management, "Vice President, Human Resources"
U.S. Bureau of Labor Statistics, "Human Resources Managers"
U.S. Bureau of Labor Statistics, "Human Resources Specialists"
Be Brave
Bring us your ambition and we'll guide you along a personalized path to a quality education that's designed to change your life.