Human Resources Manager vs. Specialist
Human Resources Manager vs. Specialist
Human Resources Manager vs. Specialist
Human resources departments play an essential role in an organization's success. In addition to overseeing compensation and benefits, human resource professionals are responsible for ensuring operations that include talent recruiting, hiring, training, employee development, employee relations, and beyond.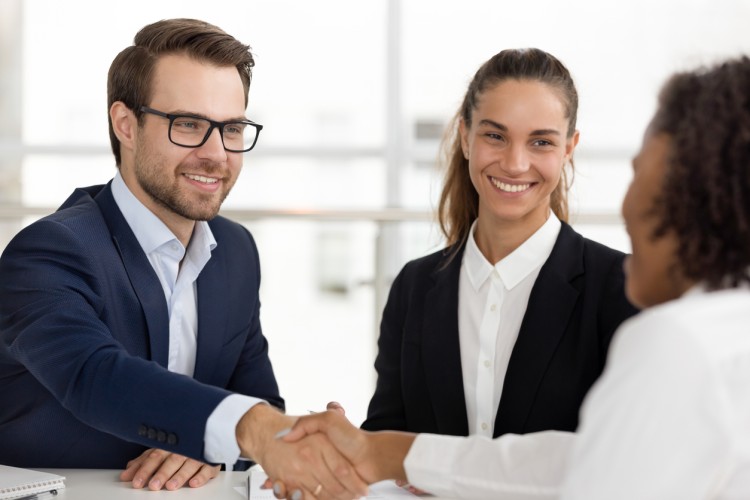 Professionals who pursue this career path may also be charged with finding ways to improve employee engagement, which in turn can improve retention rates. A 2019 article by Investopedia found that the average U.S. employer spends approximately $4,786 to hire and train a new staff member, which makes onboarding among the costliest talent-related investments for an organization.
Students who are interested in a career in human resources are likely to have questions about differences between various positions in this field, such as HR managers and HR specialists. Although these professions share a number of similarities, the differences between them are significant enough that they are classified as separate roles.
Similarities Between Human Resources Manager vs. Specialist
Human resource professionals play a critical role in helping companies establish and maintain a positive company culture. For example, HR often educates departmental managers about the importance of providing employees with constructive criticism, in addition to praising those who perform beyond expectations. Yet the similarities between human resources managers and specialists span beyond staff education and motivation.
HR managers and specialists must also have a strong knowledge base in business operations, and candidates for either position usually need a bachelor's degree in human resources or a related field. Positions for both career paths are available in a wide range of industries, such as healthcare, cybersecurity, finance, government agencies, and many others.
Both HR managers and specialists must also be highly detail-oriented, which is critical in maintaining employee records, performing background checks, and maintaining workforce compliance with local and national standards. Other shared tasks include the recruitment and placement of new employees, and executing tasks related to employee compensation and benefits.
Work environments for HR managers and specialists are also similar. Data from the U.S. Bureau of Labor Statistics (BLS) indicates that professionals in these fields often work full-time, Monday through Friday, in an office setting. However, there may be circumstances where HR managers and specialists must travel to attend recruiting events or professional meetings.
Data from the BLS also shows that the two fields have similar projected job outlooks. Between 2018 and 2028, the BLS projects employment of HR managers and specialists to grow by 7% and 5%, respectively.
Although completing an HR certificate program is optional, it can help candidates in either position demonstrate credibility and professional expertise. Common certifications include those from the HR Certification Institute (HRCI), the International Foundation of Employee Benefit Plans, the Society for Human Resource Management (SHRM), or WorldatWork.
Differences Between HR Managers and HR Specialists
Despite their many similarities, there are primary differences between an HR manager vs. specialist. HR managers oversee all aspects of human resources, such as compensation and benefits, hiring and recruiting, training, workplace safety and compliance, and crafting personnel policies and procedures.
HR specialists, on the other hand, often focus on one specific area of human resources. Examples include compensation and benefits specialists; training and development specialists; employment, recruitment, and placement specialists; and risk management specialists.
There are other key differences as well. For example, HR managers supervise a company's administrative functions, help build and oversee employee benefit programs, and work with an organization's management team to build workforce strategies and advise management on law and policy issues. HR specialists' tasks are more narrow. Consequently, they tend to be more intensely focused on areas such as employee recruitment and placement, or implementing employee benefit programs, demonstrating specific expertise and experience.
Another difference between these career paths is that human resource managers can earn higher salaries than their HR specialist counterparts. While salaries vary depending on experience and location, national data from the BLS shows that as of May 2019, individuals can earn around $68,300 in the lower end of the salary range with the median annual wage for a human resources manager being $116,720. During the same reporting period, the median annual salary for human resources specialists was $61,920, with specialists in the lowest 10% earning closer to $37,180.
Your Path Toward Becoming a Human Resources Manager Starts at Maryville
Students who are interested in pursuing a career in human resource management should start by developing the knowledge and skills to be successful. Completing an online degree — such as an online bachelor's in human resource management from Maryville University — is an excellent step toward gaining the expertise you'll need to start your human resources career. Courses such as Recruitment and Talent Management, Training and Development, and HR Employment Law have been designed to provide the key foundational skills that can help you succeed in this field. The university's dynamic online program has been structured to provide students with hands-on projects and other experiential learning opportunities in a flexible and convenient learning environment.
Let's be brave together. Discover how an online bachelor's in human resource management from Maryville University can help you pursue your professional goals.
Sources
Glassdoor, "How to Calculate Cost-Per-Hire"
Forbes, "15 Effective Ways HR Can Help Create a Sustainable Company Culture"
Houston Chronicle, "Primary Responsibilities of a Human Resource Manager"
Houston Chronicle, "Ten Reasons Why the Human Resources Department Is Important"
Houston Chronicle, "What Does the Human Resources Department Do?"
Investopedia, "The Cost of Hiring a New Employee"
Monster, "Five Growing Human Resources Specialties"
PayScale, Average Human Resources (HR) Specialist with Benefits Administration Skills Salary
U.S. Bureau of Labor Statistics, Human Resources Manager
U.S. Bureau of Labor Statistics, Human Resources Specialists
Be Brave
Bring us your ambition and we'll guide you along a personalized path to a quality education that's designed to change your life.