How to Become a Historian
How to Become a Historian
How to Become a Historian
Historians respect and value the past. These professionals take responsibility for assembling, linking, and preserving integral parts of our collective history so humanity can benefit from the knowledge of recent events and bygone eras.
George Santayana, a Spanish American philosopher and essayist, is perhaps best known for writing, "Those who cannot remember the past are condemned to repeat it." That thought, from the first of Santayana's five-volume The Life of Reason, follows this passage: "Progress, far from consisting in change, depends on retentiveness. When change is absolute there remains no being to improve and no direction is set for possible improvement: and when experience is not retained, as among savages, infancy is perpetual." Essentially, progress depends on remembering the past. In writing what would become his most well-known quote, Santayana summed up the purpose of historians' work.
Historians work in a field that uniquely bridges the humanities and social sciences. They utilize their passion for history and research while simultaneously educating others about the past and the lessons it has to offer. Becoming a historian allows individuals to choose among several career paths, which is one of the benefits of earning an online bachelor's degree in history. Learn more about what the job of a historian is, where they work, and how the right education can help you land a position in this important field.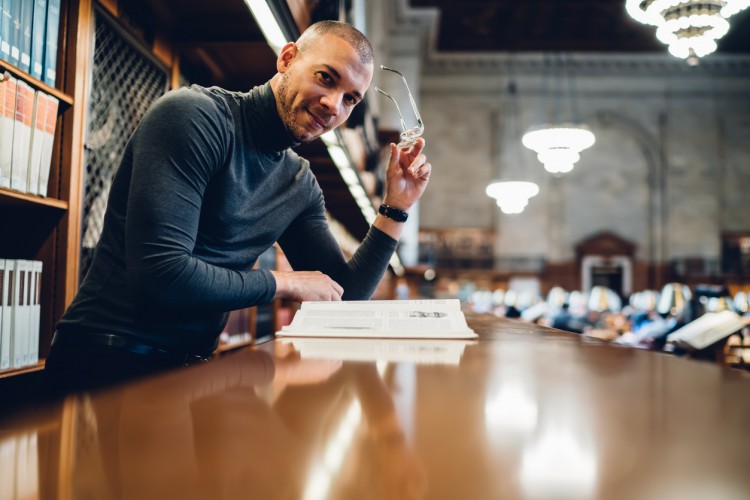 What is the job of a historian?
Historians are researchers who specialize in an era of human history that is recorded in some manner. The earliest records of our history come in the form of ancient cave paintings and scrolls dating back thousands of years. Civilizations worldwide later developed written and spoken languages, as well as art and utilitarian objects, some of which have been preserved from generation to generation. The job of a historian is to study primary sources: scrolls, books, tablets, paintings, tapestries, and more. They focus on learning about the people who came before us and what lessons they can impart to modern society.
Historian skills
Those considering how to become a historian should know that certain skills are unique to this field. Besides having reverence for the past and an affinity for research of all kinds, professionals who work in historian positions learn skills tailored to their line of work.
Historical interpretation
History professionals piece together events, historically significant items, or artifacts and draw conclusions based on their expertise to place these items within a certain timeline. This is an industry-specific and valuable skill for historians, according to Indeed.
Computer proficiency
Historians work in detailed databases, create presentations, publish reports, and are familiar with a variety of software programs.
Collaboration
Museum curators buy, sell, and loan collections to other institutions, as well as create exhibits for them. Historians, archivists, and other professionals also collaborate with other researchers in their organization or in the field.
Communication
Whether it's writing detailed reports about a finding or speaking publicly on a topic or era, historians are highly skilled at writing, presenting, and sharing stories of our past. Museum curators in particular are known to be adept at amassing facts and tales to share with museumgoers.
Critical thinking
Historians are logical, investigative, and critical thinkers. Their expertise lies in helping to fill the gaps in our history based on knowledge of events, people, and ideas.
Research
Naturally inquisitive, historians are fueled and directed by their research. Recognizing and utilizing reputable and reliable sources is a key skill for historians.
Steps to become a historian
No matter where they might end up working, historians must have a passion for research and education, a drive to understand more about our shared past, and a vivid imagination to bring that past to life for others. Historians typically spend their time reading and researching, and they often benefit from fluency in a second language, depending on their specialty.
For those looking into how to become a historian, here are the primary steps.
Earn a bachelor's degree
A bachelor's degree in history is often the first of several educational steps. However, several career paths are available to graduates with an undergraduate degree such as Maryville University's online Bachelor of Arts in History. Courses in American history, world history, and historical research methods provide students with a well-rounded view of history and may even inspire them to research a specific period or culture.
A bachelor's degree in history provides entry into positions at museums, historical associations, and small organizations, according to the U.S. Bureau of Labor Statistics (BLS). Those with history degrees also seek opportunities outside traditional history jobs, such as in publishing, communications, education, law, business, and journalism.
Gain experience
Degree-holders work in the field or as an intern for several types of organizations. Most employers recommend aspiring historians complete an internship as part of their educational program, according to the BLS.
Earn an advanced degree
Based on the area of focus, an advanced degree such as a master's or doctorate may be required for some positions. Master's degrees may focus on history, public history, museum studies, or archival management. Those seeking a doctorate tend to concentrate in an area of history and enter research positions in the federal government or academia.
What are historian careers?
Various industries employ historians. Jobs for historians often entail a combination of research and education. Depending on the institution or industry, the position might involve significantly more of one of these aspects. Below are several common jobs for graduates with a history degree.
High School Teacher
While students learn about history from elementary school onward, it's not until high school that they begin taking in-depth courses in specific subject areas, such as colonial African history or medieval European history. Historians who teach in high schools impart their knowledge to students who are still figuring out what they want to study and the careers they might pursue. Effective history teachers might inspire a love of the subject in their students. The BLS reports there were 1.05 million high school teachers nationwide, making a median salary of $61,660 per year, as of May 2019.
College Professor
Historians seeking a job that allows them to conduct research and teach might consider pursuing a job as a college professor. Unlike high school teachers, who can earn a position with a bachelor's degree, college professors are typically required to have earned an advanced degree such as a master's or doctorate, depending on the institution. College professors can work in large research universities or smaller liberal arts colleges, though opportunities are available for them to conduct historical research at either type of institution. As of May 2019, there were 21,030 postsecondary history teachers earning a median annual salary of $75,170, according to the BLS.
Museum Curator
Historians who work in a museum could serve as curators, playing a crucial role in the organization's educational mission. Often called museum directors, curators are in charge of museum collections. They manage what's on display, what's being actively preserved, and what's in the archives. In a history museum, the curator might help acquire new material or draw up a calendar of exhibitions to create or host. While small museums consider applicants with a bachelor's degree, a role as a museum curator typically requires a master's degree in history, art history, archaeology, or museum studies. According to the BLS, 14,500 museum curators were working domestically in May 2019, earning a median annual salary of $54,570.
Archivist
Archivists catalog, preserve, and maintain important artifacts, including historically significant documents and recordings, artworks, electronic records, photographs, maps, and more. They might oversee storage vaults full of documents or work in a small laboratory restoring damaged artwork. No matter what they do, they promote research by organizing and maintaining vital pieces of a bygone era. The BLS reports 8,100 archivists were working nationwide, earning a median annual salary of $53,950, as of May 2019.
Discover history with Maryville University
What are historians? Historians play an important role in education and research, as they help others understand the lessons of the past and illustrate how they apply to the realities of the present. These professionals are vital in maintaining a record of the accomplishments and mistakes of human cultures that we can all learn from.
Explore how Maryville University's online Bachelor of Arts in History can help you discover what the job of a historian truly is and how you can step into such a position.
Recommended Reading
Career Paths for Graduates with a History Degree
Teachable Moments: What's in Store for the Future Educators of America?
What Is the Difference Between History and Political Science?
Sources
American Historical Association, "Why Become a Historian?"
Australian Women's History Network, "Day in the Working Life of a Historian: Kathleen Neal"
Indeed, "How to Become a Historian: Necessary Education and Skill Requirements"
The New York Times, "The Past Is Present: Strategies for Bringing Current Events into the Social Studies Classroom"
Perspectives on History, "From a BA to the AHA"
Perspectives on History, "Why Study History?: Revisited"
U.S. Bureau of Labor Statistics, Archivists, Curators, and Museum Workers
U.S. Bureau of Labor Statistics, "High School Teachers"
U.S. Bureau of Labor Statistics, "Historians"
U.S. Bureau of Labor Statistics, "History Teachers, Postsecondary"
Be Brave
Bring us your ambition and we'll guide you along a personalized path to a quality education that's designed to change your life.