What is the Difference Between History and Political Science?
What is the Difference Between History and Political Science?
What is the Difference Between History and Political Science?
History and political science may seem like two sides of the same coin. While both degree options tend to discuss the philosophical and practical implications of political decisions and cultural movements, what is the difference between history and political science in practice? There are a few distinct contrasts between the two. A history degree program contributes to a deep understanding of the cultural and historical context of political decisions, social movements, and cultural shifts over time. On the other hand, a political science degree focuses primarily on past and current events through the lens of politics.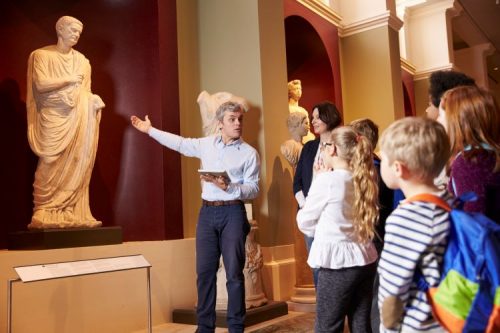 History Vs. Political Science Program Overviews
The core purpose of most history programs is to allow students to cultivate a profound appreciation for past events and how they impact the present. Maryville University's online Bachelor of Arts program in history takes students through a dynamic curriculum that provides students with the opportunity to gain valuable critical thinking, research, and analysis skills.
While political science programs tend to focus coursework on government and policy, history majors often examine events in a broader context. By studying topics such as world history, American history, philosophy, and foreign policy, students gain a general understanding of history and have the chance to dive deeper into specific topics of interest. This historical awareness is then put in the context of current events, including politics.
The difference between history and political science study is nuanced. Both political science and history degrees allow students to develop their communication skills, as well as their ability to synthesize information. In addition, students often complete an experiential internship, capstone, or seminar, where they are able to apply their studies to real-life situations. For those enrolled in a history program, this is an opportunity to tailor the application of skills learned to specific areas of interest.
Career Opportunities in History vs. Political Science
History majors generally have broadly applicable skills that prepare them for a wide array of career options that span various industries, from government to education and law. Those who earn their online bachelor's degree in history often seek positions that require them to conduct research, synthesize information, make strategic recommendations, and solve complex problems.
Alternatively, those pursuing a degree in political science often seek careers in the government in some capacity, though this is not always true. Whether working in the public or private sector, political science majors often collect and interpret survey data, assist with political campaigns, forecast political trends, and investigate the impact of various policies and laws at the local, state, federal, and international levels. These jobs tend to require research, analysis, and strong communication skills.
While the differences between history and political science study might be slight, the career paths can diverge significantly. While professionals in both fields flex strong critical thinking skills, researching ability, and communication expertise, they often do so with different job titles. A few possible career paths for history majors include:
Journalist
Those who work in the media — particularly news organizations — are responsible for the accurate and accessible portrayal of current events. Often, this requires a nuanced understanding of the past, as well as the implications of laws, policies, and social conventions. Journalists are on the front lines of current events as they unfold and serve as a direct line of communication with the public. As such, they must possess extraordinary communication skills, empathy, and comprehension of how past events influence current affairs.
While the BLS anticipates a general decline in the need for journalists, the increasing use of technology provides alternative outlets for aspiring reporters. The median salary for those who work in a traditional journalism environment is $62,910. Specific earnings may differ based on experience and whether degree holders find work with radio, television, or newspaper outlets.
Paralegal and Legal Assistant
While a career as an attorney requires an advanced degree, history and political science majors will find themselves with a solid foundation to build upon while pursuing graduate studies in law. Alternatively, a career as a paralegal does not require an advanced degree and leverages skills in documentation, research, and communication — all areas in which history majors tend to excel.
Paralegals can expect a median salary of $50,410, according to the BLS. In addition, this field will likely grow far faster than average, with 15% more jobs predicted from 2016 to 2026.
Museum Curator
A vast array of jobs are available at museums, from education coordinator to docent to curator. While each position requires a different level of education and specific sets of skills, a number of them are well-suited to history majors. For example, many museums deal specifically with topics of historical and cultural importance. From designing an exhibit to educating the public, museum workers often possess an understanding of the importance of history, as well as the ability to communicate that significance to others.
According to the BLS, museums can expect to see a 12% increase in employment from 2016 to 2026. Specific jobs in the museum industry may vary, but this growth trend points to a number of potential opportunities that allow history majors to make direct use of their degree.
Post-Secondary Teacher
A degree in history prepares students to share their knowledge with others. With ample practice in gathering, interpreting, and communicating information, history majors often find themselves well-suited to a position as a post-secondary teacher. In this role, graduates work in environments beyond the high school level to deliver thoughtful education on various topics under the broader umbrella of history.
The median salary for a post-secondary teacher in any field was $76,000 annually according to the most recent BLS data, which also points to 15% growth from 2016 to 2026 — much higher than the national average. Additional licensure or certifications may be necessary to become a postsecondary teacher, but a degree in history provides a solid foundation if you're interested in this career path.
Take the First Step to Earning Your History Degree
While there are many considerations when weighing history vs. political science degrees, the additional contextual awareness gained through a history program is invaluable to a number of careers. Companies from all sectors value individuals with strong communication skills, the ability to analyze data, and an understanding of past and present events. An online bachelor's degree in history from Maryville University can give students an advantage when seeking employment after graduation.
Be Brave
Bring us your ambition and we'll guide you along a personalized path to a quality education that's designed to change your life.