Tending to History: How to Become a Museum Curator
Tending to History: How to Become a Museum Curator
Tending to History: How to Become a Museum Curator
If you added up all the people who visited American theme parks and major league sports games every year, it still wouldn't total the number of annual U.S. visitors to American museums. Americans love museums, and they believe them to be a more trustworthy source of information than local newspapers, academic and nonprofit researchers, books, teachers, and the government. This data gathered by the American Alliance of Museums (AAM) shows just how popular museums are — and why it's so important to keep the events of history and the expression of art vibrant and relevant.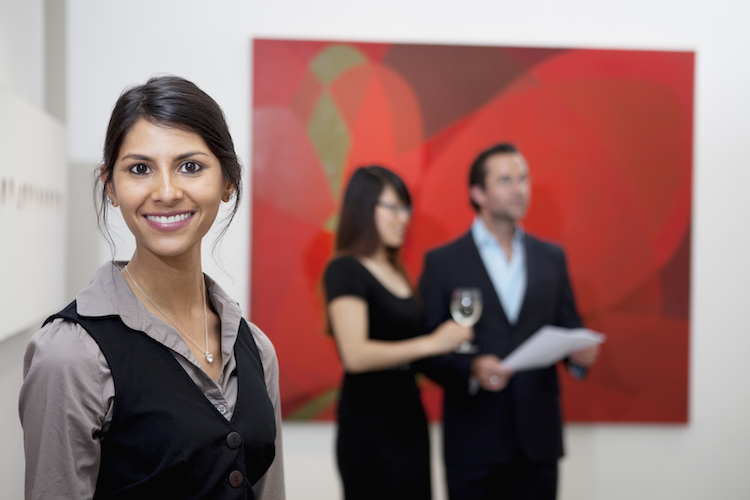 A curiosity for the past, including where we came from and how we arrived where we are now, helps to drive a deeper understanding of society today. This perspective allows us to understand our world, while also informing us as we look to the future.
Museum curators possess a high level of curiosity, and work with historic archives, artifacts, and art to contribute to the preservation of history. Their passion helps drive institutions to display and conserve collections of artwork and historic items. Ultimately, their work shapes public access to, and understanding of, human culture itself.
What Does a Museum Curator Do?
Because each museum is different in its philosophy, market, collections, and missions, the work of a museum curator can depend on the organization for which they work. However, their core duties include exhibition creation, collecting artifacts or art, tracking inventory, and conducting relevant research.
The U.S. Bureau of Labor Statistics (BLS) reports that curators (also known as archivists, when they handle records) interact with historically valuable objects, records, and documents. These duties can include:
Collection
Appraisal
Cataloging
Interpretation
Maintenance
Preservation
Protection
Curators also educate the public about their collections, and often assist with events and activities to bring people into the museum or site. The Princeton Review notes that grant writing is another common duty of curators, who often collaborate with collection managers or assistants.
The American Alliance of Museums (AAM) also refers to curators as "information brokers" who foster engagement with the community through their expertise, creativity, network, and interpretation. Curators must be active members of their community — especially in museums, libraries, galleries, and archives — to find new methods to approach their work.
While curators may interact with donors, visitors, and museum staff, they generally work behind the scenes, according to Sotheby's Institute of Art. They manage the details and execution of preparing an exhibit, maintaining a collection, and helping the museum tell the story behind its artifacts or art. This requires the skills to select the perfect manner in which to display a collection. Curators must also know how visitors consume art or artifacts, and adapt to the needs of the artist or institution.
How to Become a Museum Curator
While the path toward becoming a museum curator may vary between candidates and workplace environments, there are several steps that most professionals take.
Earn a Bachelor's Degree
For those wondering how to become a museum curator, the first step is to acquire the proper education. The BLS states that most curator positions require a bachelor's and master's degree in a related field, such as art history, history, archaeology, or museum studies. Bachelor's degrees like the online Maryville University Bachelor of Arts in History help students cultivate the skills considered fundamental to the position, including project management competencies, technical skills, and soft competencies such as organizational and communication skills.
Through the study of social and cultural history, curators are able to assign meaning and connection between historical events and put them in context with today's culture. Curators must develop strong research, writing, verbal communication, critical analysis, and digital literacy skills to succeed in this highly competitive field.
Gain Experience
Aside from formal education, most curators also gain experience in the field through part-time work, internships, volunteering, or full-time jobs. For example, Marysville's Bachelor of Arts in History allows students to participate in an internship, learn about your community's history through a local history seminar, and study historical methods and digital humanities.
Practical experience allows curators to work in a real-world setting and build strong foundational experience in the role. While on the job, professionals develop organizational, technical, and analytical skills. They also can build connections and gain a network of colleagues in the industry.
Earn an Advanced Degree
Curators must have extensive knowledge of history and art, but The Princeton Review notes that many also possess an understanding of restoration techniques, business administration, and even public relations. While nearly all curators have a master's degree, national museums and some other sites require curators to have a PhD.
Museum Curator Salary
According to the BLS, the median salary for museum curators in 2018 was $54,000. The museum curator salary varies depending on factors such as educational experience, in-the-field experience, qualifications, location, and employer. Advancement is possible in some positions in large institutions, and the top positions in museums can be highly competitive.
Museum Curator Job Outlook
The BLS expects employment of curators to grow 14% from 2016 to 2026, compared to 7% for all other occupations. This robust projected growth is due to the increasing public interest in museums and other cultural and historical institutions. Museums will need more curators to manage and organize collections for public consumption.
AAM notes in its 2018 Museums as Economic Engines report that U.S. museums contribute almost $50 billion to the nation's economy and directly employs more than 372,100 people. The Princeton Review remarks that, as the industry grows, curators will continue to collaborate with colleagues for grant writing, publicity, and fundraising projects that are vital to the growth and longevity of their careers.
Innovation may also be a key driver of industry growth. The rise of technology has yielded the emergence of digital collections, such as oral histories and virtual museum tours that are available online. Curatorial staff may manage these collections as they continue to grow in popularity.
Learn More About How to Become a Museum Curator
If you have a curiosity for the past and a passion for art and history, a career as a curator may be right for you. Learn more about the online Maryville University Bachelor of Arts in History program.
Its versatile, innovative, and interactive curriculum is designed to help you master the tools and techniques that curators use to research, communicate, analyze, and educate.
Learn more about how you can tailor your coursework to your personal, educational, and professional goals when you earn your degree from Maryville University online.
Sources
American Alliance of Museums, Museum Facts & Data
American Alliance of Museums, "Museums as Economic Engines"
American Alliance of Museums Curators Committee, Curator Core Competencies
The Guardian, "Digital archives: making museum collections available to everyone"
Maryville University, Online Bachelor of Arts in History
U.S. Bureau of Labor Statistics, Archivists, Curators, and Museum Workers
Be Brave
Bring us your ambition and we'll guide you along a personalized path to a quality education that's designed to change your life.