Teachable Moments: What's in Store for the Future Educators of America?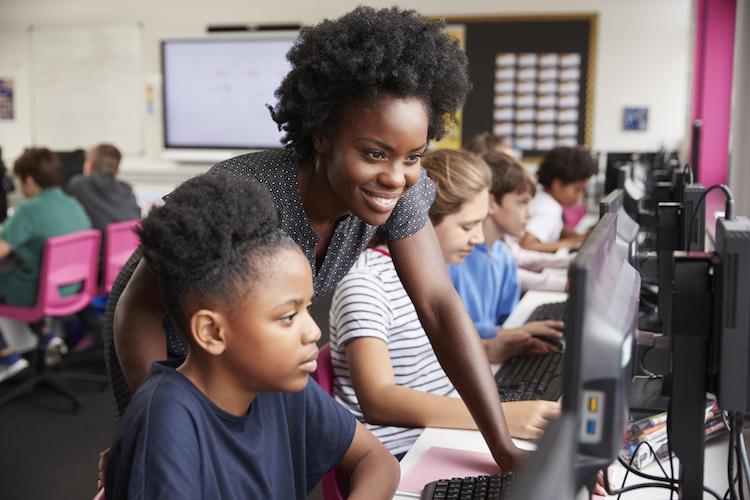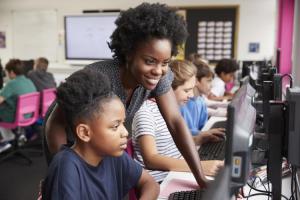 From replacing chalkboards with smartboards to swapping textbooks for tablets, technological innovations are transforming education and the way students learn. Not only are the tools and technologies inside the classroom changing, but the classroom environment itself is shifting. According to the National Center for Education Statistics (NCES), 21.1% of public schools offer at least one course entirely online.
These changes affect future students, and they also impact the future educators of America. This is a growing professional field, with the U.S. Bureau of Labor Statistics (BLS) anticipating 9% more education, training, and library jobs between 2016 and 2026.
There are several paths that could lead to a career in the education field. For example, future educators may gain a deeper understanding of the concepts they aspire to teach by earning a degree such as an online bachelor's in history, English, or liberal studies. While each of these degrees provides a solid foundation for a future in education, additional degrees or certifications may be needed.
If you're excited by the prospect of entering the classroom as a teacher, you'll want to adapt to current trends in education technology. The savvier you are to these changes, the greater opportunity you may have to maintain a strong teacher-student dynamic and provide the best possible learning experience.
Trends Impacting Future High School Teachers and Other Educators
A Samsung Electronics America survey found that 90% of teachers believe classroom technology is "important to student success." However, 60% of teachers report that they are "inadequately prepared to use technology in classrooms." For educators to keep pace with new advancements, they will need to develop skills and knowledge in emerging areas such as machine learning, virtual classrooms, and augmented reality.
Here are three technology trends shaping the future of schools and the skills educators will need to succeed in the future of education.
Education Technology Is Shaping the Future of Schools
In a Business Insider report, Google predicts the future of schools will be augmented by machine learning, a type of algorithm that learns on its own through data analysis and pattern identification. Machine learning would allow teachers to group students by interest and skill level, rather than by age. Technology will support this transition, creating personalized curricula and allowing teachers to identify students' strengths and weaknesses to offer targeted help.
Collaboration is another key component Google's leaders emphasized in future high school environments, citing virtual and augmented reality. These tools allow students to work together remotely while still enjoying many of the benefits of a physical classroom. Virtual platforms allow students to experience deeper collaboration, from sharing notes to group projects, and for teachers to expedite the scheduling process.
If you have your sights set on a future in education, you'll need to learn to facilitate collaboration and group students in a data-driven way and in virtual environments. School districts will have to implement this technology and train educators in how to best apply the insights from data in the classroom. Educators must also know how to use collaboration technologies, such as Google Classroom, to facilitate learning across both physical and online classroom environments.
Teachers Are Becoming Leaders in Tech
Not only does technology support virtual education, it also assists with hands-on learning. According to the Samsung/GfK survey, 81% of teachers agree that technology in the classroom enables students to get more hands-on experience during lessons. Educators will benefit from learning how to use different technologies and tools, such as video, infographics, digital presentations, and more.
As these new forms of technology become staples in the classroom, teachers will be responsible for leading the application of technology by showing students how to access different tools. For example, educators can demonstrate how to use the internet for educational research or how to record more effective notes through a note-taking application.
It is increasingly important that teachers learn fundamental tech skills like software installation and maintenance, computer security updates, search engine best practices, and screen projection applications, in order to effectively integrate technology into the classroom and train the next generation of learners.
The Human Touch Remains Important
Although technology provides opportunities for increased efficiency, it cannot replace interpersonal communication and interaction. Future educators of America must integrate patience, leadership, communication, problem-solving, interpersonal, and other emotional intelligence skills with new technologies. By combining traditional teaching techniques with new technology, educators will be better able to establish and maintain trusted relationships with both students and parents.
For example, machine learning application may identify a weakness in a student's learning. Educators can then address this area with empathy and understanding to help the student work on the opportunity for growth. Educators can also read students; physical body language as they interact in the classroom to identify certain subjects or lessons that may intimidate, excite, or bore a student and adapt as needed.
The Future of Schools Depends on Educators Leading the Way
Teachers are the leaders of the tech revolution, serving as the connection between students, technology, and learning. As smartboards, mobile apps, and interactive technologies become more common in K-12 learning spaces, teachers must take the role of student during their own technology training and education.
It is important that training empowers educators to understand practical applications of machine learning, virtual classrooms, and augmented reality — each of which will be vital in future high schools and other environments. Further, technology cannot replace emotional intelligence, so educators must still learn the fundamentals of teaching and leadership, such as effective communication and problem solving, to facilitate collaboration and learning in the classroom.
Learn More About the Future of Educators of America
Educators play a vital role in shaping the future through their students. If you're interested in exploring a career in this rewarding field, Maryville University's online liberal arts degrees can help you develop expertise in an area that suits your interests. Learn more today about our English, history, and liberal studies degree programs, and discover how you could take your next step toward a career as an educator.
Sources:
Business Insider, "Google's top education expert predicts what schools will look like in 50 years"
International Society for Technology in Education (ISTE), "Empowering teachers to implement technology-driven educational programs"
Maryville University, Online Liberal Arts Degrees
National Center for Education Statistics (NCES), National Teacher and Principal Survey
Samsung, "Survey Finds Majority of Teachers Do Not Feel Prepared to Use Technology in Classrooms"
U.S. Bureau of Labor Statistics, Education, Training, and Library Occupations