How to Become an Illustrator
How to Become an Illustrator
How to Become an Illustrator
Students interested in pursuing a career that lets them tell stories through art and illustration may be wondering how to become an illustrator. Professional illustrators not only draft art for comic strips, books, and fashion companies, among others, they also understand how to depict various moods, feelings, and viewing angles in their drawings.
Skilled illustrators are in high demand in a variety of industries, such as marketing, advertising, film and television, publishing, web design, and video game design. To become an illustrator, candidates must develop the knowledge and skills they'll need to be successful. Completing a bachelor's degree in a related field, such as an online bachelor's in digital media from Maryville University, can provide graduates with the experience and expertise they'll need to pursue jobs as visual communicators.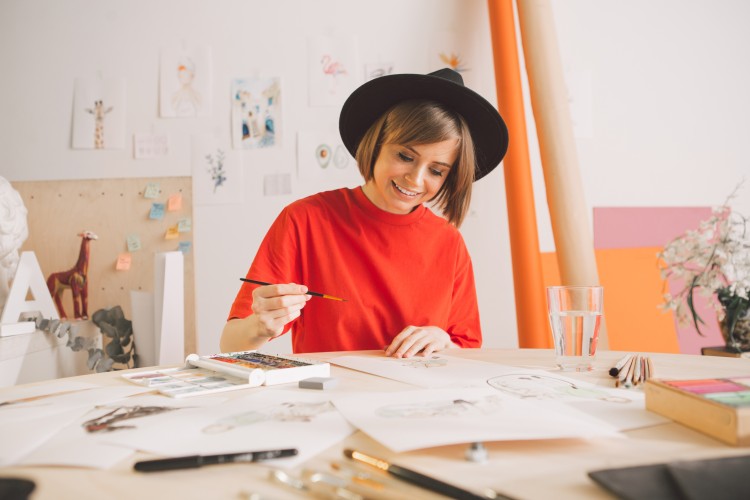 What does an illustrator do?
If you enjoy drawing, doodling, and creating images, you may be considering a career as an illustrator. Individuals who choose this career path spend their days creating art for organizations that include newspapers and magazines, greeting card companies, commercial packaging firms, and digital media companies.
While some illustrators specialize in one area, such as the publishing industry, others prefer to work with graphic design or advertising firms. Some choose to work as storyboard artists, using TV and motion picture scripts to create images and scenes for animated films and television.
Although an illustrator's job duties vary based on industry, common activities include the following:
Creating and refining images
Preparing and designing rough drafts based on a client's specifications
Brainstorming with the project's design team to determine the types of imagery that will work for a particular project
Using various software programs, such as Adobe Photoshop, Adobe Illustrator, Corel Painter, and CorelDraw, to edit and refine digital images
Editing images to adjust the mood or message being relayed
Liaising with authors, designers, and editors
Performing research for various projects and using it to generate ideas
Possible work environments for illustrators
Data from the U.S. Bureau of Labor Statistics notes that most craft and fine artists, including illustrators, work in fine arts or commercial art studios, although some work from home or share studio space. Others work full time on site.
The BLS notes that, as of 2019, 51% of professionals in this field were self-employed, 7% worked for the federal government, and 4% worked for the motion picture, sound, and recording industries.
Illustrator salary ranges
Illustrator salary ranges vary widely based on several factors, such as the type of illustrating, experience level, and the geographic location. For example, data from PayScale.com notes that, as of May 2021, the median salary of technical illustrators was about $56,000, whereas the median salary of storyboard artists was approximately $66,000. The median salary of earners in the top 10th percentile in both professions was more than $80,000 per year.
Steps to become an illustrator
Students researching how to become an illustrator are likely to find that professional-level illustration skills are needed to pursue jobs in this field. Aspiring professional illustrators must also build a portfolio and gain work experience.
Complete an Education: Prospective illustrators should possess a strong foundation in art, including interactive design, digital media, and art history. Earning a bachelor's degree in a related field, such as a bachelor's in digital media, can provide graduates with the knowledge and skills they'll need to transform their passion for art into a budding career.
Build a Portfolio: The second step toward becoming an illustrator is to build a portfolio. A portfolio showcases a candidate's strongest work to potential clients and employers. Maryville's digital media degree program curriculum includes coursework in digital illustration, sequential art, and UX/UI design, which provides ample opportunities to develop a portfolio with expert guidance.
Gain Work Experience: Students interested in pursuing jobs in this field must also gain relevant work experience. Candidates with a portfolio can showcase their work to pursue internships, entry-level positions, and freelance jobs, among other opportunities.
What can you do with a BFA in Digital Media degree?
Graduates who've earned a bachelor's in digital media often find they're prepared to pursue a variety of full-time and freelance positions in a variety of industries. For example, an illustrator with a bachelor's in digital media can be hired as a digital media specialist, graphic artist, web designer, motion graphics designer, or UX designer.
Demand for qualified professionals is on the rise. According to the BLS, job growth for motion graphics designers and animators is projected to grow by 4% between 2019 and 2029.
Pursue your passion today
Job opportunities for skilled artists and illustrators are varied and numerous. Advertising agencies, multimedia companies, publishing companies, and the television and film industries are among the many employers searching for qualified professionals.
Are you ready to take the first brave step toward developing a portfolio and pursuing jobs in this field? Discover how Maryville's online Bachelor of Fine Arts in Digital Media degree can prepare you to pursue your dream of becoming an illustrator.
Recommended Reading
Animation Tools and Software for Digital Artists
Motion Graphics vs. Graphic Design: What's the Difference?
Design in the Digital Age: Must-Have Tools for Graphic Designers
Sources
Adobe, "How to Become an Illustrator as a Profession"
Betterteam, "Illustrator Job Description"
CareerExplorer, "What Does an Illustrator Do?"
Houston Chronicle, "What Degree Do You Need to Be an Illustrator?"
Improve Your Drawings, "How to Become an Illustrator in 8 Steps"
PayScale.com, "Average Storyboard Artist Salary"
PayScale.com, "Average Technical Illustrator Salary"
Skillshare.com, "How to Become an Illustrator: Art as a Career"
U.S. Bureau of Labor Statistics, "Craft and Fine Artists"
U.S. Bureau of Labor Statistics, "Special Effects Artists and Animators"
Be Brave
Bring us your ambition and we'll guide you along a personalized path to a quality education that's designed to change your life.