Animation Tools and Software for Digital Artists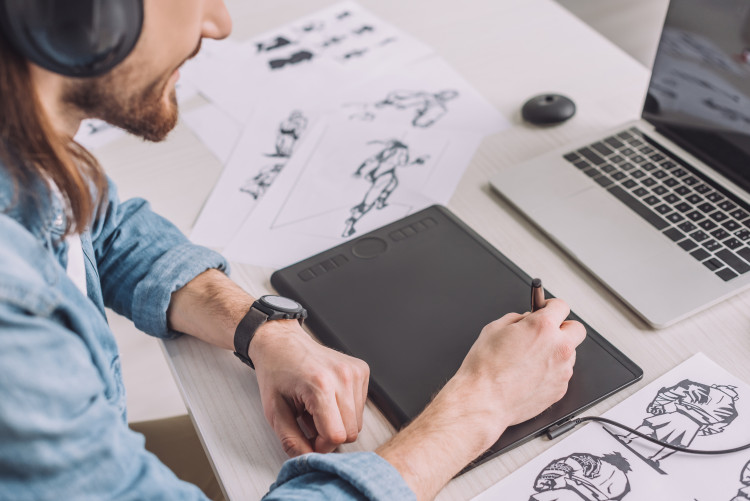 In animation's early days, artists used pencil, paint, and paper. Today, the growing use of digital tools opens up new and exciting opportunities for artists.
Digital artists seeking to enter the global animation industry, valued at $264 billion as of 2019, have many career options. Creative disciplines in the field include film, virtual reality, animated character design, game design, and education.
Digital artists can also work in many types of animation, including 2D and 3D animation, motion graphics, and stop motion. This guide explores the top animation tools and software, discusses animation history and its impact on society, and introduces the steps to becoming an animator.
Below are a few examples of resources for digital artists seeking more information about the animation industry and careers.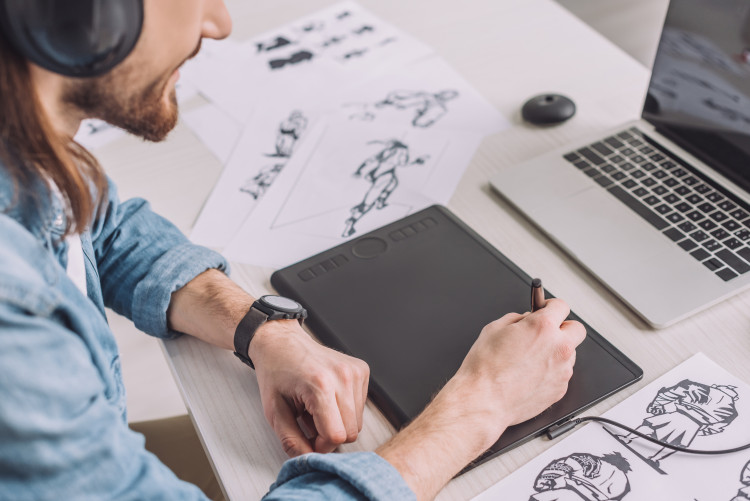 Animation industry and career resources:
Animation. This interdisciplinary, international, peer-reviewed journal focuses on scholarly animation research.
Animation World Network. This resource brings together information about the animation field, covering areas such as film distribution, commercial studio activities, licensing, and animation technologies.
Animation Magazine. With an online and print version, this resource discusses technology, business, art, and other topics of interest to individuals in the animation industry.
S. Bureau of Labor Statistics. Individuals looking for comprehensive insights about the responsibilities, salaries, and job outlook for animators can turn to this trusted resource.
Houston Chronicle. This resource provides animation career information, such as duties and education requirements.
Vault. This resource offers insights about animation careers, including details about what an animation career looks like.
Top 21 Animation Tools
Animation is the process of transforming still images into moving images. When still images are displayed rapidly on media, such as film or video, they create the illusion of motion.
Animators are digital artists with competencies that include conceptual design, drawing, creative development, and curiosity. They also use animation tools and software. The following list offers a glimpse of the tools animators use:
Animation History and Its Impact
In the early 1900s, the United States experienced significant shifts in the labor market, the economy, politics, and society. These shifts changed the U.S. role on the international stage and helped fuel attitudes that were reflected in animation of the period. Examples include the following:
Progressive Era. The economy recovered shortly after the Panic of 1893, which ended in 1897. This gave rise to consumerism, which the entertainment industry helped to fuel during the Progressive Era, between 1900 and 1929. Women's organizations, labor groups, social welfare associations, and investigative journalism were also on the rise.
Immigration. Over 15 million immigrants arrived from Europe between 1900 and 1915, according to the Library of Congress. This helped change the demographics of many regions in the country. The immigration of the time also introduced new cultures and ideas.
War. The U.S. became an imperial power in the Caribbean and the Pacific regions. The country also entered the First World War in 1917, demonstrating its military might and cementing its global presence.
Animation production often involved clay figures and puppetry. For example, an animator would take a picture of a clay figure, move it a little, and then take another picture. The process was repeated hundreds and thousands of times until an animator had achieved the targeted amount of film. Then when the images were played back in rapid succession, the viewer perceived the clay figure as moving. This process is an early form of stop motion animation, a technique also used in filmmaking in the early 20th century.
The history of stop motion in animated films dates back to 1898 with "The Humpty Dumpty Circus." One of the most famous examples of early stop motion animation technique, "A Trip to the Moon," was released in 1902. The plot involved astronomers building a space vessel that, when launched, hit the "man in the moon" in the eye.
The close connection between animation and newspaper comics was reflected in the use of pen drawings. For example, a newspaper comic strip dating from 1897 called "The Katzenjammer Kids" inspired the animated film Policy and Pie, which featured original characters from the comic strip.
As in modern times, animation impacted consumer culture. For example, Keeping Up with the Joneses, created in 1915, was an ad for a fashionable men's hat.
Animation also supported war efforts. W.S.S. Thriftettes, an animation created around 1918, was an advertisement for war savings stamps: certificates that raised funds for the U.S. military during World War I.
By the 1930s, Disney animators pursued more realistic animations. Their work paid off with the animated feature Snow White and the Seven Dwarfs. This beloved movie revolutionized both the animation and film industries as the first full-length animated feature ever presented in color and with sound. It became the top-grossing film of 1937. With it, Disney established itself as the standard-bearer in animation, a title it still holds today.
Disney's Principles of Animation
In 1981, Disney animators published the book The Illusion of Life: Disney Animation, which featured the 12 principles of animation that serve as the foundational building blocks for animators. Examples of these principles include the following:
Squash and stretch. Compression and stretching give the illusion that gravity, mass, and volume are affecting the movement of an object. An example of this first principle is a bouncing ball.
Straight ahead action and pose to pose. This principle involves two animation processes. The first is when an animator draws out an entire scene frame by frame. The second consists of drawing the key frames first, and then filling in the intervals later.
Exaggeration. Adding surreal elements to animation can make it pop. By accentuating actions or expressions in an animation, scenes can become more dramatic or funnier. Consider the genie's mouth drop in the 1992 animated film Aladdin.
Popular Animated Movies
Modern animation plays a key role in entertainment, especially in the cinema. What makes great animation? It's in the eye of the beholder; everyone has different opinions on a favorite animated film. However, as with any great film, an animated movie achieves a balance and harmony. It combines artistry, colors, content, movement, timing, music, and more to transport viewers into the film and its emotions.
Here's a list of recent popular animated movies that advanced the development of modern animation technologies and creative processes.
Toy Story.The story about a boy's favorite doll (cowboy) that feels threatened by a new spaceman toy in this 1994 animated film has become a franchise. What makes this animation stand out is that it was the first full-length computer-animated feature film created by Pixar Animation Studios, which pioneered the use of computer-generated images (CGI) in film. There are four "Toy Story" movies.
The Nightmare Before Christmas.Confusion stirs in this 1993 animated film as a ghoulish king tries to bring Christmas to his home: Halloween Town. This film offers an example of stop motion animation, in which every frame was staged and every shot was storyboarded. The film took three years to produce and, at its peak, had up to 17 animators to put it together.
Spirited Away.In this 2001 animated film, a 10-year-old girl who recently moved to the suburbs finds herself in a world where gods, spirits, and witches are in control. This film was created in the anime style, known for the vibrant colors and dramatic facial expressions typical in Japanese-style animation. Anime is a type of niche animation typically created for adult audiences. "Spirited Away" broke away from that tradition, as it was written for children. Its impact opened doors for current popular anime TV cartoon series in the United States, such as "Dragon Ball Z."
The Lego Movie.The beloved plastic construction toys come to life in this 2014 animated film in which a Lego construction worker fulfills his calling to stop an evil villain. Lego toys had been a favorite of children for many years, but the brand's popularity had been in decline. This movie offers an example of how marketers can use animation to reignite a brand's popularity.
The Lion King.The future king of the jungle becomes the target of his father's rival, who also happens to be his uncle. He ultimately grows up and finds his proper place in the world. While previous Disney films were largely based on existing stories, "The Lion King" was the company's first animated feature to be an original story. Another distinction of this animated feature is that its story has successfully crossed over to another medium: musical theater. It's the third-longest running Broadway show in history.
Animation Resources for Informational and Educational Purposes
Animation also plays a crucial role in education. When incorporated into presentations, coursework, and training, animation offers a tried-and-true method to teach and engage both children and adult learners. Here are some resources about animation for informational and educational purposes.
Common Sense Education, Websites and Apps for Making Videos and Animation
Google for Education, Animation
Pew, "The Weather Channel Uses Animation to Show Dangers of Storm Surge"
TCEA, "Five Free Tools To Create Education Videos"
The following resources provide additional information about animation history:
Library of Congress, Origins of American Animation
The Walt Disney Studios, The Walt Disney Studios History
Animation Studies, Category: Transnational Animation
The New Yorker, The Surprise and Wonder of Early Animation
How to Become an Animator
Are you interested in becoming an animator? Animation is an exciting career in which people with an artistic eye, who are naturally curious, and who are passionate about creating can thrive. There are four essential steps to prepare for a career in animation.
Step 1: Define Your Interests
From storyboarding — a way to organize illustrations in a sequence — to putting the finishing touches on a special effects segment of a high-action movie, digital artists can use their art, design, and creative skills to develop animations in both animated and non-animated feature films. They can also add animated elements in an effort to make videos go viral on social media and create animated content for websites, teaching tools, and business presentations.
Aspiring animators would do well to start by checking out the different types of animated media, with their personal and professional interests in mind. They should also know about the typical tasks of an animator, including the following:
Creating high-quality animations using digital and traditional tools
Collaborating with groups of creatives, including designers, content producers, and other animators
Providing feedback on animation designs and demonstrating a willingness to receive constructive feedback from others
Building prototypes and creatine mock-ups for products and content
Working quickly to sketch concepts
Brainstorming and conceptualizing new ideas
Step 2: Sharpen Your Skills
Digital artists and animators are creative professionals, so artistic skills are essential to the role. Artistic talent comes in various forms. Some digital artists have strong drawing skills. In contrast, others are wizards with digital animation tools. Skills in both art and technology are essential.
What if you're a creative person with a knack for art, but you need to hone your technical skills? Consider taking advantage of the free open source animation tools available in the market, like some of the animation software previously mentioned in this article. Aspiring animators should also look for opportunities to strengthen the core competencies in the following sections.
Artistic Talent and Creativity
Artistic talent is essential for working as an animator. However, this talent may come in various forms — drawing, conceptualizing, or editing using software, for example. As for creativity, this skill isn't just about coming up with great ideas; it's also about finding creative solutions to problems.
Communication
One only has to look at the final credits of a full-feature animated film to see that animation can require a huge group effort. For animators, this means that communication skills are crucial for effectively collaborating, interacting, and listening to others.
Technology
An animator who knows how to use software tools can take an idea and bring it to life. Animators with strong technical skills are highly competitive in the market.
Time Management
Animation can be a lengthy, complex process involving managing numerous creative projects, each with thousands of still images. The ability to effectively use and manage time can help animators optimize their creativity while ensuring that they meet deadlines.
Step 3: Invest in Your Education
Self-training can go a long way to improving the skills of individuals pursuing an animation career. The free animation tools presented in this guide allow aspiring animators to gain new skills.
Additionally, a college education in digital media helps aspiring animators compete in the job market. For example, a bachelor's degree in digital media can develop students' raw artistic talent and creativity and help them gain proficiency in advanced animation software and tools, including 2D and 3D applications.
Enrollment in a bachelor's program also creates opportunities to network with others with similar interests, helping animators become more competitive in the job market. The animation coursework in a bachelor's program includes drawing for design, web design, motion graphics, advanced digital illustration, prototyping, and photography.
Step 4: Gain Professional Experience
Common career paths for aspiring animators include junior-level design or animation roles. In the early stages of their careers, much of the work may be administrative. For example, they may support a senior animator by answering phone calls, setting up meetings, or preparing documentation for creative meetings. The insights gained in administrative roles and the relationships formed at this phase in an animator's career are crucial for developing professional skills, such as teamwork, communication, and problem-solving.
As more opportunities to contribute to animation projects arrive, individuals must keep track of their work contributions. Gathering and organizing their work allows them to build a portfolio that proves their skills and experiences, opening doors toward advanced and senior roles.
Animators have the foundational digital, art, and creative skills to take on any number of roles, including art director, multimedia artist and animator, and graphic designer. According to the U.S. Bureau of Labor Statistics (BLS), the median annual salaries for these roles as of 2019 are as follows:
Art director: $94,220
Multimedia artist and animator: $75,270
Graphic designer: $52,110
With constant new technological developments, aspiring animators benefit from learning the commercial and open source animation tools and software presented in this guide. Formal education, such as a bachelor's degree in digital media program, provides individuals with up-to-date skills and knowledge about best practice approaches to animation from experts. As for employment opportunities for animators, the BLS projects 4% growth from 2018 to 2028.
The animation industry is a fast-paced, competitive field. Employers seek animators who are creative, artistic, focused, attentive, and willing to work long hours sometimes. If you want to bring static images and objects to life and create compelling stories, memorable characters, and exciting worlds, consider an animation career.
Additional Resources:
Creative Bloq, "11 Top Animation Tools for Digital Artists"
Creative Bloq, "Understand Disney's 12 Principles of Animation"
GoodCore Software, "15 Types of Animation and Best Animation Software for 2020"
GraphicMama, "12 Best Animation Software for Beginners (Premium, Free, and Online)"
Pew, "The Weather Channel Uses Animation to Show Dangers of Storm Surge"
TeachThought, "50 Animation Tools and Resources for Digital Learners"