What to Expect in Police Academy vs. Non-Police Academy Education Tracks
What to Expect in Police Academy vs. Non-Police Academy Education Tracks
What to Expect in Police Academy vs. Non-Police Academy Education Tracks
A criminal justice degree can be the foundation for many exciting career opportunities. Students can use their degrees to become police officers, lawyers, social workers, victim advocates, and more. In some programs, a criminal justice degree offers police academy and non-police academy tracks, providing versatility for students with specific career goals.
What should students expect to learn in a police academy versus a non-police academy program? The differences — and similarities — may surprise you.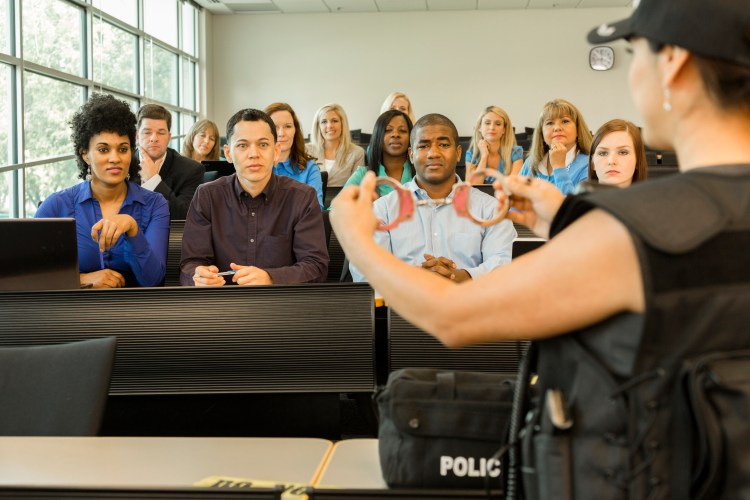 What Is a Police Academy?
A police academy is a training program that provides the necessary education, skills, and physical training that police cadets need to become police officers. Academy subjects include hard skills, such as tactical and firearms training and physical fitness, and soft skills, such as psychology, criminal behavior, and critical thinking. A typical academy training program takes 13 to 19 weeks to complete.
Many police departments send their cadets to police academy for their training at no cost to the cadets. However, it's also possible for aspiring law enforcement officers to pay for training themselves in hopes of a police department hiring them. Regardless of who foots the bill, the academy program is the same.
Here's what to expect in police academy.
Classroom Education
Classroom education forms the foundation for the practical training that's part of the academy. Cadets will learn about police strategy, laws and ordinances, and police procedures. Coursework will include criminal justice topics, such as theory, corrections, multicultural policing, sociology, and investigative techniques. Students will also learn critical thinking and decision-making skills, as well as how to analyze and respond to a situation. They'll apply what they learn in the classroom to practical skills training.
Skills Training
The work of a law enforcement officer requires certain skills. Students will learn weapon use and target shooting. They'll learn driving skills, radio use, and how to subdue suspects and put them in custody. Many academies are adding deescalation tactics and community policing techniques. Because police deal with people who may be dangerous, they must also know how to defend themselves using proper use-of-force techniques. Practical skills training may include a "duty to intervene," in which fellow officers look out for warning signs that their partners or others are losing control of their emotions.
Physical Fitness
The job of a law enforcement officer can be physically demanding. Cadets go through physical training that's much like a military boot camp. The training includes running; weightlifting; and navigating obstacle courses, such as wall and chain-link fence climbs. They must be able to carry a body.
First Aid
Although first aid may not come to mind when wondering what to expect in the police academy, law enforcement officers may be the first responders on the scene of an accident, a shooting, a domestic violence situation, or other incident. Therefore, officers must be able to administer basic first aid, including CPR and wound care, while waiting for EMTs to arrive.
What to Expect in a Police Academy Track Criminal Justice Degree Program
Many police departments simply require a high school diploma or an associate degree to join. However, a four-year degree in criminal justice, especially one that includes a police academy component, which the local police department may teach, can benefit police officers in many ways.
In-depth education. A bachelor's degree includes coursework that teaches critical thinking and decision-making skills and goes into far more detail in criminal justice than a police academy does.
Promotion eligibility. A bachelor's degree also better positions a police officer for a promotion. Many upper-level policing jobs require at least a bachelor's degree.
Police officers with four-year degrees can make more money in many departments than their counterparts with only a high school education or associate degrees. Some departments offer bonuses to officers who have their degrees.
Diverse student body. A criminal justice degree program with a police academy track combines aspiring officers with students who have other career goals. This may provide additional insight into the role.
A bachelor's degree in criminal justice dovetails with police academy classroom training. It prepares cadets for understanding the concepts covered in police academy with in-depth coursework in such topics as:
Introduction to criminal justice: A comprehensive overview of the criminal justice system, from policing to courts and corrections
Multicultural policing: Understanding and communicating with individuals from diverse backgrounds
Corrections: How corrections fits into law enforcement
Criminal law and procedure: Laws, law enforcement procedures, and prosecution, among other legal topics
Criminology: The history of criminology and theories of criminology
Upper-level courses cover critical thinking, social science, research design, and statistics. This coursework lays the foundation for a broader understanding of society, criminal justice, and law enforcement.
What to Expect in a Non-Police Academy Track Criminal Justice Degree Program
Students who are studying criminal justice for another career goal will start along the same core curriculum path as their law enforcement counterparts. They'll also take statistics, critical thinking and social science, and research design. The goal of this coursework is to teach students research techniques and to help them to understand the broader ramifications of criminal justice and the work of social and protective services agencies.
Instead of the police academy, their education will include an internship and a capstone project in the social sciences.
Prepare for a Career in Criminal Justice
Now that you know what to expect in police academy, explore Maryville University's online Bachelor of Arts in Criminal Justice degree program. Whether you aspire to go into law enforcement or to take another path, a bachelor's degree in criminal justice is an excellent foundation. With both police academy and non-police academy tracks, Maryville can prepare you for a satisfying career in criminal justice. Be brave with us.
Recommended Reading
Resources and Tips for a Career in Criminal Justice
How Criminal Justice Professionals Will Fight Future Crimes
Understanding the Main Types of Crimes: Motivations and Crime Protection
Sources
GoLawEnforcement.com, How Long Does It Take to Become a Police Officer?
Police Magazine, "3 Not-So-Obvious Areas of Focus for Police Trainers in 2022"
Police1, What to Expect from Police Academy Training
Police1, Why College Educated Police Officers Make More Money
Be Brave
Bring us your ambition and we'll guide you along a personalized path to a quality education that's designed to change your life.