How to Become a Police Officer
How to Become a Police Officer
How to Become a Police Officer
Police officers are the most visible members of law enforcement. They also play one of the most vital roles in a community, as their mission to serve and protect can have a positive impact on society. Those interested in how to become a police officer tend to be active, community-minded, and motivated to make a difference. These character traits set the tone for a journey to a career that plays a crucial civic role.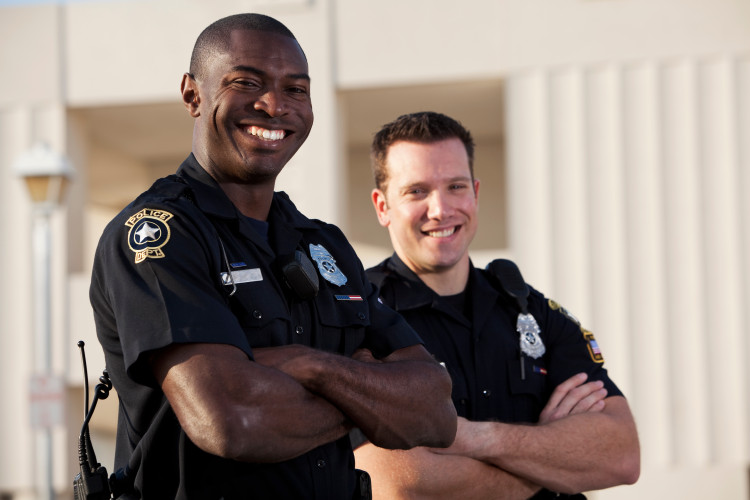 What Does a Police Officer Do?
Police work can consist of a wide variety of responsibilities and tasks. In addition, there are different types of organizations that hire police officers, so tasks can vary widely depending on the organization and position. According to O*Net, the most common duties of a police officer include the following:
● Identifying, pursuing, and arresting individuals suspected of criminal activity
● Enforcing motor vehicle laws and issuing citations
● Responding to emergencies, accidents, and disasters
● Patrolling areas and maintaining order
● Reviewing information, recording facts, and preparing reports
● Collecting evidence and testifying in court
Why Become a Police Officer
For some, the sense of variety and adventurous nature of the job makes policing attractive, while others are drawn by the community service and teamwork aspects of the profession. People may choose a career as a police officer for many reasons, including the following:
● Helping victims in need. Becoming a police officer can be an attractive option for those who want to improve community members' lives. For instance, in responding to emergency calls for assistance, officers can facilitate positive outcomes such as helping individuals access medical care or de-escalating potentially violent arguments. These activities can give officers a solid sense of community and self-worth.
● Receiving strong compensation and benefits. Police officer positions often command higher-than-average salaries and strong benefit packages, including health insurance and retirement policies. There are also many opportunities for advancement in the profession, for instance, becoming a sheriff or criminal investigator.
● Having an active daily schedule. Police work is attractive to individuals who want to remain active in a variety of job tasks and activities. From forging community relationships and investigating crimes to monitoring traffic and serving as a first responder, a police officer's role can differ from day to day.
There are many ways police officers keep people and communities safe, which is the most rewarding aspect of a police officer's work. The presence of police officers can help deter crime and reduce conflict. Through relationship building, they can earn the trust of the citizens they serve and help keep people out of the criminal justice system.
Typical Steps for Becoming a Police Officer and Advancing Your Career
Although individual paths to police work may vary, there are some important steps that anyone interested in this career must follow, including attending police academy. While becoming a police officer doesn't necessarily require it, a criminal justice degree may have significant value when it comes to ascending in the ranks.
Step 1: Attend Police Academy
The first step in becoming a police officer is attending a police academy. When a police force hires new officers, it admits them into its own on-the-job training school. Graduating from the academy is required before moving from cadet to police officer. Trainees must also have a valid driver's license. Age limits for new officers can vary by state and precinct, so prospective cadets should first check department requirements. In some cases, prior military service may outweigh age requirements for new police academy hires.
Since criminal justice careers can involve sensitive information and affect community safety, a wide range of police academy students' background information will be checked. This can include criminal and employment histories, driving records, and credit scores.
Police academies also have rigorous requirements in place to ensure that students are physically and mentally prepared for law enforcement careers. Exams and training exercises form an important part of the qualification process. Police academy classwork can cover various topics, including self-defense, policing procedures, first aid and CPR, firearm use, and investigative techniques.
Step 2: Build On-the-Job Experience
After graduating from the police academy, officers build field knowledge through hands-on work experience. Often, it's the years of practice and application of what they've learned in the classroom and training that makes them assets to the police force.
Many police officers use work experience to prepare themselves for further career advancement. For example, they may want to specialize in different types of law enforcement, such as working on homicide cases or serving as private investigators for district attorneys. According to the U.S. Bureau of Labor Statistics (BLS), in most cases, police officers only become eligible for promotion after a period of probationary work.
In police forces, promotions to higher ranks, such as corporal, sergeant, lieutenant, or captain, are not made without sufficient years of experience. Police officers are usually evaluated using several criteria, including exam results and work performance. Aside from exam scores, consistent work performance could be new officers' best opportunity to distinguish themselves from other candidates for promotion.
Step 3: Consider a Bachelor's Degree
There are many reasons why earning a bachelor's degree may be an important step in becoming a police officer. Becoming a police officer does not automatically require one, but some employers may favor candidates who hold a relevant degree.
Police officers who want to pursue more advanced or specialized forms of police work are typically interested in supervisory roles, management positions, criminology sciences, governmental advisory positions, or security jobs in private institutions. Although it is possible for police officers without bachelor's degrees to advance to these roles, having a higher education may give these candidates competitive advantages.
What Skills Does a Police Officer Need?
Learning how to become a police officer requires the development of specific skills. According to the BLS, these include the following:
● Communication. Officers should be able to speak with and record data from colleagues and community members, as well as express information effectively both verbally and in writing.
● Empathy. Officers should understand the diverse perspectives and needs of the communities in their jurisdictions while enforcing the law and assisting the public.
● Judgment. Officers should use common sense and relevant knowledge to address problems and resolve issues appropriately.
● Leadership. Officers should be comfortable with guiding, correcting, and directing community members as needed.
● Fitness. Officers should have enough strength and stamina to perform the challenging physical aspects of their responsibilities.
Police Officer Salaries and Job Outlook
The BLS projects a 5% growth rate in employment for law enforcement officers between 2018 and 2028, which is consistent with the average job growth rate. Job turnover rates are low for this occupation, which means job seekers may initially face some competition. However, job security is reasonably high for police officers and other law enforcement workers.
Police officer salaries and benefits can vary widely from state to state. Law enforcement positions may have different salaries, depending on each position's job duties and police force. For example, in 2019, the BLS reported the following median annual earnings of different law enforcement officers:
● Police and sheriff's patrol officers: $63,150
● Detectives and criminal investigators: $83,170
● Transit and railroad police: $71,820
● Fish and game wardens: $57,500
The approximate entry-level salaries for these positions in 2019:
● Police and sheriff's patrol officers: $36,960
● Detectives and criminal investigators: $44,860
● Transit and railroad police: $43,220
● Fish and game wardens: $33,930
Start Your Journey to Becoming a Police Officer Today
For those interested in how to become a police officer, the career path includes dedication to acquiring the necessary experience and skills, and commitment to earning the appropriate credentials. Achieving a bachelor's degree could be an important step.
Learn more about Maryville University's online Bachelor of Science in Criminal Justice degree program and how it can equip students to serve their communities as police officers.
Recommended Readings
Understanding the Main Types of Crimes: Motivations and Crime Protection
How Future Police Officers Will Adapt to Trends in Law Enforcement
How Criminal Justice Professionals Will Fight Future Crimes
Sources
FBI Jobs, FBI Careers in Security
Houston Chronicle, 'Reasons People Become a Police Officer'
Maryville University, Bachelor of Science in Criminal Justice Degree Online
National Park Service, Become a United States Park Police Officer
U.S. Bureau of Labor Statistics, Detectives and Criminal Investigators
U.S. Bureau of Labor Statistics, Fish and Game Wardens
U.S. Bureau of Labor Statistics, Police and Detectives
U.S. Bureau of Labor Statistics, Police and Sheriff's Patrol Officers
U.S. Bureau of Labor Statistics, Transit and Railroad Police
Be Brave
Bring us your ambition and we'll guide you along a personalized path to a quality education that's designed to change your life.