Top 5 Project Management Tools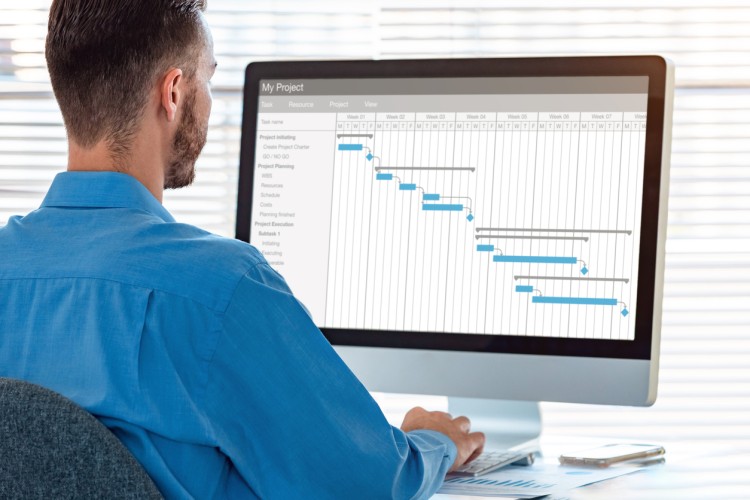 Project management isn't just a skill, it's a profession. Individuals can forge strong careers by mastering advanced project management tools and staying abreast of the latest project management tools and techniques.
Less than a quarter of organizations use project management software, according to a 2020 report from Wellingtone, relying instead on inefficient or outdated alternatives. As a result, 54% of project managers struggle to track key performance indicators.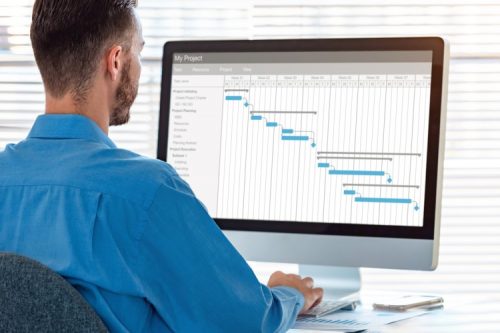 Especially for projects with wide scopes and big budgets, project managers must adapt to the latest tools to stay on track. Project management software has become essential and understanding the project management tools and techniques these programs feature is vital. Those interested in pursuing a career in project management should consider an advanced degree to help develop the required knowledge and skills for the role.
Project Manager Responsibilities
Project managers plan, organize, lead, and implement a company's projects. While specific project management styles will vary depending on the project and team, a few universal responsibilities are typical across most projects. Here are some key project manager responsibilities.
Planning
To execute a project effectively, the project manager must have a plan that incorporates its strategy and primary purpose. The plan determines the project's tone, timing, and scope and includes resource and activity planning, budgeting, cost and time estimation, and risk analysis.
Organizing
The project manager organizes the plan's components into a structure that allows for efficient implementation. This duty might involve managing external suppliers or using internal resources and team members. Project managers rely on organizational tools to manage the project's implementation.
Leading
Project managers maintain their team members' motivation and guide them throughout the project's trajectory. The project manager's leadership motivates team members to stay engaged and focused on their tasks to keep the project on schedule and avoid any potential issues during launch, development, and delivery.
Implementing
To manage a project as smoothly as possible, the project manager must track its progress incrementally and handle any issues that might affect timely completion. They strive to ensure the team is communicating well with stakeholders and is on course to finalize the project.
Project Management Techniques
Project managers use tools that feature techniques for easy visualization of a project's scope and structure. These techniques allow team members to comment and react at various stages as the project progresses. Here are a few techniques project managers use to make their projects more manageable.
Work Breakdown Structure
The work breakdown structure (WBS) uses a visual representation, in chart form, of a project's deliverables. WBS helps project managers break down their projects' scope and visualize its activities. A WBS chart outlines all the work processes and tasks required to complete the project.
Kanban
The Kanban method features the ability to place tasks into the categories of to-do, doing, and done. This allows project teams to swiftly and efficiently move functions to the accurate category as a project progresses.
Gantt Charts
A Gantt chart shows activities and a timeline along a series of cascading bars on a graph. Each bar represents a task, with the location and length of the bar reflecting the task's start date, duration, and finish date. This quick visualization of when tasks begin and end and how they overlap with other tasks allows project managers to guide and direct any task needing attention.
Project Management Tools
At the outset of a project, project managers often organize the project's moving parts into a logical set of activities. However, not all project management methods serve the same function, and some methods work better than others, depending on the project and team. Here are five digital project management tools and techniques to help streamline and organize projects.
1. Basecamp
Basecamp offers various features, including a to-do list, a calendar, a group chat for fast messaging, and a message board. Basecamp stores documents, spreadsheets, pictures, and more.
For each project, Basecamp includes automated check-ins with recurrent questions prompting team members to report their progress, decreasing the need for meetings. Hill Charts are a unique Basecamp tool that visualize project progress by showing to-do lists for each project on a curve.
2. MeisterTask
MeisterTask uses a simple Kanban framework to manage projects. Its task management application provides a straightforward visual design and user experience.
It offers watching, mentioning, tagging, and task scheduling features for interacting with colleagues in person and remotely. MeisterTask also includes a digital planner that works as a personal board where tasks from any project can be pinned and arranged.
3. Nifty
Nifty's software lets users organize tasks in Kanban or list view, has a built-in calendar that can be synced with Google, and allows users to trade files and documents. Collaboration on Nifty is streamlined because each project has its own discussion thread to facilitate dialogue.
4. Trello
The Trello system keeps track of all production phases using the Kanban approach. Its command directives and individual assignments provide users with a clear representation of a project's progress.
The interface uses an array of boards representing a company's various projects or operations. Each board allows users to create work lists, cards with descriptions and comments, files, color tags, and deadlines to give everyone on a team an understanding of the project's progress.
5. Slack
Slack is a simple program with an easy-to-use user interface. Users can create an account, send files, and read messages. Private groups, or channels, are only visible to participants. Slack integrates with and receives notifications from numerous online services, including Dropbox, Twitter, Google Docs, and Trello.
Features of Project Management Tools
Today's project management tools are web-based, collaborative, and real-time workspaces. They give project managers visibility into every step of their project's life span, rather than just allocating tasks. With the project management trends of remote working arrangements and scattered teams, keeping a high-level perspective on how each task and subtask is moving toward the project's milestones is crucial to successful project delivery.
While many tools and techniques exist for project managers, common features are all about creating a more efficient means to achieve project success. Here are some key features.
Communication
Communication capabilities promote free-flowing communication about project progress and momentum. The project team may communicate either in real time or asynchronously via communication features.
For example, tools that allow the team to at-mention co-workers or other tasks or projects keep team members directed and responsive, allowing team leaders to call attention to new or relevant tasks within the tool, thus streamlining communication and task delegation.
Time and Budget Tracking
Time tracking features allow the project manager to monitor the time and money spent on the project by segmenting its costs by task or subtask, making it easy to see how well the project is sticking to its budget or if it needs any modifications to achieve that goal.
Time tracking tools ensure everyone is held accountable for their hours worked on a project, and they assist project managers in overseeing project budgets and expenditures.
Project Planning
Project planning functions are essential for deciding on the best series of steps needed to complete a given project. Project planning tools determine how the elements of a project fit together and keep work on track as things change. Project managers can use project planning functions to define project goals, milestones, and objectives by identifying critical activities and due dates.
Learn More About Tools to Shape Your Future Career
Project managers add value to any industry. A project manager with a solid education in the latest project management tools and techniques brings a greater value to their employer, as they can apply those tools to help increase performance, stay on budget, and achieve company objectives.
Those interested in improving their knowledge of project management tools should consider earning an online Master of Business Administration degree from Maryville University. Maryville's MBA program helps graduates better understand a project's life cycle, as well as how to effectively integrate operations across an organization. Learn more about how Maryville University can help you master the tools and techniques of project management.
Recommended Reading
Brand Engagement Guide for Your Business
MSF vs. MBA: Differences in Degrees
Sources
The Ascent, "5 Project Management Techniques for Tackling Your Next Project"
Capterra, "9 Best Free Project Management Software for Your Business"
Digital Project Manager, "10 Most Common Features of Project Management Software"
PCMag, "The Best Project Management Software for 2022"
Project Central, "6 Project Management Techniques Every PM Should Know"
Project Management Institute, "Project Management Between 2010 + 2020"
StakeholderMap.com, "10 Useful Tools That Every Project Manager Should Know About"