Attending an Online College or University in Missouri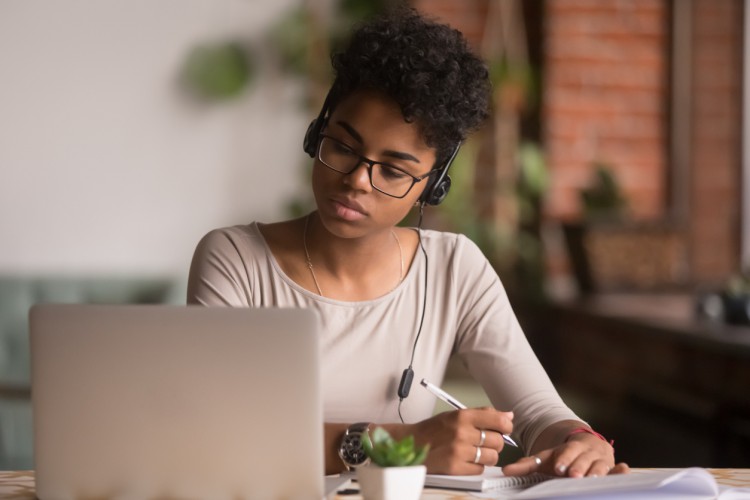 Thanks to the rise of the internet and other technological advances, online college and university degree programs are more plentiful than ever before. According to figures from the U.S. Education Department's National Center for Education Statistics, while postsecondary enrollment dropped by nearly 90,000 students from 2016 to 2017, the number of students pursuing coursework online grew by 350,000. This trend should continue to grow as cutting-edge tools make online learning even more accessible, engaging, and effective. Take virtual reality capabilities, for example: VR devices can be used for all sorts of purposes, from creating virtual labs for chemistry experiments to simulating medical procedures. This allows for exciting opportunities that will take distance learning to the next level.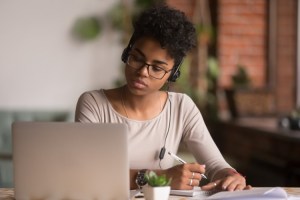 Community colleges have been offering courses online for some 20 years, but now most public and private non-profit universities also offer at least some of their programs online. While online studies were once considered novel, they are now becoming mainstream as major colleges and universities with longstanding reputations adopt this educational model. Maryville University is one online college in Missouri that has followed suit, extending its nearly 150 years of academic excellence into the rapidly growing online space: In January 2019, the university announced it was expanding its well established online degree programs to add 12 additional options for students to choose from, two master's degrees and 10 bachelor's degrees. Find out more about the benefits such Missouri colleges and universities have to offer below.
Types of Online Degree Programs Available Through an Online University in Missouri
Online learning programs cover a diverse range of subject areas. For example, popular programs at Maryville University's online college in Missouri include the master's in nursing, master's in business administration, and bachelor's in criminal justice. Beyond a diverse offering of both business and healthcare degrees online, there are also several liberal arts degrees available, in subjects such as English, sociology, and history. Regardless of the subject area, the Maryville faculty uses innovative approaches to engage learners. Susan Bartel, assistant director of the higher education leadership program, highlights tools such as a simulated consulting firm and a scenario app as examples. She explains: "I really try to think about what it is like to be a student in one of our courses sitting 3,000 miles away — or further if they are international — and how I can draw them in to what the community of learners really means and what it is so that they can walk away from the course not only with information but really feeling connected to the students, the faculty, and, ultimately, the university."
To keep students engaged, online degrees typically take a multifaceted approach to knowledge transfer. Online lectures and accompanying coursework are just one part of a comprehensive program. Project-based courses are often offered, allowing students to put what they have learned into practice with hands-on work. One benefit of this kind of course is that the resulting project can be used to start a portfolio of work that graduates can subsequently use to show off their skills to employers, increasing their odds of success in the job market. Additionally, projects requiring teamwork allow students to get to know one another, creating a sense of camaraderie despite the distance between them. This can be comforting and motivating to individuals who are otherwise largely working independently.
To further assure that students get the practical skills they need, many Missouri online colleges offer experiential learning opportunities that count toward their degrees. For example, students in the online Bachelor of Science in Senior Living Management program at Maryville University pursue a practicum course as part of their studies. They have the opportunity to apply their theoretical knowledge in the context of an approved field-based experience, supervised by the course instructor. Meanwhile, students in the online Bachelor of Arts in Criminal Justice who are interested in law enforcement may be able to obtain credit for successful completion of police academy training through select academies. Alternatively, criminal justice students may opt for a non-police academy track and through an internship and seminar courses, complete project-based learning at social and protective service agencies.
Ready to learn more about one of Maryville's online programs? Download a brochure for more information about the program you are interested in pursuing.
Advantages of Online Degree Programs
Distance degree programs through an online university in Missouri have multiple advantages for students. First, there is the large diversity of options available. Students can choose from bachelor's or master's degrees, or even pursue a doctorate. Given the ongoing growth of online education and expected advances in technology, the variety of courses available is likely to expand in the future. There will also be new topic areas to keep up with the modern tech-driven times, such as cybersecurity. Already, students have a vast selection to choose from, covering traditional realms such as history and nursing and extending to more modern fields such as data science. As the online education sector continues to become a more accepted part of the higher education mainstream, opportunities will continue to grow.
Flexibility and accessibility is another clear bonus of studying online. Students who are working full time or have family obligations may find it difficult to attend in-person lectures, for example. Online education gives them the option to learn when and where they want. People who once may have found their path to higher education blocked due to scheduling issues now have opportunities at their fingertips — literally the click of a mouse away.
Finally, an online degree program can also prove cost-efficient, which further removes accessibility barriers. In-person education often requires added expenses on top of tuition, such as housing or commuting costs. With an online program, these additional costs can be avoided. This, coupled with the fact that students can complete the program while still working and earning money, tends to offer greater accessibility to a broader community of learners.
Maryville University Online Programs
If you are considering distance learning via an online college in Missouri, take a look at Maryville University. The school has a long-established reputation as an excellent university, which carries over into its online programs. The Maryville physical campus is located in St. Louis. Many programs are available, and the university expanded its online offerings in 2019 to include exciting new degrees in fields such as digital media, data science, sports business management, and strategic communication and leadership. These are just some of the Maryville University online programs available. The website offers a comprehensive list.
Regardless of which subject you choose, you can benefit from a unique approach to online education that prioritizes students' needs. The focus of each program is ultimately to give graduates the practical skills and knowledge they need to succeed in their industry of choice. Many programs include the opportunity to take part in real-world projects and build a portfolio that can be brought to job interviews down the line. Maryville University strives to turn out graduates who are ready to jump into the working world — and thrive. As Dr. Mark Lombardi, president of the university, notes, "Student success isn't just the best measure of a highly successful education. It's the only measure that matters." Maryville's online programs carry on the same reputation for excellence that the university has been known for since its inception in 1872.
As a student at Maryville University, you can further expect:
Involved teachers: Maryville University's mission to create engaging educational experiences for students is spearheaded by its stellar faculty. Geralyn Frandsen, assistant director of nursing, has experienced for herself the impact a teacher who truly cares can make during her own studies at Maryville. "The professors I had at Maryville in my first semester and the rest of the bachelor's program really made me what I am today," Frandsen says. "I graduated and went right into a master's program — and the dream was to come back to Maryville to teach."
Technology-driven support: Innovation is a top priority at Maryville University. That's why the institution was recognized a third time by Apple as an Apple Distinguished School for 2021-2024. This designation is granted to schools and universities that have a track record of technological leadership in education. Students are supported through high-tech mobile learning platforms and resources such as the Cybersecurity Center of Excellence, where they can train hands-on while providing cost-free cybersecurity services to nonprofits, charities, and small businesses.
Commitment to inclusion: One of the great benefits of online learning is that it makes an education more accessible, meaning more people with unique backgrounds can take advantage of it. Maryville University carries on a mission of inclusion in all aspects. Says Stacy Hollins, associate professor of information systems: "For me, diversity is important because I believe in and support inclusion. I realize that when only one demographic is seated at the table, making decisions, planning for the future, and sharing experiences, that those resulting decisions, plans, and experiences are lacking. I believe that diverse experiences and perspectives at the table expand our view."
If you want to support your career goals with a top-quality degree and are seeking an alternative to residential learning, an online university in Missouri such as Maryville is a smart choice. Whether you are just graduating from high school or are a professional in the workforce considering a career change, you will be welcomed here. Visit Maryville University online to learn more about the online program offerings and how to apply.
Recommended Reading
Maryville Online: Our Approach to Learning
Maryville University Online Programs
Maryville University Announces Expansion of Online Degree Programs
Teaching Students in the Future of Higher Education
Sources
Forbes, "12 Trends Killing College"
Inside Higher Ed, "Online Education Ascends"
Inside Higher Ed, "Who Is Studying Online (and Where)"
Precision Campus, "5 Trends in Higher Education to Watch in 2019"
The Quad, "Current Trends in Online Education"
U.S. News & World Report, "Study: More Students Are Enrolling in Online Courses"