Maryville University Announces Expansion of Online Degree Programs
Twelve new programs will launch this fall, opening higher education pathways to more students locally, nationally and globally
In January 2019, Maryville University announced the expansion of its online degree programs. Twelve additional programs – two master's degrees and 10 bachelor's degrees – will be offered in the fall of 2019 to allow students to pursue an accessible and flexible education.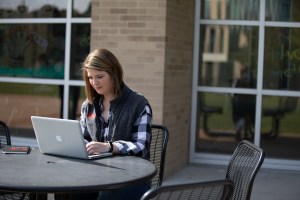 The expansion of Maryville's online degree portfolio aligns with the university's student-centered approach, which aims to meet the higher education needs of all adult learners, regardless of location, age or circumstance. Working to create greater access to higher education, Maryville features convenient online programs, accepts transfer credits and does not require application fees or entrance exams. The new online degree programs include:
Online Master of Arts
Online Master of Science
Online Bachelor of Arts
Online Bachelor of Fine Arts
Online Bachelor of Science
"We are thrilled to continue our online programs expansion. Maryville University offers increased options to determined students whose life situation may not permit a traditional campus or classroom experience," said Mark Lombardi, Ph.D., president, Maryville University. "New, specialized programs, including senior living management and data science, will position students to capitalize on growing career fields, while liberal arts staples such as English and history will strengthen the quality of the students' education."
The new online programs build on nearly 150 years of academic excellence at Maryville and a tradition of innovation that adapts to meet the changing needs of students. Nationally ranked Maryville University continues to grow impressively, reporting a 16 percent overall increase in enrollment this year and educating students from 50 states and 55 countries. The university also boasts a 96 percent positive career outcome rate for online undergraduate program graduates and will also be expanding cutting-edge learning spaces across campus.
About Maryville University
Founded in 1872, Maryville University is a comprehensive and nationally ranked private institution with an enrollment of more than 9,200 students. Maryville offers over 90 degrees at the undergraduate, master's and doctoral levels to students from 50 states and 55 countries. More than 17,000 Maryville alumni work and live in the St. Louis region.