The Future of Higher Education: Looking Ahead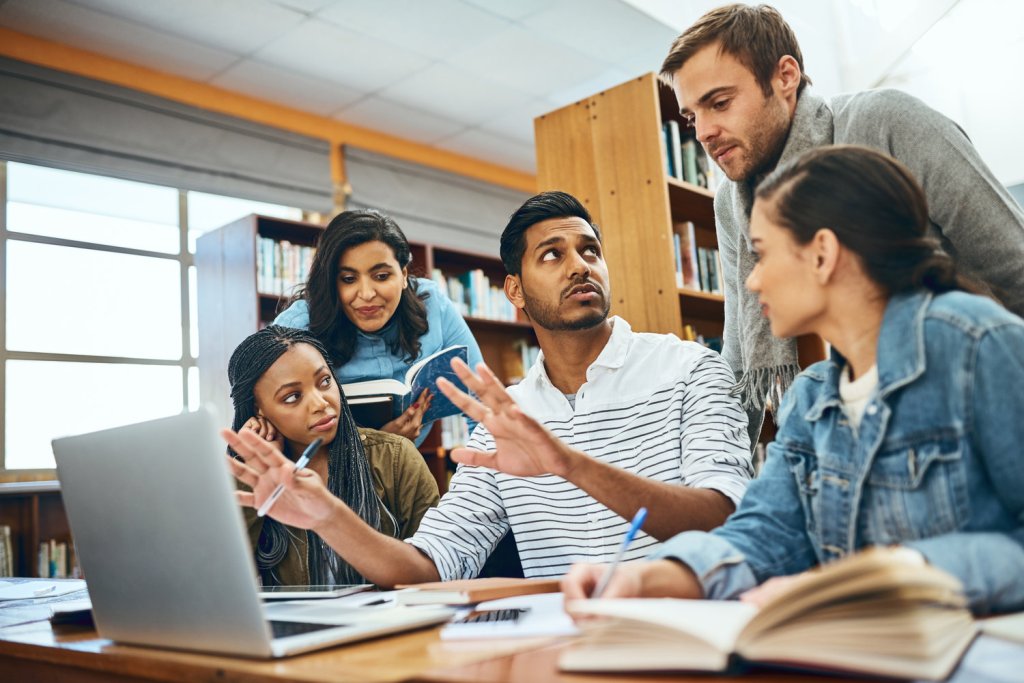 Overall enrollment in colleges and universities may have declined in recent years, but enrollment in online education programs continues to trend upward.
According to the National Student Clearinghouse Research Center, roughly 17.9 million students were enrolled at postsecondary institutions in the fall of 2019, falling below 18 million for the first time in a decade. A year later, overall postsecondary enrollment dropped another 3.3%.
Conversely, in the fall of 2018, 16.6% of all undergraduate and graduate students studied exclusively online, up from 15.7% the previous year, according to the National Center for Education Statistics (NCES). Additionally, in the fall of 2018, 35.3% of enrolled college students took at least one online class, up from 33.5% in 2017. In fact, online college enrollment has increased every year since 2002, according to Bay View Analytics (formerly Babson Survey Research Group).
As such, it's hard to deny that online learning is the future of higher education.
Trends in Higher Education
The metamorphosis in learning methodology is causing teachers and educators to reconsider the ways they design coursework, especially considering that fall 2019 enrollments were more than 2 million less than peak enrollment in 2011, according to National Student Clearinghouse.
Advances in digital content, technology, and institutional practices have been a catalyst for online course enrollment. Email, instant messaging, message forums, and the expanded use of web-based video provide e-learners with access to a growing number of computer- and device-based educational tools.
To meet the demand for online education, colleges and universities are refining their mobile and project-based learning methodologies. They are always looking for more effective ways to design relevant, engaging online lessons. Some institutions are incorporating live and interactive online courses in addition to allowing off-campus students to audit massive open online courses (MOOCs) at no cost.
For those seeking career expertise quickly, some universities and colleges are also creating short courses, which can be "stacked" into transferable credits and applied toward a degree program.
Future Universities and the Expansion of Online Education
Colleges understand the demand for online education programs, and they've risen to the challenge by providing online degree options that range from liberal arts to cybersecurity to healthcare. With this expansion of choices, student enrollment in online education has grown substantially.
Julia E. Seaman, BSRG research director, describes the increase in online enrollments as relentless: "They have gone up when the economy was expanding, when the economy was shrinking, when overall enrollments were growing, and now when overall enrollments are shrinking."
The expansion of online education is about more than simply adding more courses. Today and for the future, universities are working to ensure that online course material is just as easy to access on a smartphone or tablet as on a computer.
Artificial intelligence has also started to play a key role. According to EdTech, several schools have already begun to incorporate AI into their courses. For example, a professor at Georgia Tech used a virtual teaching assistant, "Jill Watson," to communicate with students in her online AI course. In addition, the University of Iowa has used AI to connect campus buildings to computer systems, and IBM Research and Rensselaer Polytechnic Institute have partnered to use AI to help students learn Mandarin.
The Benefits of Expanding Online Education
Easier access to affordable degree programs allows students from all walks of life to embrace higher education. For parents, working adults, and other nontraditional students, it's now more practical than ever to earn a university degree — and more critical. As machines handle more menial and repetitive tasks each day, people who want to shift or advance their careers will need more specialized education, and the future of higher education will be designed to better support that.
Along with increasing their specialized knowledge, online students can also take advantage of something called competency learning. This educational approach gives students a chance to excel at their own pace as they master concepts and skills. Online formats are especially conducive to competency learning.
Additionally, online learning gives professors more opportunities to integrate innovative technologies such as gamification into curricula. Gamification, which uses technology and game concepts such as scoring points and competition, can make classes more compelling and create incentives for mastering subject matter.
Some other benefits of online education include:
Coursework that is 100% online that can be completed anytime, anywhere (with some exceptions for exams)
Personalized student support services and greater faculty availability
Enhanced engagement opportunities within the virtual classroom to mimic that of on-campus programs
Flexible start dates
Networking opportunities with current students and alumni
Beyond gaining knowledge and training, students also generally find earning an advanced degree leads to a higher salary. According to the Brookings Institute, over a lifetime, those with a bachelor's degree earn more than twice as much as those holding a high school diploma. The improved access to higher education offered by online degrees helps put these rewards and others within easier reach.
Students as Lifelong Learners and the Future of College Education
Online coursework isn't just for those who are looking to launch their careers. A study from the Center for Benefit-Cost Studies of Education found that most students who are taking advantage of open online courses are college-educated, employed adults between the ages of 30 and 44.
Students in this demographic are using online-based learning to expand their skill sets to improve their job performance and raise their earning potential.
Courses in Computing, AI, and Other Technologies Are Expanding Quickly
Consumers are largely driving the future of college education. As the demand for online learning grows, many schools have created new departments and degrees focused on computer science, artificial intelligence, and other burgeoning technologies.
These courses have become increasingly popular among college-educated working professionals who see on-demand education as a means of accelerating their career trajectories. Online learning also helps some professionals change careers entirely.
Technology's Innovative Role in Online Education
New technologies now allow students to listen to a lecture, view a slideshow, and break into discussion groups completely online. They also make it possible for students to visit massive digital libraries and instantly access texts from any internet-connected device.
Professors no longer need to worry about when and if their students complete assignments. Software lets them know when students are opening documents online, how long the documents remain open, and whether students are looking at other computer windows during a webcast class.
Future universities will afford students more accessibility and opportunity as modern technology will allow professors to customize learning experiences to the needs of individual students. For example, if one person requires more time during a quiz or other special accommodation, such as closed captions for videos, those features are only a click away.
The Impact of COVID-19 on Colleges and Universities
With the global spread of the novel coronavirus, or COVID-19, higher education had to fundamentally shift its delivery by moving all on-campus courses to 100% online platforms during much of 2020.
The impact of the global pandemic has not left universities and colleges unscathed: Challenges have hampered some institutions who were not prepared for the sudden move online, such as technical difficulties, access to technology, communication difficulties between students and faculty dispersed across different time zones, and changing daily schedules.
Based on these events, thought leaders have called for a reimagining of higher education to better serve students into the future. Some suggestions have included:
Removing the barriers of access
Creating more resilient institutions to deal with unexpected circumstances
Enhancing the overall quality of online learning
Offering alternatives to traditional degrees
Work toward these suggestions has already begun. For example, to address the digital divide, some schools have developed programs that lend out laptops and Wi-Fi hotspots for entire terms, ensuring online students have reliable internet access. Other schools have tried to address access barriers by creating reduced payment plans to lower tuition and keep students in their degree programs.
To improve the overall quality of online learning, many colleges and universities are providing faculty members with professional development for digital learning. This gives professors the chance to cultivate the skills needed to deliver more engaging online instruction.
In a recent survey of college professors conducted by Every Learner Everywhere, 72% said they had embedded new digital tools into their fall 2020 classes and 60% said they had integrated more active learning components such as group discussions to increase student engagement and learning.
These improvements and others are starting to tackle some of the problematic areas in higher education that the pandemic revealed.
Online Education at Maryville University
Life is busy, so choosing to pursue your degree is a courageous decision. We've got your back. For nearly a decade, Maryville University has leveraged technology and innovation to enhance online education for students like you: the hardworking and persistent. The brave.
We have a path for you, including online certificates as well as bachelor's, master's, and doctoral degrees, in many areas of accounting, technology, business administration, healthcare, and other fields. Each of our flexible, on-demand learning formats is designed to prepare you for the next steps in your career, wherever you are. Discover what the future of higher education looks like.
Recommended Reading
How to Stand Out as a Career Nomad
What Is Work-Life Balance vs. Work-Life Harmony?
Sources
Bay View Analytics, Higher Education Reports
The Brookings Institution, "Major Decisions: What Graduates Earn Over Their Lifetimes"
Center for Benefit-Cost Studies of Education, "Benefits and Costs of MOOC-Based Alternative Credentials"
EdSurge, "Here's How Colleges Should Help Close the Digital Divide in the COVID-Era"
EdSurge, "How the Future of Work Will Influence the Future of Learning"
EdTech, "Successful AI Examples in Higher Education That Can Inspire Our Future"
ELearning Industry, "Top Educational Technology Trends In 2020-2021"
Every Learner Everywhere, "Time for Class: COVID-19 Edition, Part 3"
Forbes, "How Online Learning Platforms Can Support Lifelong Learners and Drive Business"
Inside Higher Ed, "Faculty Confidence in Online Learning Grows"
Inside Higher Ed, "MIT Announces Plan for $1B Effort on Computing, AI"
Inside Higher Ed, "Reimagining Higher Education Post-Coronavirus"
National Center for Education Statistics, Fast Facts: Distance Learning
National Center for Education Statistics, Digest of Education Statistics
National Student Clearinghouse, "Fall Enrollments Decline for 8th Consecutive Year"
National Student Clearinghouse, "Fall Enrollment: Freshman Show Steep Declines; Student Mobility Appears Constrained"
Psychology Today, "What Is the Purpose and Future of Higher Education?"
TeachThought, "What Is Competency-Based Education"
U.S. Department of Education, "The Condition of Education 2020"
The Washington Post, "The Future of College Education: Students for Life, Computer Advisers and Campuses Everywhere"