How to Become a Chief Security Officer
How to Become a Chief Security Officer
How to Become a Chief Security Officer

Chief security officers (CSOs) are executives who are responsible for all aspects of their organization's security. This includes managing daily operations of the information technology (IT) security program and implementing and maintaining companywide security policies and procedures. Chief security officers are responsible for risk management and compliance across all corporate operations, including ensuring the confidentiality and integrity of electronic information.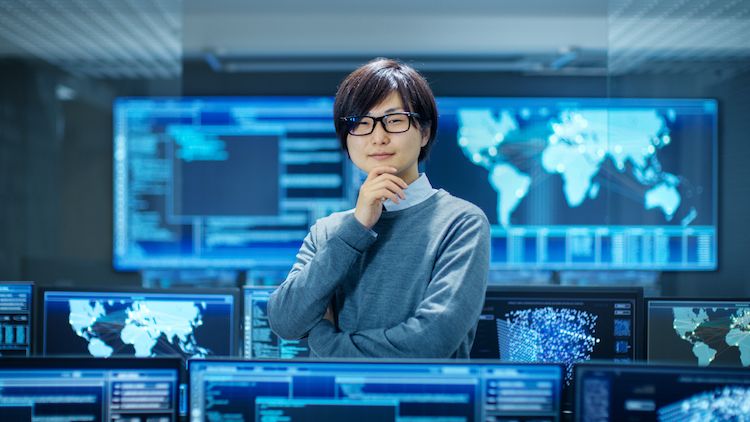 CSOs may work for corporations, nonprofits, or government agencies at the local, state, and federal levels. The CSO role has expanded as organizations have come to rely on IT for core operations. Chief security officers are often responsible for overseeing cybersecurity policies to minimize threats to the organization, its employees, or its physical and intellectual property. CSOs help organizations ensure business continuity and the prevention of loss or fraud.
If you're researching how to become a chief security officer, you'll find that the path usually begins with the pursuit of a bachelor's degree, often followed by several years of work experience and earning a master's degree or another advanced degree.
What Is a Chief Security Officer?
Businesses have complex security needs, and the chief security officer is in charge of keeping all security risks at bay, from deflecting cyber attacks to ensuring employees' physical safety. CSOs protect data, assets, and employees by establishing companywide security protocols. These guidelines give a detailed framework for how the business will respond to events ranging from data hacks to facility breaches, including crisis coordination and communication plans.
To ensure employee safety, CSOs facilitate extensive employee training on safety preparedness ranging from evacuation procedures and disaster drills to detecting phishing and malware attacks. To protect hardware, software, networks, and other data systems, CSOs ensure that proper firewalls, antivirus software, and other protective technology tools are installed and maintained. They also coordinate the monitoring and reporting of cybersecurity tools, including the tracking and investigation of incidents and breaches.
Chief Security Officer Salary
The average chief security officer salary is about $146,000 per year, according to PayScale data from April 2020. Salaries range higher for those who have extensive experience and educational credentials in cybersecurity, information security, IT infrastructure, security risk management, and security investigation.
Pay may also vary by location. For instance, CSOs in Houston, New York, Chicago, and Washington, D.C., earn higher salaries, while those in Boston, Dallas, and Miami tend to have lower salaries, according to PayScale.
Employment Outlook
Demand for chief security officers continues to rise as organizations place increased value on physical safety and cybersecurity. Employment of chief security officers and other types of computer and information systems managers is projected to increase by 11% from 2018 to 2028, much faster than the average job growth of 5%, according to the U.S. Bureau of Labor Statistics (BLS). Increased demand and an expanding range of responsibilities affiliated with the CSO role are strong indicators of long-term growth and career advancement potential.
Chief Security Officer Duties
Chief security officers can have a wide range of responsibilities and levels of authority. Some chief security officers are only responsible for the physical security of the facilities and employees of a company, school, or organization. Others are focused on digital and information security. In large corporations, chief security officers may provide both physical and information security. CSOs may have duties similar to those of chief information officers and chief technology officers.
Cybersecurity
As technology has fundamentally changed how businesses operate, the duties of the chief security officer have evolved to include information security, including protecting company and employee data against unauthorized access. It's imperative that chief security officers remain up to date with current trends in data management and security threats to design effective data security systems. CSOs will typically oversee a team of cybersecurity-focused professionals, including IT and engineering specialists. A CSO in this role might have the title of chief information security officer (CISO).
Physical Security
Chief security officers ensure the physical safety of company buildings, making sure that employees are safe and assets are protected. CSOs are often direct reports to the CEO and may oversee a team of security guards or travel with executives or other employees to ensure their safety. They're expected to be aware of political or societal developments that may affect the company and its employees, for example, possible security breaches instigated by outside entities. A CSO may also be the public spokesperson for security-related company issues.
Other CSO Duties
To strengthen security initiatives, chief security officers create and maintain open channels of communication and support across various departments. They also prioritize risk management initiatives and ensure that companies are compliant with government security regulations. Other tasks may involve designing custom data security systems for employee or client records.
How to Become a CSO
Want to know how to become a chief security officer? While specific requirements for the position differ based on the company's or organization's job description, most employers look for candidates who've obtained relevant education and work experience
Earn a Bachelor's Degree
An academic degree in cybersecurity or a related IT discipline is usually required for a job as a chief security officer. Graduating with an online bachelor's degree in cybersecurity, business, or a related field can provide a strong business background with a solid technical foundation.
Cybersecurity degree programs expose you to the inner workings of business security and provide the skills to perform some of the basic responsibilities required of chief security officers, such as maintaining procedures, standards, and policies to protect the privacy and integrity of data. These programs also provide leadership, project management, IT, and analytical skills needed for the role.
Earn a Master's Degree
The chief security officer field is very competitive, which means successful candidates must have up-to-date computer skills and broad industry knowledge. If you want to be considered for these in-demand positions, it's to your advantage to have a master's degree. An online master's degree in cybersecurity can expand your options for a career as a chief security officer and round out your repertoire with the business fundamentals essential for leadership roles.
There are several additional advantages to earning a cybersecurity master's degree, including gaining a broad understanding of advanced technical areas such as cloud security, mobile forensics, and artificial intelligence. Combining your technical knowledge with a real-world understanding of business skills and strategies will position you for high-level positions and salaries as a chief security officer.
Work Toward a Chief Security Officer Role
If your goal is to qualify for a high-level chief security officer role, you should plan to pursue positions in the field that allow you to gain experience as a leader. As with many executive jobs, organizations typically prefer candidates who have multiple years of experience. For a CSO, this might mean managing large teams, coordinating facility protection programs, and designing IT security solutions.
Chief security officers often have professional certifications in IT security, such as CompTIA's CySA+ or CASP+ programs or the Certified Information Systems Security Professional (CISSP) program from ISC2. Completion of specialized technological training programs may also be necessary. CSOs who provide physical security may have training and backgrounds in law enforcement, military service, or criminal justice. Earning a master's in cybersecurity can help you prepare for these certifications.
A chief security officer should have excellent communication, persuasion, and public-speaking skills. To become a chief security officer, you'll need the ability to establish relationships, demonstrate analytical competencies, and exercise quick judgment using astute decision-making skills.
Explore Cybersecurity Career Options
If you're considering a career in cybersecurity, know that it's a field in need of more qualified professionals, and only a small pool of people have the necessary skills. This represents a potentially lucrative opportunity for educated professionals in the future, especially for individuals who have received postgraduate training in cybersecurity.
Discover more about how to become a CSO by exploring Maryville University's online bachelor's degree in cybersecurity and online master's degree in cybersecurity programs, which offer educational paths that can help you prepare for a fulfilling career in corporate security. Visit the program websites to learn more.
Recommended Readings
The Internet of the Future Will Be Bigger, Faster, Safer, and More Private
Earning Your Cybersecurity Degree Online vs. On-Campus
Businesses Are Seeing Cybersecurity Staff Shortages
Sources
CompTIA, CompTIA Certifications
CSO, "What Is a CSO? Understanding the Critical Chief Security Officer Role"
ISC2, Cybersecurity Certifications
Maryville University, Master's in Cybersecurity Online
PayScale, Average Chief Security Officer (CSO) Salary
U.S. Bureau of Labor Statistics, Computer and Information Systems Managers
Be Brave
Bring us your ambition and we'll guide you along a personalized path to a quality education that's designed to change your life.