Master's in Cybersecurity Careers
Master's in Cybersecurity Careers
Master's in Cybersecurity Careers
Today's cybersecurity industry is rapidly expanding, spreading from a small pool of original sectors, such as defense and government information protection, to large portions of the job market, including industries such as finance, retail, and healthcare. According to an analysis by career researcher Burning Glass Technologies, demand for cybersecurity professionals increased by 91 percent from 2010 to 2014. Cybersecurity needs are ballooning, and organizations around the globe are lapping up the small pool of qualified professionals as demand increases. Advanced cybersecurity careers could prove to be an extremely lucrative option for professionals in the coming decade. Included below are some of the most prominent position types available for individuals who have received postgraduate training in cybersecurity.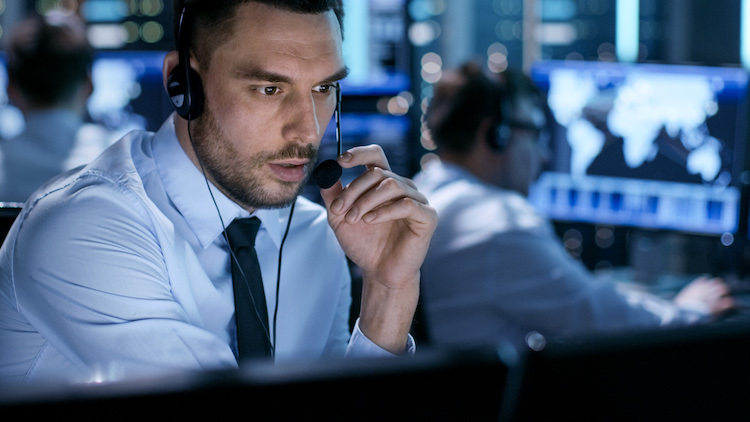 Industries Hiring Cybersecurity Graduates
Cybersecurity professionals can find premium positions in a large variety of settings, ranging widely by not only industry but also by type of organization, scope of responsibility, and task breakdown. Cybersecurity professionals, especially those who possess advanced degrees, could opt to lead large groups of people or work largely autonomously. They could find positions working within the public sector, for technological startups, or for established corporations. Though opportunities extend beyond this list, the following industries are a few of the ones that employ large numbers of cybersecurity professionals:
Government/intelligence agencies
Finance and banking
IT and networking firms
Large corporations that store and utilize customer data
Popular Master's in Cybersecurity Careers
Those who obtain a master's degree in cybersecurity could find themselves strategically positioned to begin the process of pursuing a number of fulfilling cyber positions. Many top-level jobs in the cybersecurity field require a master's degree in cybersecurity. However, it is important to note that while earning a graduate degree can potentially make a candidate more appealing for employers, additional degrees, training or certifications may be required to actually gain employment. The following list of positions are often only available to those with this type of advanced degree.
Chief Information Security Officer (CISO)
An IBM "Chief Information Security Officer Assessment" produced in 2013 described the critical role a CISO plays for his or her organization: "Smart CISOs…[concentrate on] real security management improvements that deliver true business value." CISOs are responsible for the protection of company data and information. SilverBull, a placement analytics and staffing firm, reported a median annual salary of $204,000 (within a range of $126,000 to $311,000) for CISOs in November 2015.
Skills recommended to succeed:
Communication
Long-term planning
Risk management mindset
Chief Security Officer (CSO)
Job description: According to the Houston Chronicle, a CSO is "the highest-level executive directly responsible for an organization's entire security function. Increasingly, CSOs are not only responsible for their organizations' physical security needs but also their digital or electronic security requirements, including computer networks." According to Dice.com, a service provided by DHI Group Inc., CSOs earned an average annual salary of $225,000 between 2013 and 2015.
Skills recommended to succeed:
Management
Leadership
Analysis
Efficient decision making skills
Information Security Manager or Director
The information security manager or director manages the execution of data security projects and efforts. He or she can also be responsible for response efforts in the event of a data breach or compromise. Dice reports an annual salary average of $200,000 for information security directors.
Skills recommended to succeed:
In-depth industry knowledge
Interpersonal communication
Management
Ability to handle pressure
Director of Security
A director of security might wear a number of hats depending on the needs of the employing organization. One area of commonality, however, is the responsibility of minimizing risk to the organization. Like many high-level cybersecurity careers, directors of security should also anticipate that their role will involve a fair amount of management, as they direct team members and subordinates. Directors of security earn an estimated average annual salary of $178,333.
Skills recommended to succeed:
Communication
Leadership
Strategic planning
Research
Network Architect
Network architects are responsible for building networks. There are a few different types of networks: intranets, local area networks (LANs), and wide area networks (WANs). Networking applications range from enabling internal communication among an organization's branches or departments to building robust infrastructure capable of supporting massive consumer offerings, such as cloud computing or other web-driven products. Network architects must be well-versed in keeping their creations safe from unwanted intrusion or access. According to the United States Bureau of Labor Statistics (BLS), the median salary in 2016 for network architects was $101,210 per year.
Skills recommended to succeed:
Analysis
Interpersonal communication
Organization
Management
Lead Software Security Engineer
Lead software security engineers could be responsible for a wide variety of tasks, including everything from developing and training new team members to leading interactions between engineers and future users of software being developed. They often hold final responsibility for the usability and security of the software their teams create. A lead software security engineer's average annual salary, according to Dice, is $233,333.
Skills recommended to succeed:
Communication
Efficient coding
Management
Ability to manage pressure well
Lead Security Engineer
Security professionals don't just work in software development. In fact, security positions are quickly evolving to involve more sophisticated technology than ever before, and lead security engineers across an array of industries may need increasingly advanced technological expertise to effectively perform their jobs. From managing complex access and entry-point systems to securing phone lines, computer equipment, and personnel, security engineers are necessary to design and implement security systems of all types. Lead security engineers currently earn an average salary of $174,375 per year (Dice).
Skills recommended to succeed:
Hardware and mechanical skills
Research
Leadership
Chief Technology Officer (CTO)
The CTO is part of a company or organization's executive cabinet. The CTO's role is to oversee all technological aspects of the organization. This could include research and development, information and computing security, and equipment needs, among other areas of responsibility. The average annual salary for CTOs is $153,318, as of January 2018, according to Payscale.com.
Skills recommended to succeed:
Leadership
Decision-making
Long-term planning
Communication
IT Security Consultant
IT security consultants advise their clients on how to best protect their assets, company property, and data. They often have previous professional experience in the security industry, and having more varied experiences can widen the perspective they can draw from as they tackle their clients' security challenges. Though consultant job salaries range widely, an average of $198,909 per year could be anticipated for seasoned security consultants (Dice).
Skills recommended to succeed:
Entrepreneurship
Promotional and marketing skills
Communication
Organization
Cybersecurity is an in-demand career field and is quickly expanding beyond the available supply of qualified professionals. Entering the realm of cybersecurity could provide opportunities to start a rewarding career. Earning a master's degree in cybersecurity can provide valuable expertise and add credibility to your candidacy during your professional development.
Interested in an advanced cybersecurity program? Check out Maryville University's online Master's in Cybersecurity degree.
Now that you've learned more about potential cybersecurity careers, take a moment to learn more about why cybersecurity matters.
Sources
Maryville Online MS Cybersecurity
Related Articles
Be Brave
Bring us your ambition and we'll guide you along a personalized path to a quality education that's designed to change your life.