Soft Skills in Cybersecurity: Communication and Training Are Key
Soft Skills in Cybersecurity: Communication and Training Are Key
Soft Skills in Cybersecurity: Communication and Training Are Key

Students working toward an MS in Cybersecurity degree will have the opportunity to learn how to design and implement industry-standard techniques for protecting networks and data. Like many other IT professions, however, possessing in-demand cybersecurity skills can certainly increase your chances of getting hired, but it also requires more than just a high level of technical knowledge.
The most successful candidates in this highly sought-after job market also know how to effectively communicate with colleagues and how to manage a team. Communication, team management, and other "soft" skills can be just as challenging to master as the more technical side of the profession.
Businesses cite demand for more than credentials
It's no secret that cybersecurity professionals continue to be among the most in-demand workers in the United States. However, as Douglas Bonderud of Security Intelligence explains, chief information security officers (CISOs) also value communication, empathy, and other soft skills in cybersecurity candidates. Forbes contributor Anant Agarwal writes that a "skills transformation" is underway as businesses reconsider the skills in cybersecurity they deem critical for achieving their goals.
According to Agarwal, a recent internal study at Google found the highest-performing teams in the company weren't the ones with the top scientists, but rather those with "interdisciplinary" members who were excellent communicators, good at reading other people, and "empathetic" leaders. The results of this study and similar surveys in the tech industry show that soft skills, such as the ability to think critically, write persuasively, and promote teamwork, are "hard-won" and "rigorous," Agarwal says.
Companies are increasingly reporting a dearth of cybersecurity job applicants who can also work well as team players and manage teams effectively. Research shows that it is also rare to find a cybersecurity candidate who understands the position's legal and ethical responsibilities. "One of the biggest concerns is that college students looking at the IT industry often don't understand what 'security' is," TechTarget's Sean Martin writes. "It can be hard to get students interested in information security, as the details of what's truly involved are often missing from the job descriptions they see and read."
Martin explains that some of the most in-demand roles within the cybersecurity field are those in senior security leadership positions. These roles often require a proven track record as a strong communicator who can plan and execute complex projects. These skills take time to learn, but they first require a solid educational foundation.
Because technology and business intersect at multiple points across nearly every industry sector, it's important for executive leadership to possess a functioning knowledge of cybersecurity protocols. Programs like the one at Maryville University can provide insight at every touchpoint — from entry level to C-suite.
In fact, the cybersecurity program at Maryville is unique because it falls within the John E. Simon School of Business, which means our curriculum incorporates the insight and foresight that businesses are looking for. Cybersecurity careers, like information security analyst, are projected to grow by 31% between 2019 and 2029 — nearly three times the growth for all computer occupations (11%).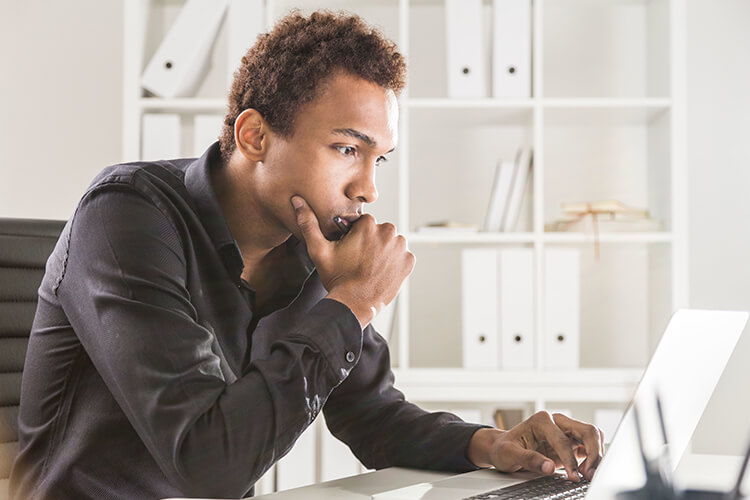 Soft skills needed to land choice cybersecurity positions
Understanding and mastering the more subjective aspects of cybersecurity skills is vital for those working in the field. As the SANS Institute, a cybersecurity research firm, explains, job candidates in the industry tend to have highly technical backgrounds but little training in crucial concepts, including the following:
Communication strategies
Change management
Learning theory
Human behavior
These shortcomings have the potential to invite fundamental flaws in the development and implementation of a successful cybersecurity strategy real-world situations. Behind every malicious string of code or data-theft device is a person with his or her own strengths and weaknesses. Likewise, cybersecurity professionals must be aware of the limits of their own abilities, as well as personal biases, to ensure they stay a step ahead of any threat.
Dice.com takes the examination further by underscoring the importance of communication skills. As its article "Six Skills You Need to Succeed in Cybersecurity" points out, cybersecurity professionals must often explain their findings to individuals who aren't from a technical background, such as C-suite executives and legal representation. Therefore, it is important to present information in a clear and concise manner, which can be aided with the addition of charts, graphs, and other visual elements.
In addition, critical thinking, as well as the ability to analyze and diagnose a situation from top to bottom, are all important elements to help understand the big picture. For example, understanding the motivation of a hacker can be similar to checking your codework line by line. However, in this case it accounts for more of a psychological profile to identify specific, motivators including the hacker's country of origin, the benefit factor (i.e. financial/governments), and other factors.
The skills cybersecurity employers are looking for
In CIO Magazine, several cybersecurity experts explain what top employers seek in their strongest cybersecurity candidates, beyond what can be gleaned from glancing at a resume. Michael Taylor, a development lead at Rook Security, explains that the best cybersecurity training programs emphasize hands-on learning, particularly when creating and executing a full-fledged security strategy from concept to testing. Skilled cybersecurity professionals should have these abilities:
"Think like hackers." This comes down to being proactive about security instead of just fixing what's already broken.
Understand how to work as part of a team, or as the leader of one. This requires superb interpersonal communication skills.
Build strong professional relationships. This may come in handy while preventing fraud through social engineering, where an attacker might pretend to be someone else or trick an employee into exposing a security flaw (such as in "spear phishing" attacks).
Tripwire asked three cybersecurity experts what they considered to be the most important cybersecurity skill. Their response highlights the value of soft skills to companies hiring cybersecurity professionals, as all three cited critical thinking, business analysis skills, and a "passion for service," whether to their employer, to their community, or to their country.
Critical thinking allows cybersecurity leaders to analyze each security event objectively and to dig to find its root cause. Business skills ensure companies are implementing the best security solutions for their unique needs, considering their processes and information architecture. The desire to serve is described as a combination of moral character and "cat-and-mouse" instincts to chase and nab interlopers.
Equally important as understanding what cybersecurity professionals can do is knowing what they can't or shouldn't do. There is a tangled framework of laws and regulations that puts limits on digital practices. These laws exist to protect privacy, freedom of speech, and copyright. Someone training to become part of a skilled cybersecurity team can't ignore them. Many businesses also have their own complex sets of rules pertaining to all matters of digital security. Job seekers looking to distinguish themselves in the growing pool of IT talent should work to understand the constantly evolving subject of laws in the digital age.
Learn more
Graduates from Maryville University's online master's in cybersecurity program can be confident that their training will help them catch the attention of employers in the industry. Our online cybersecurity master's program, which is part of the John E. Simon School of Business, can help prepare you for the changing role of cybersecurity professionals within business. By viewing network infrastructure as an important component of global commerce, you'll learn why cybersecurity is such an integral part of business strategy, as well as how it can become your path toward executive leadership.
Whether individuals are searching for a degree program, completing the coursework, or already working in a cybersecurity role, it's essential not to disregard the importance of nontechnical cybersecurity skills. Great communication skills, a commitment to legal and ethical principles, and a knack for creative problem-solving will prove valuable every step of the way.
Sources
CIO, "Cybersecurity skills aren't taught in college"
CSO Online, "What Is Ethical Hacking?"
Dice: "Six Skills You Need to Succeed in Cybersecurity"
TripWire.com, "What Is the Most Important Skill Cyber Security Professionals Can Possess? The Experts Weigh In"
"SANS Institute, "More soft skills are needed for leading today's security awareness programs says Spitzner"
TechTarget, "Cybersecurity professionals: Five ways to increase the talent pool"
Be Brave
Bring us your ambition and we'll guide you along a personalized path to a quality education that's designed to change your life.