Is a Master's in Cybersecurity Worth It?
Is a Master's in Cybersecurity Worth It?
Is a Master's in Cybersecurity Worth It?

Why just talk about the state of cybersecurity when you can actually do something about it? Attaining a master's degree in cybersecurity can put you in the center of an increasingly important IT discipline, in charge of analyzing, defending, and preventing data breaches. Companies typically pay a premium for cybersecurity talent, which makes pursuing a master's degree in cybersecurity well worth your time, money, and effort.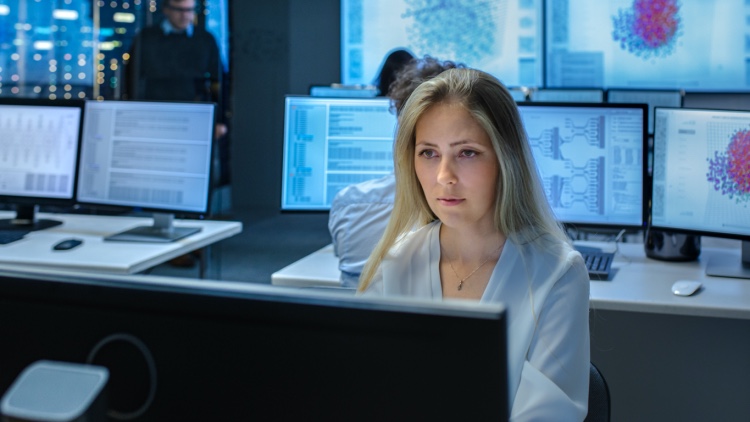 The Need for Cybersecurity Specialists
In 2017, some of the largest, and potentially most damaging, user data hacks came to light. Consider the breach at Equifax, one of the largest credit reporting agencies in the U.S. To date, the company has identified almost 148 million consumers who had at least some of their data stolen, from names and email addresses to credit card, Social Security, and driver's license numbers. All of this information can be used by criminals to illegally assume someone's identity and carry out fraudulent transactions.
How did it happen? The company reports that the breach took place from mid-May through July 2017, with hackers accessing data through a bug in the Apache Struts web application framework. Professional cybersecurity firm Mandiant was brought in by Equifax to help with the analysis, assessment, and remediation of the breach.
Other high-profile data theft cases announced in 2017 include Yahoo's admission of 3 billion accounts accessed in 2013 and Uber's cover-up of 57 million accounts that had been poached. The Identity Theft Resource Center reports that as of April 30, 2018, there had been 383 reported breaches of almost 13 million records across all categories of business — medical, financial, education, even in government and the military.
Cybersecurity Careers
Examples of jobs that help examine and prevent data theft include information security analyst, computer network architect, and software developer. Data from the U.S. Bureau of Labor Statistics (BLS) indicates that the work environment for these positions is similar, noting that most professionals work full time in an office. Occasionally, more than 40 hours per week may be needed.
The BLS further indicates that the earning potential for these career paths is lucrative. For example, as of May 2018, the median annual wage for information security analysts was $99,730, although earners in the top 10th percentile reported compensation in excess of $158,860. In that same reporting period, the BLS found that the median annual salaries for computer network architects and software developers were $112,690 and $105,590, respectively. The top 10% of computer network architects reported earnings of more than $168,390, whereas the top 10% of software developers earned more than $161,290.
Cybersecurity Job Outlook
The job outlook for cybersecurity careers is favorable. For example, the BLS indicates employment of information security analysts is projected to grow by 32% between 2018 and 2028, which is much faster than what's projected for the average occupation. Since cyber attacks have grown in frequency, additional information security analysts will be needed to create solutions that can prevent hackers from stealing data and other critical information. The BLS further states that employment of computer network architects and software developers is projected to increase by 5% and 21%, respectively, during that same time period. Job growth for computer network architects is expected to be about as fast as the average for all occupations, whereas job growth for software developers will be much faster than the average for all other occupations.
The BLS reports that demand for computer network architects will be driven by companies' need to build new networks and upgrade existing systems. Demand for software developers will be driven by the need to develop new applications for smartphones and tablets and by projected increases in the number of products that use software. Examples of new products that use software include smart thermostats and smart refrigerators.
Start Your Cybersecurity Career at Maryville University
A master's degree in cybersecurity can be well worth the initial investment, resulting in a career that is not only personally gratifying — defending people from cyber criminals — but can be financially lucrative as well, helping you and your family achieve financial security. Maryville University's online master's degree in cybersecurity program allows learning at a flexible and self-directed pace, putting you in control of your schedule.
Maryville also offers a unique opportunity in its innovative, student-run Cybersecurity Center of Excellence, which allows students to gain real-world experience while providing valuable cybersecurity services to nonprofits, schools, and small businesses. The answer to "is a master's degree in cybersecurity worth it?" is clear. Discover how Maryville University's online master's degree in cybersecurity program can help you take your cybersecurity career to the next level.
Recommended Reading
Can We Learn from White-Hat Hackers?
Businesses Are Seeing Cybersecurity Staff Shortages
Leading Cybersecurity Frameworks and Standards
Sources
CNN, "The Hacks That Left Us Exposed in 2017"
Identity Theft Resource Center, Data Breach Reports
The Apache Software Foundation, Apache Struts Statement on Equifax Security Breach
The Washington Post, "Equifax's Massive 2017 Data Breach Keeps Getting Worse"
U.S. Bureau of Labor Statistics, Computer Network Architects
U.S. Bureau of Labor Statistics, Information Security Analysts
Be Brave
Bring us your ambition and we'll guide you along a personalized path to a quality education that's designed to change your life.