How to Become a Network Architect
How to Become a Network Architect
How to Become a Network Architect

Network architects are high-level professionals who build and maintain local and global network communications systems for organizations. They design systems that include local area networks (LANs) and wide area networks, as well as intranets and voice-over-internet protocols.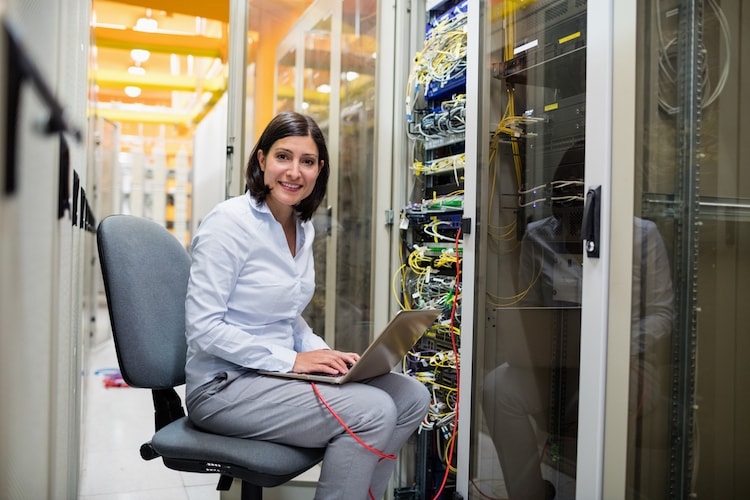 Network architects combine strong planning, business, and communication abilities with extensive technical expertise in hardware, such as modems and routers, and software, including operating systems and cloud-based computing systems. This combination of skills allows network architects to understand an organization's communications needs and implement systems that work smoothly, efficiently, and securely.
If you're wondering how to become a network architect, the career path typically begins with earning a bachelor's degree in computer science, internet technology, cybersecurity, mathematics, or engineering from an accredited college. An advanced degree such as a master's in cybersecurity can also provide strong preparation for those seeking jobs in this field.
What Does a Network Architect Do?
Network architects are responsible for the entirety of a company's or organization's data and communications networks. They conceive, build, maintain, upgrade, and troubleshoot communications networks and systems.
As a network architect, you'll first work with top leaders, from managers to chief executive officers to chief technology officers, to assess the organization's needs. You'll then implement communication networks that operate efficiently and securely and help the organization achieve its goals.
Beyond the technical training required to become a network architect, you also need to be a good communicator and have business acumen. You will also need the vision to design systems that can grow with the organization and adapt to advances in technology.
"I think people don't realize that a lot of being a network architect has more to do with people and departmental interaction than purely the technology," Kyle Cooper, a cybersecurity expert in Houston who spent five years as a senior network architect, told TechTarget writer Jessica Scarpati. "They understand workflow, as opposed to being so specialized in just firewalls."
But make no mistake: Network architects are highly trained and skilled in the technical aspects of creating data and communications systems. They have a deep understanding of network infrastructure and bandwidth requirements. They are well-versed in the workings of modems, hubs, routers, adapters, and servers. And they are skilled in the details of installing systems, right down to wiring and laying cable.
In implementing systems, network architects collaborate with hardware and software teams on putting network equipment in place. They also work with network engineers and network administrators on system configuration and setup.
With all network systems, cybersecurity is of paramount importance. To optimize security, network architects work with security professionals such as information security officers to create password and system access protocols and establish safeguards against cybersecurity threats, which can include hacking, malware, spyware, DoS (denial of service), and other incursions and security breaches.
Once the data or communications network is in place, your role as a network architect is to act as a supervisor for the system. Network architects monitor the network systems, working with information technology (IT) professionals, network engineers, and cybersecurity specialists to head off potential issues that could negatively impact an organization's operations. One of your main goals as a network architect is creating a seamless, user-friendly system that streamlines workflow and enhances performance.
To this end, network architects are always looking ahead and at the big picture. They consider what the network landscape will look like in the future. They also plan upgrades and implement strategies to ensure their systems have the bandwidth and infrastructure in place to keep up with and anticipate advances in communications technologies.
Steps to Become a Network Architect
A combination of the right education and experience can translate to a successful career as a network architect. Here is an overview of the key elements involved in this career path.
Step 1: Earn a Bachelor's Degree
If you are interested in pursuing a career as a network architect, the basic requirement is a bachelor's degree in engineering, mathematics, computer science, information systems, information technology, or a related field. One related field that's been in increasing demand is cybersecurity. Given the growing threat to businesses, nonprofits, and governments from hackers, spyware, malware, denials of service, and other cyber attacks, a deep understanding of cybersecurity has become essential to the role of a network architect. Earning a degree that provides a foundation in cybersecurity can help you navigate your path toward a career as a network architect.
Step 2: Earn a Master's Degree
Getting a bachelor's degree may be only the first step. Many organizations prefer to hire network architects who have earned an advanced degree, such as an online master's degree in cybersecurity. Pursuing an advanced degree will allow you to develop expertise in a specific area of network architecture, such as cybersecurity, database design, or wireless networking. Additionally, you will likely receive hands-on training in project management, from budgeting to recognizing network requirements to securing information systems.
Step 3: Gain Experience
Once you have earned the relevant degrees, the next step to becoming a network architect is to build work experience. Most network architects put in five to 10 years in related fields before starting a network architect role. These jobs may be in such fields as information technology systems, database administration, network administration, or network engineering. Companies may also seek candidates with experience in cybersecurity, information security, and software-defined networking (SDN).
Step 4: Earn Licensure
While gaining relevant work experience, aspiring network architects should bolster their professional credentials by earning certifications in information technology. These certifications include: CompTia A+ for basic maintenance of laptops, operating systems, and PCs; Certified Information Systems Security Professional (CISSP), a credential verifying competency to recognize and guard against cyber attacks; and Microsoft Certified Systems Engineer (MCSE), a certification that demonstrates proficiency in areas including cloud systems, messaging platforms, and server infrastructure.
Network Architect Salaries
The median annual salary for network architects was $104,650 as of May 2017, according to the U.S. Bureau of Labor Statistics (BLS). Salaries at the lowest 10% of the range were less than $58,160, and those at the highest 10 percent were more than $162,390.
Salaries can vary widely depending on many factors, including education, certifications, additional skills, and the number of years spent in the profession.
Employment Outlook for Network Architects
The BLS projects that the number of network architect positions will grow by 6% between 2016 and 2026, creating 10,500 new network architect jobs.
The demand may be higher than those numbers indicate. A CareerBuilder study found that in 2015 there were 80% more job postings for network architects than there were active job-seeking candidates for the position. The BLS reports that demand for network architects will continue to grow as organizations integrate and expand their IT networks.
Learn More About Becoming a Network Architect
Developing the skills and credentials of a network architect can put you on a strong career path.
Network architects play an integral role in both the technical and operational aspects of an organization, meaning the position is likely to continue to be in high demand. If you're interested in becoming a network architect, earning an online master's degree in cybersecurity from Maryville University is a significant step toward building a rewarding career in the field.
Sources:
Business News Daily, "How to Become a Network Architect"
Field Engineer, "Network Architect"
Maryville University, Master's in Cybersecurity Careers
TechTarget, "How to Become a Network Architect, from Those Who Did It"
U.S. Bureau of Labor Statistics, Computer Network Architects
Be Brave
Bring us your ambition and we'll guide you along a personalized path to a quality education that's designed to change your life.