How to Become a Digital Marketer
How to Become a Digital Marketer
How to Become a Digital Marketer

The role of a digital marketers is one built on a foundation of creativity, analysis, and strategic development. Those in the position handle a number of tasks, including content strategy, email marketing, analytics, and reporting. They also help lead their organizations' marketing efforts via digital sales channels so they can reach the right customers through the right touch points.
Along the way, digital marketers collect data and guide customers toward the actions they want them to take. All the while, digital marketers are tracking those conversions and looking for ways to enhance the process of converting customers to improve results.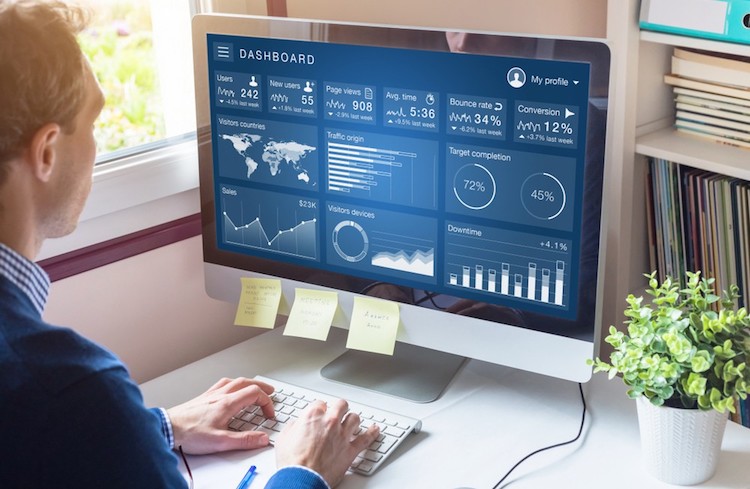 What Does a Digital Marketer Do?
The principal job of an organization's digital marketer is to attract and connect with prospective customers to turn them into loyal consumers. Digital marketers use data to analyze patterns in web traffic to determine the best times to post new content. Additionally, they monitor search terms and trends to better optimize their companies' search advertising campaigns.
Using A/B testing — a way to compare two versions of an app or webpage to determine which performs better — on social media, digital marketers can collect data about the types of posts that resonate best with their target audiences. And gathering data from customers' website visits can help these professionals better engage with consumers to keep them coming back.
Steps for Becoming a Digital Marketer
To get a sense of how to become a digital marketer, it's important to understand the education and skills necessary to begin the journey.
Step 1: Earn a Bachelor's Degree
To pursue a career in digital marketing, you typically need a bachelor's degree in a field such as marketing, computer science, business administration, or communications.
For example, an online bachelor's degree in marketing curriculum covers a wide range of marketing concepts. You will also have opportunities to learn skills in business communication, market analysis, business statistical analysis, and project management — all of which are important components of what digital marketers do on a daily basis.
Typical undergraduate courses for a bachelor's in marketing include the following:
Business Communications: This course helps students improve their communication skills while showing them how to express themselves through various communication channels.
Consumer Behavior: In this course, students may gain an understanding of the psychological processes, environmental influences, and individual differences that affect consumer purchasing decisions. This information is key to helping professionals develop a marketing strategy.
Business Statistics: In this course, students may develop business data analysis skills and learn statistical techniques using spreadsheets. It covers such topics as data collection, storage, and analysis using statistics, tables, and charts.
Step 2: Earn a Master's Degree
Some companies may require their digital marketers to hold an advanced degree in a field such as data analytics. An online master's in data analytics curriculum can help prepare you for the role of digital marketer by covering the below skills, concepts, and opportunities, among others:
Look for trends, making decisions, and identifying opportunities: To succeed as a digital marketer, it's critical to know how to look for patterns and trends within an organization's data that can signal opportunities or threats as well as enable better decision-making.
Combine operational data with analytical tools: Master's students learn how to turn operational data — including data on competitors, suppliers, and finances — into meaningful information with the right analytical tools. This analysis can help a company operate more efficiently.
Present complex and competitive information: It's important that digital marketers be able to present information in an easy-to-understand manner that minimizes the potential for misinterpretation. Analyzing the data isn't enough — digital marketers also have to be able to communicate their findings effectively.
Common courses for a master's in data analytics include the following:
Data Analytics: In this course, students learn the fundamentals of data usage, including key concepts such as quantitative analysis and data mining. The coursework aims to grow students' confidence in utilizing different analytical techniques and programming languages to glean relevant data.
Database Principles: Students will explore the concept of relational database from the initial design phase to its integration with other relevant organizational information. Fundamental topics such as database tools will be discussed, as will more advanced subjects like security and server building.
Data Visualization: This predictive analytics course instructs students on how to effectively extrapolate data into effective visual tools, such as graphs or charts. These visualizations can provide the information needed to make wise business decisions that can promote organizational growth.
Forecasting and Predictive Modeling: This course allows students to explore predictive analytics, deconstructing the concept into its various components like information technology and fundamental business strategies. Understanding these components may make planning for the future a more efficient process.
Step 3: Acquire Experience
Professionals who develop advanced data analytics skills in a master's program can then put these abilities into practice in their careers. Graduate coursework can help students create more established portfolios that demonstrate their talents to prospective employers, putting them in a strong position to compete for roles that align with their expertise. Gaining experience within these positions can lead to higher-level opportunities in digital marketing and other data-oriented fields.
Digital Marketer Salaries
The average annual base digital marketer salary in the United States is $64,587, based on 8,961 salaries submitted anonymously to Indeed by employees and users, along with information gathered from job advertisements.
However, this average may differ based on geographic location and experience.
For example, digital marketers in San Francisco earn an average of $107,393 per year, 68 percent more than the national average. In Manhattan, marketing professionals bring home $90,859 annually, 17 percent more than the national average. It's important for individuals to explore the typical salary range of their expected region of employment as they pursue positions, so they can get a proper sense of fair market value.
Employment Outlook for Digital Marketers
As people spend more time on the internet, companies will continue to invest in digital marketing. In fact, companies in the U.S. will spend nearly $120 billion on digital marketing by 2021, according to Forbes.
Forbes also projects that investment in display advertising, paid search, social media advertising, online video advertising, and email marketing will be about 46 percent of all advertising in five years.
And that bodes well for aspiring digital marketers. The U.S. Bureau of Labor Statistics, which includes digital marketers in the advertising, promotions, and marketing managers category, reports that there should be a 10 percent growth for jobs in these areas between 2016 and 2026, slightly faster than the national average.
Learn More About Becoming a Digital Marketer
Whether you're a creative, techie, or businessperson, a career as a digital marketer can be exciting as well as fulfilling. If your goal is to become a top-notch digital marketer, you need the right tools and knowledge to make your endeavor a success.
Learn how Maryville's online master's in business data analytics can help you advance your skills in areas such as data analytics, search engine optimization, marketing automation, and visualization as you pursue your dream job as a digital marketer.
Sources
The Balance Careers, "Digital Marketing Skills List and Examples"
Business 2 Community, "Where Will Digital Marketing Be 5 Years From Now?"
Capture Digital Marketing, "What Do People in Digital Marketing Do?"
Data Driven Investor, "11 Digital Marketing Predictions for 2019"
DigitalMarketer, "6 Trending Digital Marketing Skills to Put on a Resume
Element Three, "What Makes a Good Digital Marketer? Here's What We Look For When Hiring"
Forbes, U.S. Digital Marketing Spend Will Near $120 Billion By 2021
HubSpot, "What Is Digital Marketing?"
Indeed, Digital Marketer Salaries in the United States
Maryville University, Master's Data Analytics Careers
Maryville University, Online Bachelor's Degree in Marketing Curriculum
Maryville University, Master's in Business Data Analytics Online
Maryville University, Online Master's in Data Analytics Curriculum
SeaDreams Marketing, "What Do Digital Marketers Do?"
U.S. Bureau of Labor Statistics, "How to Become an Advertising, Promotions, or Marketing Manager"
U.S. Bureau of Labor Statistics, Occupational Outlook Handbook, Advertising, Promotions, and Marketing Managers
Be Brave
Bring us your ambition and we'll guide you along a personalized path to a quality education that's designed to change your life.