Master's Data Analytics Careers
Master's Data Analytics Careers
Master's Data Analytics Careers
More than ever, businesses, governments and institutions rely on data to drive decision making, increase revenue, and improve their operation models. The amount of data that is available to people is growing at an astonishing pace—by 2025, the amount of annual data created worldwide will reach 180 trillion gigabytes. That's a lot of information, and in order to make that information useful, it needs to be analyzed.
Those responsible for analyzing this data are often called data scientists or analysts; however, there are many other jobs available to those who understand big data. After all, the field of data analytics is expanding rapidly. The International Data Corporation estimates that by 2020, worldwide big data revenue will reach $203 billion, while the U.S. business data analytics market will reach more than $95 billion by the same year. Careers in data analytics are abundant, and a master's degree in data analytics can help to prepare aspiring professionals to analyze vast quantities of data from a variety of sources and turn it into actionable insights.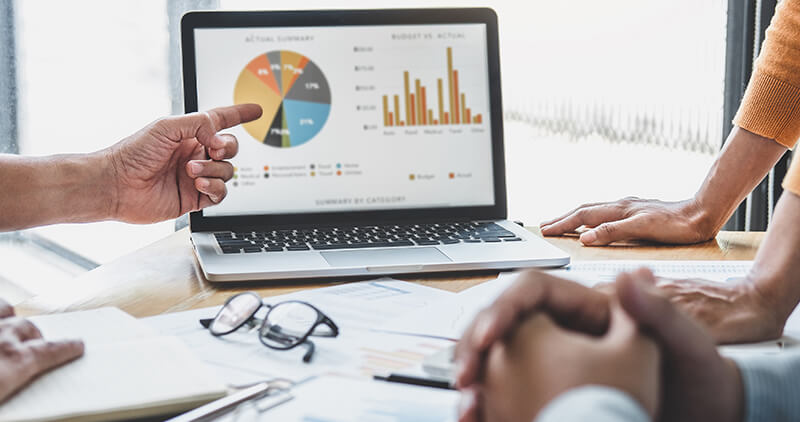 Industries hiring data analytics graduates
Graduates with a master's degree in data analytics can find careers in a vast array of industries. Every type of business from retail, marketing, and advertising to healthcare, research, and finance can benefit from data analysis.
Government: Data analytics can help all level of governments in a variety of ways, including optimizing law enforcement distribution, aligning transit schedules with peak travel times, or ensuring taxpayer dollars are spent effectively.
Healthcare: Many individuals are already taking advantage of the insights provided by data analytics in healthcare through the use of technology like FitBits. On a broader level, the healthcare industry uses data analytics to inform telehealth services, shape clinical decisions, and develop personalized predictive medicine.
Marketing and Advertising: Successful digital marketing and advertising campaigns rely on customer data to determine how best to reach an audience, increase engagement, and drive sales.
Insurance, Markets, and Finance: Insurance companies use data analytics to determine the price of policies, while financial institutions rely on data to detect fraud, manage risk, and drive algorithmic trading.
Popular careers for data analytics graduates
Data analytics is a truly valuable business tool. Companies large and small can benefit from driven professionals who have a keen understanding of data analytics. While data analytics specialists can work in a wide range of fields, the positions below are some of the most popular. It's important to note though that while a master's degree in data analytics can help to prepare a student for a career in data analytics, additional training and/or certifications may be required in order to achieve employment.
Big Data Engineer
A big data engineer is responsible for evaluating big data solutions within an organization, working to build data processing systems and warehousing solutions. In addition to their data analytics experience, big data engineers are also experienced software engineers. They require extensive knowledge of various programming and scripting languages as well as different databases. A big data engineer also takes that data and visualizes it in order to turn that information into useful insights. According to Glassdoor, big data engineers make an average salary of $137,776. The field is likely to grow as the amount of data available to organizations increases rapidly.
Skills recommended to succeed:
Big data analysis
Software engineering
Project management
Programming and coding
Data Analyst
There is a massive demand for data analysts in the United States. These professionals work with large data sets and databases to spot patterns and develop insights and recommendations for their organizations. The term "data analyst" is a broad one, and many data analysts specialize in certain industries or types of data. BLS reports that professionals in mathematics- and computer-related occupations made a median wage of $81,950 in 2016. The field is rapidly expanding with a 33 percent expected growth between 2016 and 2026.
Skills recommended to succeed:
Statistics
Analytical skills
Problem solving
Creativity
Communication skills
Digital Marketer
Careers in data analytics exist in virtually every industry. More than ever, marketing and advertising decisions are driven by consumer data. Graduates of a master's in data analytics program can use their skills to become excellent digital marketers. From analyzing patterns in web traffic and determining the best time to post new content, to monitoring search terms and trends to better optimize a search advertising campaign, there is much data for digital marketers to use. On social media, digital marketers can use A/B split testing to gather data about the types of posts that resonate best with their target audience, while data gathered from website visits can inform remarketing campaigns to keep customers engaged.
Skills recommended to succeed:
Data analysis
Search engine optimization
Marketing automation
Data visualization
Logistician
If working in supply chain interests you, a career as a logistician may be of interest. These data analytics experts coordinate the supply chain of an organization from supplier to consumer. Logisticians work in nearly all industries and oversee purchasing, transportation, inventory, and warehousing. The field is expected to grow by seven percent between 2016 and 2026. Logisticians made a median salary of $74,170 in 2016.
Skills recommended to succeed:
Time management
Organization
Critical thinking
Interpersonal communication
Management Analyst
Management analysts or consultants work with an organization to improve its efficiency. They work to solve an organization's problems and find better ways of doing things. Often, this type of work relies on data analytics. Successful management consultants are able to demonstrate to the organization that their recommendations are based on facts and hard numbers. For example, a management consultant working to optimize a company's customer service model could analyze positive and negative reactions and mentions to evaluate where and when that company needs to improve its customer interactions. According to the Bureau of Labor Statistics (BLS), estimates show that between 2016 and 2026, there will be 12 percent growth in the employment of management analysts with a median salary of $81,330.
Skills recommended to succeed:
Communication and people skills
Critical thinking
Organizational skills
Data visualization
Market Research Analyst
Market research analysts help companies with their sales by using data to determine what products people want to buy, who will buy them, and what they're willing to pay for those products. Professionals working in this field often study specific market conditions, such as sales trends, customer demographics, buying habits, and preferences and use those insights to improve sales and marketing. They will work with their employer or client to make informed decisions about the markets in which they operate. These decisions, which include deciding the price of products and determining potential new markets, rely heavily on historical and real-time data.
Market research analysts make a median salary of $62,560 — and the industry is growing. The job outlook from 2016 to 2026 is projected to grow at a much higher-than-average rate of 23 percent.
Skills recommended to succeed:
Data analysis
Critical thinking
General business acumen
Interpersonal communication
Operations Research Analyst
An operations research analyst uses mathematical and analytical skills to investigate complex issues and help organizations with decision making and problem solving. They use skills such as data mining, statistical analysis, and mathematical modelling to help their employer or client operate more effectively. An analyst will identify a problem that needs to be solved or a process to be improved and then collect the data relevant to that problem or process. After analyzing the data, analysts will then demonstrate to their employer or client the implications of different actions and assist with decision making.
This is another rapidly growing field with a projected growth rate of 27 percent. Currently, operations research analysts make a median salary of $79,200 per year.
Skills recommended to succeed:
Mathematical and statistical analysis
Critical thinking
Clear and concise writing
Problem solving
Quantitative Analyst
Known colloquially as "quants," quantitative analysts have a unique blend of math, finance, and computer skills. They often work in the financial securities industry designing the models financial firms use to price and trade securities. In addition to developing models, quantitative analysts also work to enhance them in order to reduce risk and increase profit. These professionals work almost exclusively in major financial centers. According to Investopedia, quantitative analysts can make anywhere from $125,000 to more than $500,000.
Skills recommended to succeed:
Statistics
Critical thinking
Machine learning
Understanding of quantitative software
There are a number of well-paying careers available to master's in data analytics graduates in a variety of industries. Graduating with a master's degree in data analytics is an effective way to develop the skills required to help organizations with data-driven decisions and problem solving. Learn more about Maryville's online master's degree program in data analytics.
Now that you're familiar with potential careers with a master's degree in data analytics, discover why data analytics matters.
Sources
Chron.com, "Top Skills of Management Consultants"
Chron.com, "What College Education Is Required to Be an Operations Research Analyst?"
CNBC, "The Sexiest Job of the 21st Century: Data Analyst"
Glassdoor, "Big Data Engineer Salaries"
The Guardian, "So what does a market analyst do, exactly?"
PayScale.com, "Average Big Data Engineer Salary"
U.S. Bureau of Labor Statistics, "Occupational Outlook Handbook – Market Research Analysts"
U.S. Bureau of Labor Statistics, "Occupational Outlook Handbook – Management Analysts"
U.S. Bureau of Labor Statistics, "Occupational Outlook Handbook – Operations Research Analysts"
U.S. News & World Report, "Market Research Analyst"
U.S. Bureau of Labor Statistics, "Occupational Outlook Handbook – Logisticians"
U.S. News & World Report, "Operations Research Analyst"
Related Articles
Be Brave
Bring us your ambition and we'll guide you along a personalized path to a quality education that's designed to change your life.