Job Growth in Data Analytics
Job Growth in Data Analytics
Job Growth in Data Analytics

Through the collection and interpretation of data, analysts help organizations solve problems and plan for the future. As the demand for business online grows, the opportunities for data scientists equipped to help companies strategize for success are growing with it.
Data analytics career opportunities are on the rise. According to the World Economic Forum's "The Future of Jobs Report 2020," the job outlook is most promising for data analysts and scientists, AI and machine learning specialists, and big data specialists, with increasing demand for these professionals across the U.S.
Pursuing an advanced degree such as the online Master of Science in Data Analytics from Maryville University can allow graduates to take advantage of data analytics job growth and build the skills they need to advance their careers.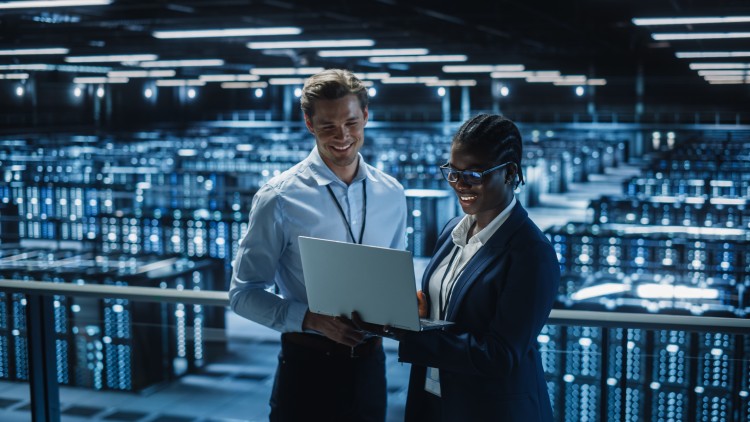 Industries Hiring Data Analytics Professionals
The opportunities available to data analytics graduates span a broad variety of industries. As the demand for an online presence and the ability to conduct business efficiently online reaches multiple sectors, there is a corresponding rise in job growth for skilled data analysts who can address these new challenges.
Business and Finance
Organizations in business and finance fields capitalize on any advantages they can find in consumer and market trends. This involves collecting, organizing, and interpreting an enormous amount of data. Data analysts can build the skills required to predict and respond to market trends and advise employers on the best ways to move forward.
Energy
The energy sector is constantly moving toward increased efficiency, which means the ability to accurately compare energy usage data is crucial. Data analytics graduates can pursue opportunities to help create energy-efficient products, as well as monitor and regulate energy uses in many different contexts.
Government and Defense
Remaining at the cutting edge of technology is vital to many government and defense agencies. Data analytics job growth reflects the need for highly skilled analysts and data scientists who can help those agencies remain at the forefront of their fields, allowing them to improve strategies, predict trends, respond to challenges, and increase efficiency across a variety of sectors.
Healthcare
From care strategies to patient histories and files, an abundance of information processed within healthcare facilities needs to be collected and organized effectively and securely. With the help of data scientists, healthcare organizations can adapt and innovate their systems in the interest of improving patient care and facility efficiency.
Manufacturing
From conception to creation and delivery, manufacturing relies on data analysis to ensure that a product is made as cost-effectively as possible. The ability to collect data on a product, as well as competing products, can allow organizations to complete the manufacturing process while remaining on budget.
Marketing
The increase in online business and marketing signals strong data analytics job growth. Effective marketing requires a thorough understanding of what does and does not work and what mediums drive the most consumer traffic to increase business profits, all of which can be garnered from the collection and interpretation of data.
Travel and Transportation
Companies in a variety of travel and transportation sectors rely on data analytics to meet their budgets and remain competitive in a saturated market. Data analytics can provide companies with valuable information relating to peak travel markets, allowing them to price accordingly for demand and maximize profits.
Advanced Data Analytics Careers
Data analytics job growth applies to analytics careers in many industries. Data analytics graduates can utilize their skills in advanced positions in fields such as engineering, machine learning, and marketing.
Data Analysts and Scientists
Data analysts and scientists may work in many different contexts using data collection, organization, and interpretation for advancement. With the increasing use of artificial intelligence (AI), data scientists can utilize technological innovation to help streamline processes and allow companies to meet their budgets.
According to the United States Bureau of Labor Statistics (BLS), the median annual wage for data scientists and mathematical occupations was $98,230 as of May 2020. While the BLS doesn't provide a job outlook for data scientists specifically, it projects a 22% job growth for computer and information research scientists between 2020 and 2030.
Data and Big Data Engineers
Data and big data engineers and architects handle large amounts of data in many types of corporations, agencies, and healthcare organizations. With such a massive volume of data, data engineers and architects should be able to manage and interpret data efficiently, implementing systems to automate processes and building strategies based on their findings.
The BLS reports a median annual salary of $98,860 for database administrators and architects as of May 2020, projecting an 8% job growth between 2020 and 2030.
Machine Learning Specialists
From computer and information research to machine learning development and integration, machine learning specialists are at the forefront of data innovation. Data specialists in machine learning are tasked with helping companies utilize and integrate AI and other programs to lower costs and meet profit margins.
Aggregate compensation site PayScale reports a median annual salary of approximately $112,000 for machine learning engineers as of February 2022. The BLS projects a 22% job growth for computer and information research specialists between 2020 and 2030.
Marketing Analysts
Market analysts measure the success of marketing campaigns, quantify data from research studies, and evaluate market conditions to predict the potential demand of a product or service. They help organizations and companies meet deadlines and budgets, as well as strategize for the future, utilizing skills such as statistical analysis, strong organizational and communication skills, and attention to detail.
The BLS reports that market research analysts earned a median annual salary of $65,810 per year as of May 2020. It also projects jobs for marketing analysts to grow by 22% from 2020 to 2030.
How to Advance Your Career in Data Analytics
Data analytics is a competitive and growing field, with many high-demand senior and management positions. Individuals who already have an undergraduate degree — preferably in computer science, data science, or a related field — looking for job growth in data analytics can earn qualifications and take other steps in the right direction, including:
Earning an Advanced Degree: Pursuing an advanced degree such as a Master of Science in Data Analytics allows graduates to build their technical skills, as well as refine their leadership and communication skills, helping to prepare them for coveted senior roles. Graduates can demonstrate that they are capable of taking on challenges with increased responsibility and autonomy.
Completing Certification: While not a requirement to work as an analyst, specialized certifications are available from companies such as Google, Microsoft, CompTIA Data+, Cloudera, and others. Pursuing certifications can help graduates build specialized skills for a particular area of analytics.
Gaining Work Experience: Management positions require both technical and leadership skills. Through the accumulation of work experience, candidates can gain knowledge that they may not have been able to learn through schooling alone.
While no single path leads directly to a senior role in data analytics, candidates can take steps to make themselves stand out to potential employers. Through advanced education and experience, graduates can build a solid foundation in data analytics and hone the tools they need to move forward in their careers.
Take Your Data Analytics Career to the Next Level
Current growth in data analytics jobs — fueled by businesses' increasing reliance on technology and data-driven insights — offers lucrative career paths for those looking toward exciting new professions.
Pursuing an advanced degree such as Maryville University's online Master of Science in Data Analytics can provide students with the advanced skills, knowledge, and experience they need to stand out from the crowd when looking to move ahead in the workforce. With the degree's fully online program and courses that prepare students in leading technologies such as R, Python, Power BI, and more, Maryville can give you the tools you need to pursue new roles with confidence. Discover the difference you can make with an advanced degree in data analytics.
Recommended Reading
Analyzing Professions: Management Analyst vs. Program Analyst
Is a Data Analytics Degree Worth It?
Sources
Forbes, "The Data Analytics Profession and Employment Is Exploding — Three Trends That Matter"
Indeed, "Top 8 Data Analytics and Big Data Certifications to Boost Your Career"
The Muse, "Data Professionals Are in High Demand — Here Are 8 Jobs You Should Consider"
PayScale, Average Machine Learning Engineer Salary
U.S. Bureau of Labor Statistics, Computer and Information Research Scientists
U.S. Bureau of Labor Statistics, Database Administrators and Architects
U.S. Bureau of Labor Statistics, Data Scientists and Mathematical Science Occupations
U.S. Bureau of Labor Statistics, Market Research Analysts
Be Brave
Bring us your ambition and we'll guide you along a personalized path to a quality education that's designed to change your life.