Is a Data Analytics Degree Worth It?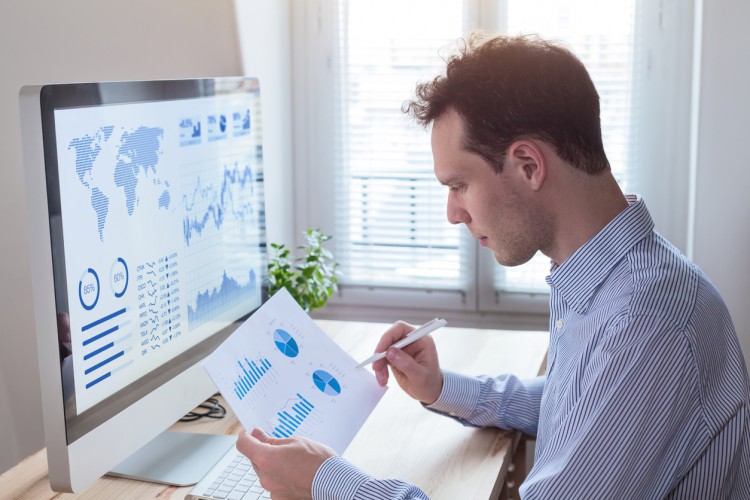 It has always been challenging to separate the hype about careers in technology from the substance. Among the hot tech buzzwords going around are "big data," "DevOps," "deep learning," "fintech," and "multicloud." Yet, trying to find a consensus definition for these terms is nearly impossible.
For someone considering a career in technology, such vague descriptions don't help clarify the job prospects and career outlooks for those who work with big data. Thankfully, it is possible to find a clear and unambiguous answer to the question, is a data analytics degree worth it? The answer begins with a straightforward definition of "data analytics":
The application of quantitative and qualitative methods to make a business more productive and more profitable. The techniques extract and categorize data for the purpose of identifying patterns and predicting behaviors and outcomes. The goal is to reveal key trends among customers and in markets to align product and marketing strategies to future market conditions.
A complete answer as to whether a data analytics degree is worthwhile must also consider if the degree prepares graduates with the skills and experience necessary to step into data analytics positions at businesses looking to improve the effectiveness of their operations and strategies. A degree program that has a proven track record of emphasizing the talents and competencies most valued in the job market is Maryville University's master's in business data analytics online. The program's curriculum covers in-depth the fundamental concepts of data analytics, data principles, data visualization, and forecasting and predictive modeling.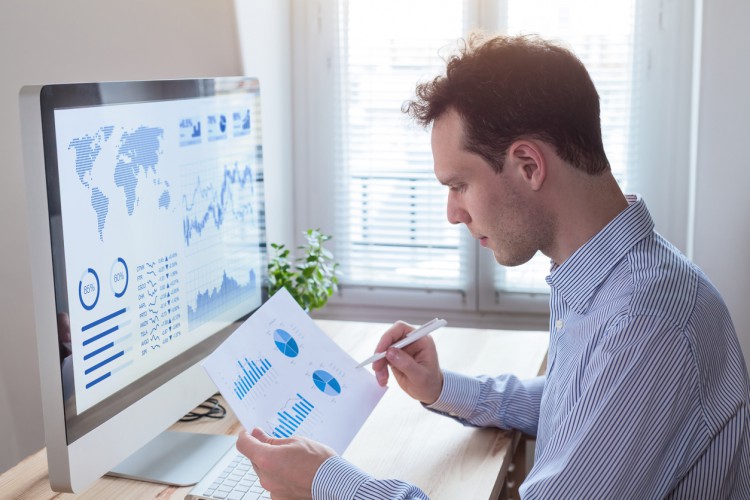 Data Analytics at a Glance
Businesses have been analyzing data for as long as business records have been kept. The three factors that distinguish modern data analysis are the amount of data available to analysts, the sophistication of the tools used to perform data analytics, and the speed at which actionable intelligence can be extracted from today's massive data stores.
Business intelligence vendor SAS explains that the goal of a formal organizational strategy for big data analytics is "to improve decision-making . . . in a wide realm of activities." It does so by applying advanced analytics using a combination of cutting-edge technologies:
Machine learning is a subset of artificial intelligence that allows data models to be created quickly and automatically, resulting in faster and more effective decision-making based on large, complex sets of data.
Data mining sifts quickly through massive collections of data, cutting through the noise and clutter to locate the few nuggets of intelligence required to solve a complex business problem.
Predictive analytics
Prescriptive
As cloud computing makes even larger "virtual" collections of data possible, the focus of many businesses continues to shift to data analysis that works natively with data from an ever-growing range of sources:
Virtual network logs
Security alerts and anomaly detection
Global network traffic patterns
Regulatory compliance
Customer behavior and brand sentiment tracking
Inventory and shipment tracking (internet of things, or IoT)
The Burgeoning Data Analytics Job Market
So, is a data analytics degree worth it? One way to answer that question is by considering the job prospects for analytics degree holders. The tremendous demand for skilled data analysts has made them "some of the most sought-after professionals in the world," according to Investopedia. The combination of high demand and low supply of data analysts with the skills companies require increases their salaries and perks, even for entry-level positions.
According to the U.S. Bureau of Labor Statistics (BLS), between 2018 and 2028, the number of jobs for operations research analysts — a role similar to that of data analysts — will grow by 26%, which is much faster than the 5.2% average growth projected for all jobs in the period. The BLS also projects that the number of jobs for computer and information research scientists — another similar position — will increase by 16% in the same 10-year period.
Teaching the skills and experience that companies require in their data analysts is central to Maryville University's online Master of Science in Business Data Analytics. The degree program emphasizes practical analytics techniques as well as critical thinking and communication skills. Its curriculum covers the topics that dominate the analytics field, including predictive analytics (Data Warehousing and Data Visualization) and prescriptive analytics (Forecasting and Predictive Modeling, and Advanced Topics in Data Analytics). These and other courses build on the foundational courses: Data Analytics 1, Database Principles, and Intro to Programming.
What Kind of Jobs Are Available in Data Analytics?
The best way for students to leverage Maryville's master's in business data analytics degree into an opportunity in the data analytics field is by learning about the many different career paths the degree prepares students for. These are among the jobs that data analytics graduates may choose to pursue, along with brief descriptions of their duties and average salaries:
Management Analyst/Program Analyst/Management Consultant
U.S. News & World Report explains that management analysts are "typically hired to find ways to improve an organization's efficiency and increase profits." They accomplish these tasks by collecting and analyzing data about how the company operates to determine the best ways to lower its operating costs and raise its revenues.
The BLS reports the median annual salary for management analysts was $83,610 as of May 2018; between 2018 and 2028, the number of management analyst jobs is forecast to increase by 14%.
IT Systems Analyst
The site ModernAnalyst.com describes the differences between the job duties of systems analysts and business analysts. Business analysts focus on an organization's business model and business requirements, serving as a conduit between clients, consumers, and IT development teams. By contrast, systems analysts design and evaluate the organization's information systems to ensure they are functioning efficiently and effectively meeting user requirements.
According to the BLS, systems analysts earned a median annual salary of $88,740 as of May 2018; the bureau forecasts that the number of systems analyst jobs will increase by 9% between 2018 and 2028.
Operations Analyst
Operations analysts are charged with applying mathematical models and other advanced analytics techniques to data relating to all of an organization's operations to solve its business problems and improve the efficiency of its business processes. They support decision-makers responsible for allocating the organization's resources, devising production schedules, managing supply chains, and setting product prices.
The median annual salary of operations research analysts, according to figures compiled by the BLS, was $83,390 as of May 2018; the agency estimates that the number of operations research analyst jobs will grow by 26% between 2018 and 2028.
Quantitative Analyst
Among the most specialized of data analysts are quantitative analysts, who are responsible for creating and modifying the complex mathematical models that determine the price of securities, as Investopedia explains. Often referred to simply as "quants," these analysts typically work for banks, hedge funds, and other investment firms, where they provide securities traders with information and pricing tools (front-office quants) or validate pricing models and research new financial strategies for the organization (back-office quants).
In the BLS Occupational Outlook Handbook, quantitative analysts fall under the category of financial analysts, who earned a median annual salary of $85,660 as of May 2018. However, the specialized nature of the work done by quants increases their earning potential; Investopedia indicates that entry-level quants may earn between $125,000 and $150,000 per year, while posted salaries for the position commonly are in the range of $250,000 to $500,000.
The BLS forecasts that the number of jobs for financial analysts will increase by 6% between 2018 and 2028, which is near the average for all occupations. However, Investopedia characterizes demand for skilled quants in the investment sector as "great" due to their prized combination of mathematics skills, knowledge of the finance industry, and computer abilities.
The Right Education Sets the Stage for a Successful Data Analytics Career
Preparing for a career as a data analyst requires a mix of in-depth knowledge of specific subjects and analytical techniques with a broad background in finance, management, and operations. This is precisely the knowledge and training offered by Maryville University's master's in business data analytics online program, which offers the student-centered learning and comprehensive curriculum that sets graduates on the path to a fulfilling career as a data analyst.
Visit the program's page to learn more about opportunities in this dynamic field.
Recommended Readings
The Future of Big Data in Business: Using Data Analytics to Provide Insight
Business Data Analytics: The Information Revolution
Demand Is High for Data Analytics Grads
Sources
Datapine, "Top 10 IT and Technology Buzzwords You Won't Be Able to Avoid in 2019"
Digitalist, "The Future of Analytics Is Now"
Forbes, "30 Data Analytics Careers That Aren't Data Scientists"
Investopedia, "Data Analyst: Career Path & Qualifications"
Investopedia, "Quants: The Rocket Scientists of Wall Street"
Medium, "Art of Deception in Technology — Buzzwords & Hype"
ModernAnalyst.com, "Differences, Duties and Responsibilities of Business Analysts and Systems Analysts"
SAS, "Big Data Analytics: What It Is and Why It Matters"
Talend, "The Future of Big Data"
TechRepublic, "Prescriptive Analytics: A Cheat Sheet"
U.S. Bureau of Labor Statistics, Employment Projections: 2018-2028 Summary
U.S. Bureau of Labor Statistics, Occupational Outlook Handbook, Computer and Information Research Scientists
U.S. Bureau of Labor Statistics, Occupational Outlook Handbook, Computer Systems Analysts
U.S. Bureau of Labor Statistics, Occupational Outlook Handbook, Financial Analysts
U.S. Bureau of Labor Statistics, Occupational Outlook Handbook, Management Analysts
U.S. Bureau of Labor Statistics, Occupational Outlook Handbook, Operations Research Analysts