Marketing Analyst : Duties, Tips, and Career Outlook
Marketing Analyst : Duties, Tips, and Career Outlook
Marketing Analyst : Duties, Tips, and Career Outlook

Many companies work tirelessly to stay ahead of their competition. Sometimes, they do that by investing in new technology; other times, they do that by allocating more resources to large advertising campaigns or seeking out new professionals who can help take their workforce, product, and overall business output to the next level.
While consumers may determine the winner with their wallets, purchasing habits, and brand loyalty, marketing analysts use consumer data to find out why consumers choose one company or over another.
Successful businesses depend on marketing analysts, sometimes called market research analysts, to use business analytics to track trends, identify opportunities, and determine what products people want, as well as who will buy them and at what price. Armed with this crucial information, companies can then develop targeted advertising opportunities, sales plans, and product promotions for their customers.
Marketing insights are in high demand. With consumerism at an all-time high, "companies are scrambling to analyze and predict consumer buying trends," says Kristi Merritt, a former self-employed career coach and recruiter for Daxko, a computer software company. To boost their sales, business owners need consumer data, as well as the highly trained analysts who know how to obtain and interpret that information for company managers.
A master's degree in business analytics or a master's degree in data analytics can help provide students with a strong foundation for career growth as a marketing research analyst. Advanced degree programs, such as Maryville University's Master of Science in Business Data Analytics, also allow students to gain practical knowledge they can immediately apply in the workplace.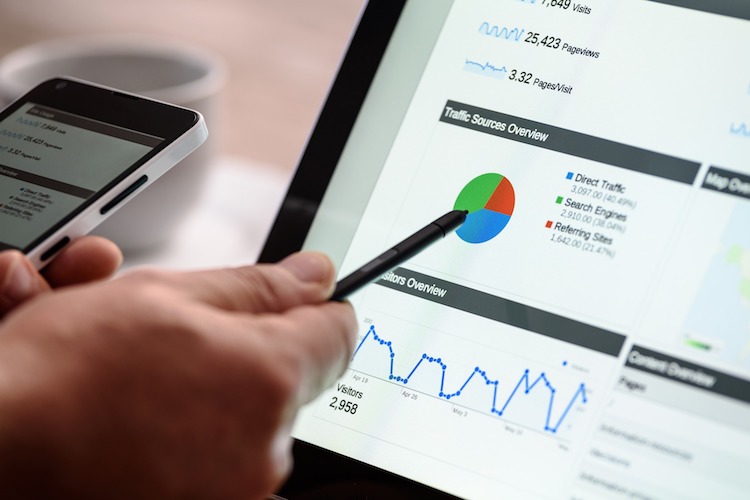 Duties of a Marketing Analyst
The job duties of a consumer analyst can vary from company to company, depending on the organization's specific needs and goals. While professionals in these roles can find themselves sharing similar responsibilities with other marketing analysts, their day-to-day duties may differ in focus and strategy.Business data analysts typically focus on a specific type of product or service so they can provide detailed insights in their areas of expertise. To acquire the needed information, a subject-specific analyst can perform a variety of tasks, which may include the following examples:
Monitoring and forecasting marketing and sales trends in a particular industry
Crafting and evaluating methods for collecting data, such as customer surveys, questionnaires, and online polls
Measuring the effectiveness of marketing campaigns and strategies
Using statistical software to analyze data related to a particular product or service
Gathering data about consumers, competitors, and market conditions
Converting complex data into understandable graphs, tables, and written reports
Preparing reports and presenting them to clients
Secrets to Becoming a Successful Marketing Analyst
Becoming a successful marketing campaign analyst starts with earning the necessary education, credentials, and experience to qualify for the career opportunity. But successful analysts should also be equipped to identify and adapt to new trends and to stay on top of new developments in the business and marketing landscape.
As data analysts advance in their careers, they should develop a thorough understanding of business practices, according to David Santee, president of True North Market Insights. "To be considered an excellent market researcher, an individual must understand that there is more to market research than market research," he says in "Career Advice for Market Research Analysts," an article on MarketResearch.com. "The greatest value of a business intelligence researcher many times is understanding the business issue that leads to the study."
Santee advises that campaign researchers should ensure clients are asking the right questions and help them understand research study results so they can make educated decisions. Whether a professional is just starting out or has decades of experience in data analysis, it's always important to learn and evolve.
Now You See It: Simple Visualization Techniques for Quantitative Analysis, a book by Stephen Few, highlights 13 key personality traits needed to be successful in the field. These crucial traits are being analytical, aware of what's worthwhile, capable of spotting patterns, curious, familiar with data, imaginative, interested, methodical, open-minded and flexible, self-motivated, skeptical, skilled in the practice of data analysis, and synthetical.
Marketing Analyst Career Outlook
Professionals in a marketing research analyst role earn a median annual salary of about $63,000, according to the U.S. Bureau of Labor Statistics (BLS). BLS expects employment in the field to grow 23 percent between 2016 and 2026, which is much faster than average. Keep in mind that research analysts starting off in their careers can earn less than their more experienced peers and that pay fluctuates depending on the size and type of employer.The increased use of market research and data insight across all industries is driving the expected growth in demand for marketing analysts. Smart modern companies use research findings to understand the needs and wants of their customers and to measure the effectiveness of their marketing strategies. The largest employers of data analysts include the areas of business management, scientific organizations, and technical consulting services; wholesale trade; finance and insurance; management of companies and enterprises; and manufacturing.
Some marketing analysts study trends for their companies, while others work for consulting firms that do research for clients. In addition to market research analyst, other job titles for marketing analysts may include business intelligence analyst, survey researcher, marketing manager, and management analyst. While most marketing research analysts need a bachelor's degree, the top research positions usually require a master's degree.
Maryville University's Master of Science in Business Data Analytics
The online MSBDA program at Maryville University includes courses in database principles, data analytics, data mining, and forecasting and predictive modeling. Maryville University earned a spot on Forbes' "Top Colleges" list several times, and U.S. News & World Report ranked Maryville a "Best National University."
Sources:
Bureau of Labor Statistics, Market Research Analysts
Bureau of Labor Statistics, Market Research Analysts: Work Environment
Bureau of Labor Statistics, What Market Research Analysts Do
CareerBuilder, "Take the Opportunity to Become a Market Research Analyst"
Emsi, "The Marketability of Market Research Analysts"
Few, Stehen, "Now You See It: Simple Visualization Techniques for Quantitative Analysis"
Insights Association, The Insights Association Certificates
Insights Association, Professional Researcher Certification
MarketResearch.com, "Career Advice for Market Research Analysts"
RMS, "13 Traits of a Good Data Analyst"
Be Brave
Bring us your ambition and we'll guide you along a personalized path to a quality education that's designed to change your life.