Social Work in a Hospital Setting
Social Work in a Hospital Setting
Social Work in a Hospital Setting
Imagine a young couple learns their toddler has a life-threatening illness. A million things run through their minds. What's going to happen to their child? Can they afford treatment? Are there programs, support groups, or resources that can help them?
In such an overwhelming time, social workers play a critical role in helping patients and their families navigate the medical system. Hospital social workers not only serve as patient advocates, but also educate patients and families about treatment plans, counsel people experiencing emotional distress, and connect clients with resources — such as state, local, and community-based services — to get them the care they need.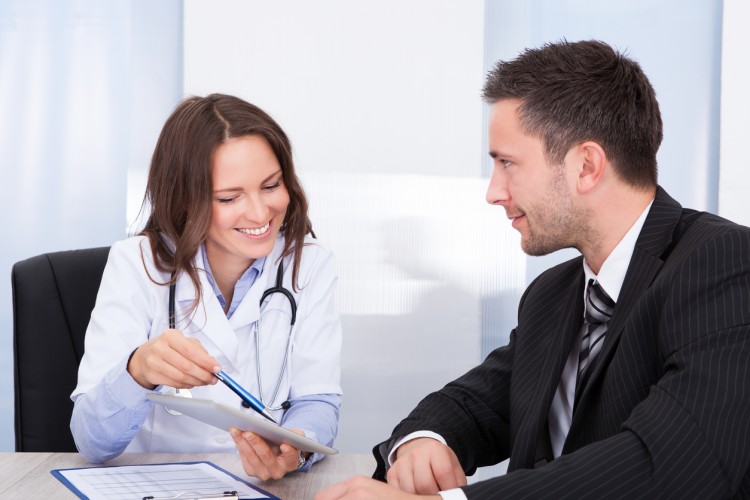 There are numerous healthcare career opportunities for social workers who want to help improve the overall health and quality of life of others. Aspiring hospital social workers must start by developing the skills and knowledge to be a patient advocate. Completing an online degree, such as an online Bachelor of Social Work (BSW) from Maryville University, is an important first step toward a career as a social worker in a hospital setting.
Types of Social Work in Hospitals
Students interested in pursuing this career path have many job options to choose from, including, but not limited to, healthcare social worker, substance abuse social worker, and medical case manager.
Although entry-level positions are available to candidates who have completed a bachelor's degree in a related field, such as an online BSW, individuals who want to pursue advanced roles may need to complete a master's degree. Further, social workers of all types must typically pass a state licensing exam in the state they wish to practice, and some roles may require additional certification.
Healthcare Social Worker
Healthcare social workers help people access services related to their health problems. They interview patients, their families, and their doctors, and they perform patient assessments to determine the types of care patients need. Professionals who choose this career path also help patients understand their diagnosis, in addition to educating them about the types of healthcare, lifestyle, and housing adjustments they may need to make because of it.
For example, if a patient is diagnosed with a degenerative condition, such as Alzheimer's disease, a healthcare social worker will help the patient and the patient's family understand how to navigate practical resources, such as Medicaid. They may also point them to resources they may not be aware of, such as state, city, or community agencies that provide free or low-cost Alzheimer's education and support programs.
In addition to hospitals, healthcare social workers may work in nursing homes, outpatient care centers, or home health settings. Data from the U.S. Bureau of Labor Statistics (BLS) indicates that employment of healthcare social workers is projected to grow by 17% between 2018 and 2028, which is faster than what's projected for the average of all occupations. The BLS further reports that as of May 2019, salaries for professionals in this field ranged from $35,000 to $86,130; the median annual salary was $56,750.
Healthcare social workers must develop the following skills to be successful:
Communication
Compassion
Emotional intelligence
Interpersonal relations
Organization
Substance Abuse Social Worker
Substance abuse social workers work with clients who have addictions to alcohol or drugs. Similar to healthcare social workers, substance abuse social workers provide clients with information on support groups, such as 12-step programs, that can help them cope with their addiction. They also collaborate with other counselors, doctors, and nurses to coordinate treatment plans. Further, professionals in this field counsel clients in both individual and group settings, monitor clients' progress with respect to treatment goals, and counsel family members on how to support their loved one.
Substance abuse social workers are employed by hospitals, treatment centers, community service agencies, and outpatient clinics. Data from the BLS indicates that employment of substance abuse social workers is projected to grow by 18% between 2018 and 2028, much faster than the average for all occupations.
The BLS also reports that as of May 2019, the entry-level salary for professionals in this field was $29,540, while the top-level salary was $80,900; the median annual salary was $46,650. Salaries for substance abuse social workers may vary based on education level, geographic location, and place of employment. For instance, professionals working in specialty hospitals typically make more than those who work in residential care facilities.
Aspiring substance abuse social workers need the following skills:
Active listening
Communication
Compassion
Critical thinking
Medical Case Manager
Medical case managers also perform social work in a hospital setting, and serve as liaisons between patients with long-term health issues (multiple sclerosis, heart disease) and their doctors, medical staff, and families. They also monitor patients' treatment plans and work to ensure that those who are charged with carrying them out do so effectively. Although some medical case managers work at hospitals or medical clinics, others work for insurance carriers.
The BLS classifies medical case managers under the category of social workers. As such, overall employment of medical case managers is projected to grow by 11% between 2018 to 2028, which is much faster than the forecast growth for all other occupations. In terms of salary expectations, May 2020 data from PayScale indicates that the starting salary for professionals in this field is $35,000, while the upper-range salary is about $77,000; the median annual wage is about $48,300. Salaries may vary based on experience, geographic location, and other factors.
The following skills can benefit medical case managers throughout their careers:
Compassion
Critical thinking
Organization
Written and verbal communication
Earn Your Degree and Qualify for Social Work Positions
Individuals who are drawn to the fields of hospital social work and patient advocacy must start by obtaining an education. Completing a bachelor's degree, such as the online BSW from Maryville University, is an important first step toward a career in this field.
Let's be brave together. Discover more about how Maryville University's online BSW can help you pursue your passion of helping others.
Recommended Readings
Protecting Child Welfare and Preventing Abuse: A Guide for Social Workers and Educational Professionals
What Are Social Justice Issues?
6 Things to Do Before Graduating from an Online Degree Program
Sources:
CareerExplorer, What Does a Healthcare Social Worker Do?
CareerExplorer, What Does a Substance Abuse Social Worker Do?
Case Management Society of America, What Is a Case Manager?
Houston Chronicle, "The Difference Between a Social Worker and a Case Manager"
Houston Chronicle, "What Is a Medical Case Manager?"
PayScale, Average Medical Case Manager Salary
U.S. Bureau of Labor Statistics, Healthcare Social Workers
U.S. Bureau of Labor Statistics, Mental Health and Substance Abuse Social Workers
U.S. Bureau of Labor Statistics, Social Workers
Be Brave
Bring us your ambition and we'll guide you along a personalized path to a quality education that's designed to change your life.