What Are Social Justice Issues?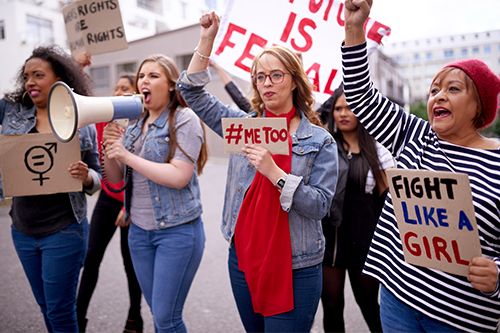 Humanity is more connected than ever before. Travel has made the world feel smaller, as modern planes ferry hundreds of people to the opposite side of the globe in less than a day. The internet — and the ability to chat in high-definition video — allows us to interact with one another and connect with people we perhaps would have never met under different circumstances. This has also allowed us to rally around causes we care about, raising awareness and helping to change society for the better.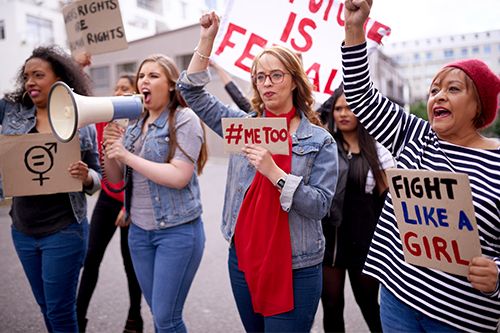 Equity in society has become a major point of focus. The #MeToo and #BlackLivesMatter movements are just two examples of social justice in action in the United States, but there are many more. What are social justice issues in the United States, and how are they improving our lives? Continue reading to learn more about broad social justice topics, their importance, and how you can get involved.
What Is Social Justice?
Social justice is the assertion of the ideal that all humans should have the same rights and opportunities. From access to healthcare to safe spaces to live, social justice aims to level the playing field and eliminate discrimination. The idea behind social justice is that we all have innate value as human beings, and no person's value is more or less than anyone else's.
The modern concept of social justice has roots in the 19th century, coinciding with greater social mobility and a growing middle class. The women's suffrage movement in the late 19th and early 20th centuries and the Civil Rights movement of the 1950s and 1960s are two examples. Facilitated by today's hyperconnectivity, social justice movements large and small have found their way into the mainstream consciousness.
Exploring Major Social Justice Issues
Different social justice issues come to the forefront at different times, and certain issues might be more relevant across different countries, societies, cultures, cities, and even neighborhoods. They affect people's access to different types of goods, services, and opportunities. Social justice issues are often wide-ranging and diverse. Below are just a few of the broad topics that are being addressed through social justice work in the United States and around the world today.
Climate Change
Humankind has affected the global climate in dangerous ways. That's the consensus from the scientific community, which has been sounding the alarm for decades. The United Nations Foundation listed climate change as the top global issue to watch in 2019, as global emissions of dangerous gases and chemicals continue to rise.
Without substantial changes to our way of life and the operation of major industries, Earth's climate could become uninhabitable for many species, collapsing the global food chain and threatening humanity's existence.
The "global south," consisting of poorer nations, will be the first to feel the impact of climate change. Social justice organizations are already working on mitigating its effects on individual communities, nations, and ecosystems.
Racial Equality
The United States has a troubled history of racism, dating back to the country's colonization and founding by white landowners who enslaved millions of people from Africa and their descendants.
Though the Civil War ended the practice of legal slavery in the U.S., racial disparities, racist attitudes, and systemic problems persist to this day. In just one striking example of inequality, a 2019 report by the New York Times found that the average white American has seven times the wealth of the average black American.
The effects of racial inequality ripple throughout society, impacting education, representation, healthcare, and law enforcement. For example, black Americans are disproportionately arrested, charged, and sentenced to jail time. Another troubling statistic is that police are 3.5 times more likely to kill black Americans than white Americans, according to the American Psychological Association.
The rise of the Black Lives Matter movement has brought many such instances to light, increasing public awareness of racial injustice and racially motivated violence by officers and authority figures. Through demonstrations and activism in the United States and abroad, the movement has helped shift public sentiment in favor of systemic reform of law enforcement.
LGBTQ+ Rights
In the past two decades, members of the LGBTQ+ (lesbian, gay, bisexual, transgender, queer, questioning, and other sexual orientations or gender expressions) community have made significant progress in their fight for equal rights in the United States. Non-heteronormative culture has changed the way people view what were previously known as "traditional" values and gender expressions.
Yet there are still many individuals and institutions that discriminate based on gender or sexual orientation. It wasn't until 2015 that the Supreme Court struck down all same-sex marriage bans, formally legalizing same-sex marriage in the United States, but those couples still face discrimination in many parts of the country. For example, it's still legal in many places to fire someone based on sexual orientation.
Legislators have introduced a bill known as the Employment Non-Discrimination Act, which would end this practice. The bill has been through Congress many times, but it has yet to pass.
Affordable Healthcare
Almost all First World countries have some form of governmental healthcare guaranteed for all citizens, but the United States does not. Many Americans rely on their employers for health insurance, a system that too often sees those who are out of work or working in part-time positions faced with massive healthcare bills due to an accident or sudden illness.
Two-thirds of people who file for bankruptcy in the United States cite medical issues as a key reason, according to CNBC. Crowdfunding platforms such as GoFundMe are full of requests from people suffering from cancer, struggling with surgery bills, or facing other pressing medical concerns that have resulted in tremendous debt.
People are calling for the United States to adopt some version of expanded, universal, government-run healthcare similar to Medicare and Medicaid. Universal healthcare could cut down on the high cost of medication and prevent people from falling into financial ruin for the sake of their health.
Discover How You Can Get Involved
What are social justice issues? They are vast and intersectional, as inequality in the United States affects the lives of many people in powerful ways, from their psychological health to their economic stability.
Those interested in engaging with social justice issues and promoting equity might consider a degree in sociology. Sociology students explore human behavior and interactions, often in preparation for work in public health or social work. Maryville University's online Bachelor of Arts in Sociology also has an optional concentration in social justice, which can help prepare students to put their passion for social justice to work. Find out more about how a bachelor's degree in sociology can help you make your community a better place.
Recommended Readings
A Guide to Children's Mental Health
Teachable Moments: What's in Store for the Future Educators of America?
Trends and Skills for the Future of Research
Sources
American Psychological Association, "Policing in Black and White"
American Public Health Association, Social Justice and Health
CNBC, "This Is the Real Reason Most Americans File for Bankruptcy"
The Guardian, "No, Climate Action Can't Be Separated From Social Justice"
Human Rights Watch, Country Chapters: United States
Maryville University, Online Bachelor's in Sociology
National Education Association, EdJustice: Social Justice Issues
The New York Times, "How America's Vast Racial Gap Grew: By Plunder"
Pew Research Center, "Activism in the Social Media Age"
United Nations Foundation, "6 Global Issues to Watch in 2019"