How to Use Your Degree in Psychology in a Law Enforcement Career
How to Use Your Degree in Psychology in a Law Enforcement Career
How to Use Your Degree in Psychology in a Law Enforcement Career
The criminal justice system needs professionals who understand the intersection of mental health and law and have training in human psychology to help prevent crimes while also promoting rehabilitation.
More than 40% of people in state prisons have been diagnosed with a mental health disorder, according to the Prison Policy Initiative, and most of these individuals go without access to mental healthcare while incarcerated. In addition, many states are looking to promote counseling over jail time for people with substance abuse or mental health concerns, according to the U.S. Bureau of Labor Statistics. These factors are driving demand for criminal justice professionals who have knowledge of psychological principles to not only help prevent unnecessary incarcerations but also help offenders successfully reenter society.
Several applications of psychology in law enforcement careers exist. A first step toward success in any of these roles is earning a psychology degree, which can help provide the skills and expertise needed to effectively uphold the law while understanding human motives and social processes.
Skills Gained with a Psychology Degree
Psychology programs teach students many valuable skills that are often applicable to law enforcement and also transferable to a range of other careers.
The most important skills that can be obtained in a psychology degree program include the following:
By learning what motivates people and about human decision-making and cognition, psychology majors can develop the acumen to inspire, persuade, and lead.
Pursuing a psychology degree requires analyzing large volumes of psychological literature, and honing research skills that can be used in various professional contexts.
Learning about social processing can empower psychology majors in both their oral and written communication skills.
Team building. Psychology students learn much about how groups interact and arrive at different decision points, making them uniquely suited to promote teamwork and collaboration.
Developing the principles of empathy and clarity can make psychology students adept at providing caring, attentive, and compassionate service.
Psychology in Law Enforcement Career Paths
By cultivating these skills, students can position themselves to pursue numerous career paths related to psychology in law enforcement.
Addiction Counselor
Substance use disorders are common among those who've served penal sentences, according to the National Institute on Drug Abuse. Addiction recovery can be an important step toward successful reentry into society, while also minimizing the risk of recidivism. Addiction counselors are mental health professionals who create treatment plans to support their patients in recovery. These counselors may work with incarcerated offenders, parolees, or those on probation. Counselors may work with juvenile offenders as well.
Juvenile Detention Specialist
Juvenile detention specialists work with youths who are in the criminal justice system. They may counsel young people directly, helping them understand how the criminal justice system works or prepare for their own appearance in court. Juvenile detention specialists can rely on their knowledge of psychology, as well as child development, to offer support to young people experiencing legal troubles.
Victim Advocate
A victim advocate might provide counsel to those who were victims of a crime or to those who witnessed a crime. Their primary role is to help their clients process their emotions and deal with their trauma in a healthy, positive way. Victim advocates may be available to help their clients during criminal proceedings. Victim advocates benefit from the skills obtained in a psychology degree, such as communication and empathy.
Law Enforcement Psychologist
A law enforcement psychologist applies the principles of behavioral science and mental health to support police officers and their families. The role is crucial for ensuring the well-being of public safety officials and draws on many of the skills learned in a psychology degree program, including communication, critical thinking, and leadership. This career path requires an undergraduate degree, an advanced degree, and state licensure.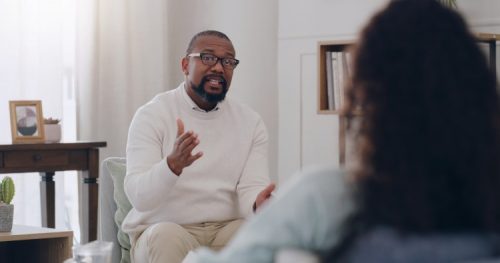 The Benefits of a Psychology Curriculum
To excel at psychology in law enforcement, pursuing training is important. Maryville University's online Bachelor of Arts (BA) in Psychology program curriculum is comprehensive and robust, devoted to helping psychology students master a breadth of skills. The coursework includes the following:
General Psychology, which provides a foundation in the basic principles of biology, cognition, and perception
Social Psychology, which focuses on human interactions and how people create meaning through culture and society
Abnormal Psychology, which provides an understanding of the kinds of conditions associated with abnormal behavior
Multicultural Psychology, which provides insight into a range of issues related to identity, oppression, bias, and principles of human diversity
Biological Psychology, which covers the connections between human behavior and our biological systems
These are just a few examples of classes that can prepare students for success in any number of roles related to psychology and to law enforcement. Students may also want to pursue coursework in criminal justice or forensic psychology.
Meet Your Psychology in Law Enforcement Career Goals
The skills mastered in Maryville's online BA in Psychology can open the doors to many career paths, including those that promote public safety or criminal rehabilitation. Explore the career opportunities in psychology and law enforcement that a degree from Maryville can help those with a passion for understanding human behavior achieve.
Recommended Readings
What Is the Impact of Social Isolation on Cognitive Health?
Forensic Psychology vs. Clinical Psychology
Sources:
American Psychological Association, "A Psychology Major Opens Doors"
American Psychological Association, Police and Public Safety Psychology
Indeed, How to Become a Police Psychologist (Plus Duties and Salary)
Indeed, 12 Jobs for Psychology Majors With Criminal Justice Minors
National Institute on Drug Abuse, Criminal Justice DrugFacts
Prison Policy Initiative, Mental Health
U.S. Bureau of Labor Statistics, Psychologists
U.S. Bureau of Labor Statistics, Substance Abuse, Behavioral Disorder, and Mental Health Counselors
Be Brave
Bring us your ambition and we'll guide you along a personalized path to a quality education that's designed to change your life.