Organizational Leadership Degree Salary Guide
Organizational Leadership Degree Salary Guide
Organizational Leadership Degree Salary Guide
One of the biggest challenges organizations confront is navigating change. Given the volatility most industries face, it's more important than ever to have strategic leaders who can lean into and direct change in their organizations.
Earning a bachelor's in organizational leadership gives future executives the knowledge and skills not only to manage their teams well, but also identify trends and opportunities to grow their organizations despite changes occurring in the market.
With the world's demand for thoughtful, strategic operational leadership, what can graduates of an organizational leadership degree program expect in terms of compensation?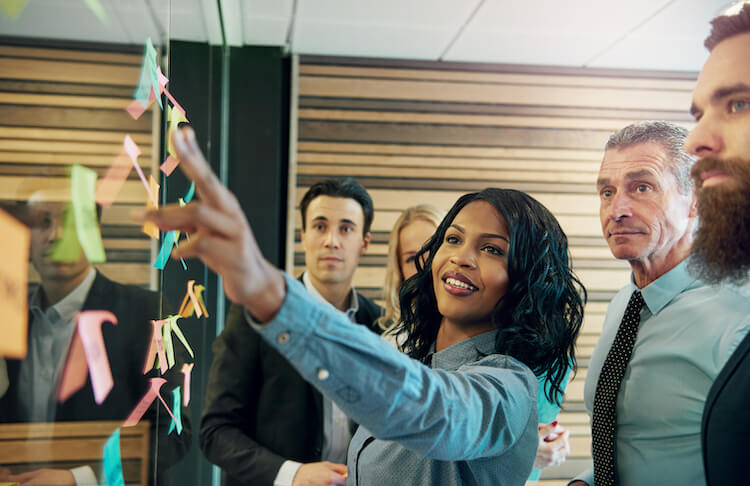 Organizational Leadership Salary Outlook
Organizational leadership includes a wide range of positions, from executive officers to medical and health service managers and beyond. Salaries in the profession vary just as much. The highest annual salaries among top executives during 2021 belonged to CEOs in technical, scientific, or manufacturing services, who earned an average of $208,000, according to data from the U.S. Bureau of Labor Statistics (BLS). General managers working in retail, on the other hand, earned an average of $66,050 in 2021.
Growth projections across professions also vary. For instance, while general and operations manager positions are expected to grow 8% between 2020 and 2030, employment of chief executives is expected to decline by 6% over the decade.
Organizational Leadership Degree Salaries by Position
Organizations need leaders with strategic acumen to make their operations successful. Organizational leadership jobs vary depending on the size of the enterprise and its purpose. Following are common positions for organizational leaders.
Human Resource Manager
Human resource manager positions are not typically offered to recent graduates who don't have experience. It's more common for graduates with an organizational leadership degree to apply to work as corporate recruiters or training managers in human resource departments. As they grow in skill and experience, training managers or corporate recruiters can later apply for higher-level positions such as human resource managers.
Data from the BLS indicates most human resource managers enter the position with about five years of leadership experience. The median annual salary for these professionals was $126,230 in 2021.
Marketing Manager
Marketing managers supervise their organizations' advertising, marketing, and promotional efforts. They typically work with teams of content strategists, digital marketing experts, and sometimes sales professionals. Marketing managers work closely with top executives to cultivate and market an organization's brand, plan advertising campaigns, and create advertising budgets.
As of May 2021, data from the BLS suggests jobs for this position are expected to grow 10% by 2030. The BLS also indicates the average experience for this position is less than five years. The median annual salary for this organizational leadership position was $135,030 as of 2021.
Top C-Level Executive
Chief executive officer, chief financial officer, and chief information officer are C-level executive positions. Depending on its size, an organization may have several top executives or just a CEO.
Because of their authority and responsibility in the organization, these executives often work longer hours and travel more frequently than others in leadership positions. Chief executives are responsible for high-level decision-making, hiring and appointing managerial positions, and identifying areas to cut costs and maximize efficiency.
Contrary to other leadership positions, the number of C-level executive positions is expected to drop by about 6% between 2020 and 2030 due to technological efficiency enhancements and organizational restructurings, according to information gathered by the BLS. Nevertheless, these are sought-after roles, with the median annual salary as of May 2021 reported at $179,520, according to the BLS.
Sales Manager
Graduates with an organizational leadership degree and a sales background are often drawn to sales manager positions. Unlike sales representatives, sales managers don't typically work directly with clients but rather lead a sales team. They recruit and hire new sales representatives and provide them with ongoing training to help increase the organization's income while maintaining good rapport with their team and higher level executives.
Sales managers often travel to meet with larger clients and attend workshops and conferences to optimize selling strategies. As of May 2021, the BLS records sales managers earning between $61,000 and $208,000 annually, depending on the volume of sales and the size of the organization. The median salary for sales managers in 2021 was $127,490.
Top Skills Needed for Organizational Leadership Positions
Despite the range of types of leadership styles, a number of soft skills apply to nearly all organizational leadership positions. These skills include:
Critical thinking: Being able to use data to make informed decisions that affect the organization
Leadership: Being able to evaluate staff and implement strategies and processes that improve staff performance and retainment
Communication: Giving clear and actionable guidelines to employees, accurate reporting to those in higher leadership, and clear and responsive answers to clients
Motivation and flexibility: Motivating staff, especially during change, is crucial for all managers, regardless of their level
Discover Careers as an Organizational Leader
An organization's success relies heavily on the vision, confidence, and follow-through of its leadership. While experience is a must when pursuing a career in leadership, most job ads list an undergraduate degree as a requirement. A bachelor's degree in organizational leadership, like the one offered online by Maryville University, offers training and hands-on experience that help students improve the crucial skills mentioned above.
If you're looking for a career in organizational leadership, along with a salary associated with an organizational leadership degree, explore how an online Bachelor of Arts in Organizational Leadership can help get you there.
Recommended Reading
Why Is Management Important for Remote Companies?
Cross-Cultural Leadership: Leading a Diverse Workforce
Organizational Change Management Guide for Developing Innovators and Leaders
Sources:
U.S. Bureau of Labor Statistics, Top Executives
U.S. Bureau of Labor Statistics, Human Resource Managers
U.S. Bureau of Labor Statistics, Advertising, Promotions, and Marketing Managers
Be Brave
Bring us your ambition and we'll guide you along a personalized path to a quality education that's designed to change your life.