What Can You Do With an Organizational Leadership Degree?
What Can You Do With an Organizational Leadership Degree?
What Can You Do With an Organizational Leadership Degree?
In large businesses, nonprofit organizations, government agencies, and even small upstart endeavors, connecting company goals with employee strengths, talents, skills, and personal goals is gaining traction and increased attention. Companies of all sizes are looking for well-prepared leaders with expertise in organizational leadership who can motivate their teams to meet deadlines, anticipate change and pivot quickly, and solve problems efficiently, while making employees feel valued and giving them opportunities to contribute.
What Is Organizational Leadership?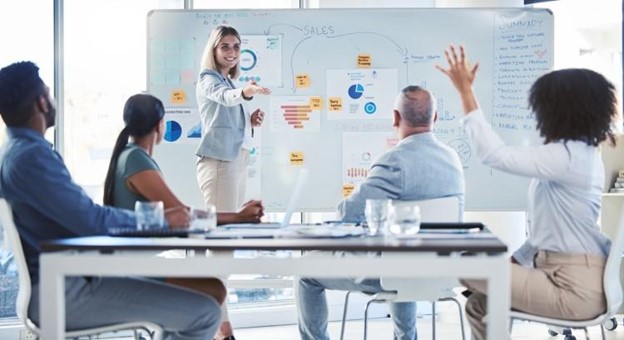 When managers promote an organizational leadership style, they shift their departmental or team focus to a broader view of their company mission and goals. They also calibrate their management approach to have a positive impact on the motivation and efficiency of the workforce they oversee.
What Is the Difference Between Traditional and Organizational Management?
With the advent of the Industrial Revolution, large factories capable of manufacturing products quickly and in large volume replaced cottage-like producers making goods more slowly and in small batches. With this change, newly formed companies encountered different work ethics and styles of their employees and recognized the need to hire managers to oversee and direct workflow.
The goal of the traditional management style was to see that products were manufactured to specifications. Managers were the link between corporate owners and factory floor workers who ensured production goals were met. They assigned tasks as needed, set due dates, and solved problems. Those on the assembly lines were considered only one part of the process, with little regard for their skillset.
Organizational leaders, including an increasing number of women in leadership, take a much different approach to business. While producing goods or services remains the company goal, managers who adopt an organizational leadership style view their team members as individuals with the potential to do more than complete a task.
They still make schedules, set due dates, and solve problems, but they also offer their employees opportunities for personal growth while guiding the team toward the company's strategic goals. Effective managers who practice organizational leadership see the big picture, recognize how change affects production, and face uncertainty with confidence. They accomplish all of this by understanding their team members and depending on them to collaborate and solve problems.
Why is Organizational Leadership Important?
The Industrial Revolution meant that manufacturing became more efficient, cheaper, and faster, and the traditional, goal-and-product-focused leadership styles practiced during the 20th century guided large companies well as they added to their workforces.
The gradual changeover to the organizational leadership model, however, proves to be effective in various ways, from improving employee motivation to achieving corporate goals. By broadening their focus from simple production to a wider mission, managers often discover these benefits:
Motivation
Psychologists have determined that employees desire a sense of purpose and a feeling that their work is meaningful. When managers encourage their employees, stressing the importance of their contributions to not only the product but the company as a whole, productivity and commitment to work increase.
Problem-Solving
Employees often have hidden expertise and wisdom gained from years of experience. In many cases, however, upper management is willing to listen only to the voices and solutions of the most senior or supervisory people, not those in staff, line, or less authoritative positions. Managers who take a more organizational leadership approach create a safe space where all employees are free to speak openly, contribute ideas, and brainstorm solutions.
Ethical Discourse
Listening to employee voices is not the only way managers exhibit a commitment to strong ethical standards. They model inclusion, integrity, honesty, accountability, and respect — and expect the same from every team member. When each of these ethical principles is held and observed, the possibilities for collaboration and cooperation grow.
Mutual and Individual Goals
Organizational leaders are committed to the success of the organization and its employees. By providing opportunities for team members to use their skills, develop new ones, collaborate on projects, solve problems, and realize their own goals, these managers create an environment in which the company reaches its goals and employees find satisfaction in their work as part of a greater good. As effective leaders, they then have time to focus on important issues and look to the future.
What is an Organizational Leadership Degree?
A comprehensive degree in organizational leadership first requires a general education foundation in literacy, the humanities, social sciences, and math and natural sciences courses. Students then prepare for careers in leadership with a collection of interdisciplinary courses, focusing on both workers and leadership theories. Courses in a specific field of study round out the program.
Leadership and Change Management
In these courses, students analyze different theories of leadership —classic and contemporary —and implement their findings to initiate effective change in real-life situations.
Blending Business with Psychology
Students explore how scientific critical thinking practices, ethics, and areas of psychology (such as diversity, identity, conflict, group dynamics, and organizational behavior) are interrelated.
Focused Electives
In selected courses, students get a deeper understanding of research and analysis, business acumen, and human resource management or organizational psychology.
What Skills Are Learned in an Organizational Leadership Degree Program?
A strong degree program will provide students with opportunities to study and practice the skills necessary to become successful organizational leaders. These skills include:
How to use leadership theories to realize personal leadership potential
How to improve organization effectiveness using the theories of group dynamics and organizational behavior
How to apply scientific critical thinking to the social sciences, the study of society and social relationships
How to minimize conflict and facilitate negotiations and how to design and implement effective interventions
What Industries Are Hiring Organizational Leadership Graduates?
A degree in organizational leadership opens up career opportunities in a variety of industries, including:
Government agencies
Manufacturing
Retail
Professional services, marketing firms, and consulting businesses
Finance and insurance companies
Healthcare providers
IT and technology
In each of these industries, companies are looking for forward-thinking individuals in leadership and management.
Top Management Careers: What Can I Do with an Organizational Leadership Degree?
An increasing number of companies are hiring managers who have strong organizational leadership skills. Here are some examples of applicable jobs and their responsibilities:
Logistics Coordinator
In manufacturing businesses, logistics coordinators oversee delivery systems. They seek out and select dependable supply chains. They also maintain company productivity to ensure customer satisfaction. Similar roles that oversee processes and systems include:
Project coordinator
Information systems manager
Human Resources Specialist
Human resources specialists recruit and train new employees. They also organize employee development programs. They are often called on to intervene in disputes between employees or between employees and management and guide conflict resolution. Related jobs that may complement a human resources specialist are:
Staffing coordinator
Training specialist
Recruitment manager
Labor relations specialist
Performance Analyst
Performance analysts study, review, and analyze business systems, production processes, and workflow. They report potential inefficiencies to management and suggest cost-effective changes. A similar analyst position is:
Sales Manager
Sales managers often lead a team of local, national, and international sales representatives. They design strategies to increase sales and participate in marketing meetings to target promising customer bases. They lead, encourage, support, and motivate sales teams and individual representatives.
Community Service Manager
Community service managers work with the local community and its leadership to identify and address specific needs. They develop programs to meet those needs and represent the community, raising funds to accomplish community-minded goals.
Learn to See the Big Picture, and the Small Details
The goal of organizational leadership is to bridge the gap between corporate mission statements and individual skills and talents. It is the ability to see the potential of each employee and how they can contribute to a company's bigger goals. When an entire organization adopts the organizational leadership model, employees are respected and stay engaged, and management teams are confident in their employees' work ethic.
If you are interested in developing the skills to find the best in every employee while accomplishing big things for the business, consider an online Bachelor of Arts in Organizational Leadership from Maryville University. Discover exciting, challenging opportunities to make significant changes in the workplace and your community.
Recommended Readings
Shattering the Glass Ceiling: The Growth of Women in Leadership Positions
Why Is Change Management Important for Remote Companies?
Cross-Cultural Leadership: Leading a Diverse Workforce
Sources:
American Psychological Association, "Rousing Our Motivation"
BetterUp, "What Is Organizational Leadership and Why Is It Important?"
Coach Hub, "Examples of Organizational Leadership in Action"
Forbes, "A New Era Of Leadership"
High 5 Test, "Organizational Leadership: What Is It, Examples and Pros & Cons"
Indeed, "15 Jobs To Pursue With a Bachelor's Degree in Organizational Management"
Indeed, "Learn About Organizational Leadership and Its Components"
Leadership Science Institute, "What is Organizational Leadership, and Why is it Important?"
OpenStax, "3.3 The Industrial Revolution – Principles of Management"
Be Brave
Bring us your ambition and we'll guide you along a personalized path to a quality education that's designed to change your life.