Why Is Change Management Important for Remote Companies?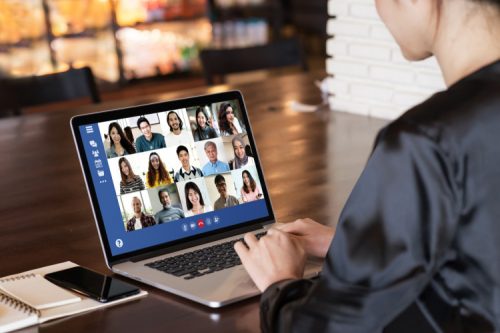 As technology continues to advance and alter the landscape of the workplace, more employers find themselves transitioning to a more remote workforce. The at-home workforce increased by 173% between 2005 and 2018, according to Global Workplace Analytics. With each passing year, that number continues to rise, and the push for remote work during the COVID-19 pandemic is expected to accelerate the trend over the long term.
As workers migrate out of the office and into distance employment, employers must realize that change management is important to the success of the business. Organizations need skilled change managers to help acclimate them to the expectations of stay-at-home workers.
An effective change manager should have the ability to:
Reinforce teams: Incorporate feedback from teams and support them constructively
Understand processes: Know the "how" for each process, as well as why each changes
Communicate with clarity: Pass along information clearly and concisely
In terms of education, an online bachelor's in organizational management can provide the skills and knowledge to start down this promising career path.
What Is Change Management?
Change management is how businesses coordinate the evolution of essential business processes, organizational structures, and company values and communicate those changes to the workforce. Organizational change can range from a CEO transition or department reorganization to the adoption of a new technology system or human resources policy.
Change managers explain these changes — and work to help employees navigate the transitions — through correspondence, training sessions, and other employee education and mentoring efforts.
Change management positions are often related to a company's human resources department — or information technology department in the case of digital transformations — but they are becoming increasingly widespread through many industries and disciplines. Company executives and department leaders are also regularly responsible for managing organizational change.
Change Management and Telecommuting
According to Forbes, approximately 50% of the active U.S. workforce consists of millennials, and with them they bring wide-spanning changes. Almost 90% of those millennials don't foresee staying in any one position for more than three years — forcing businesses to constantly renew human resources strategies — with many millennial employees expecting more of their work to be done remotely.
With telecommuting at an all-time high and expected to rise, businesses will increasingly realize the importance of change management and the need for effective change managers to assist in the workforce transition or risk falling behind.
How to Effectively Manage a Remote Workforce
"Change" as it's perceived in the workplace is not the same as it was even 10 years ago. Now, change comes quickly and impacts more areas, including technology, business practices, and company culture as a whole. As remote workers steadily grow to become the majority of the workforce, the companies that embrace this digital-enabled change will come out on top. Some essential strategies that companies can use to manage remote employees during change —including the shift to remote work — include the following:
Communicate
When managing a remote workforce, communication is essential. Distance employees need to understand expected work hours; track and keep to deadlines; and stay in the loop with important messages, which might involve learning new software. Online training needs to be engaging and quick to the point, with support available to whoever needs it. Businesses can anticipate this with online tools to improve group collaboration. Change managers can also host team-building events so employees can learn together.
Adapt
Not every employee takes to remote working as easily as some others, especially if they have a long history of working mostly on site. A change manager should expect this and remain positive when helping employees adjust to new work processes. A good place to start is to ensure the workers who struggle with the adjustment have appropriate expectations and know it's OK to ease into new routines while they're learning.
Benefits of Working with a Remote Team
Remote work has a number of benefits for both businesses and employees. Companies save on the burdensome overhead costs of renting office space. Inclusivity can also be improved, as applicants aren't limited to those who can afford to live in a specific region.
Employees often cite the freedom of remote teams. Remote work is flexible. Unlike traditional job settings, no individual is anchored to one workplace. Work is wherever the computer goes, and with that comes a significant sense of liberty. Remote workers also report better work-life balance and higher job satisfaction.
There are environmental effects as well. With one-quarter of employees reporting that they expect to work remotely at least half the time in 2021, the website FlexJobs predicts the environmental impact to be the equivalent of taking 6 million cars off the road.
Outlook and Salary in Change Management
The need for professionals with change management skills is on the rise. Salaries can vary widely depending on experience and the industry they work in.
Job Outlook
According to the U.S. Bureau of Labor Statistics (BLS), which groups change managers with training and development managers, the future of the field is promising. Positions are expected to grow 7% between 2019 and 2029, faster than the labor market as a whole.
One of the growth factors in the field is the societal transition to remote work, as companies adopt new training technologies and work to organize their training and employee networks in the most cost-effective manner possible.
Change Management Salary
Training and development managers earned a median annual salary of $115,640 as of May 2020, according to the BLS. As of March 2021, the compensation website PayScale lists the median change manager salary at approximately $98,000, with some making up to $145,000. Salary levels often depend on factors such as the location of the work. Typically, cities with a higher cost of living pay more compensation.
San Francisco: $135,000
New York: $123,000
Atlanta: $111,000
Charlotte, NC: $115,000
The average change manager should expect to work full time at standard business hours, with occasional demand to work in excess of 40 hours per week.
Embrace the Importance of Change Management
Change managers have the unique opportunity to work with remote companies across the globe. As the world trends toward the freedom to work from anywhere, the demand for managers who can navigate employee transitions and help build successful teams becomes ever more important.
Change management is a challenging career that businesses rely on for real-world productivity. Aspiring change managers should invest in an educational program that provides the skills and knowledge that will make them desirable to organizations in any field.
The online bachelor's in organizational leadership at Maryville University is designed to maximize your proficiency as a leader through courses such as Group Dynamics, Social Conflict and Negotiation, and Multicultural Psychology.
Align your future with this emerging field, and explore the benefits of an education that is designed for your success.
Recommended Reading
The Importance of Change Management
Organizational Change Management Guide for Developing Innovators & Leaders
Virtual Leadership Styles for Remote Businesses
Sources
Devoteam, "Change Management Techniques to Prepare Your Team for Teleworking"
FlexJobs, "The Benefits of Working From Home: Why the Pandemic Isn't the Only Reason to Work Remotely"
FlexJobs, Remote Work Statistics: Navigating the New Normal
Forbes, "Change Is Changing: Coping with the Death of Traditional Change Management"
Global Workplace Analytics, "Telecommuting Statistics"
PayScale, "Average Manager, Change Management Salary"
River Logic, "Change Management: Managing Change in an Ever-Changing World"
Third Stage Consulting Group, "Handling the New Face of Change Management with a Remote Workforce"
Udemy, "Organizational Leadership: Four Tips Every Effective Leader Should Know"
U.S. Bureau of Labor Statistics, "Training and Development Managers"