How to Become a CEO
How to Become a CEO
How to Become a CEO
If you're considering a career path toward the upper echelon of your business or organization, you're in good company. CEOs stand at the top of the corporate ladder and have the opportunity to steer the future of their organizations. While the responsibility of managing an organization's overall operations and resources is great, so are the rewards and benefits. But learning how to become a CEO and gaining the necessary experience to get there takes time and dedication.
When looking to fill the role of CEO, companies require candidates to have a strong educational foundation in business or related areas — like a Bachelor of Arts (BA) in Organizational Leadership or an advanced degree like a Master of Business Administration (MBA.) Becoming a CEO can be a challenging and competitive process, but if you take a focused approach, get a quality education, and accumulate extensive experience, you can position yourself on the inside track to business leadership.
What does a CEO do?
Working at the helm of a business or other organization, a CEO engages in strategic planning, develops knowledge of an industry, manages change, and is ultimately responsible for the success or failure of the institution and its initiatives. Depending on the type of organization or the field of operation, a CEO's activities can look very different from one day to the next. Their daily responsibilities include collaborative meetings with managers and employees, considering large contracts and campaigns, and bargaining with potential vendors and business partners.
A CEO's duties revolve around organizational growth and advancement and the successful fulfillment of the business's mission. In many cases, this also means that the CEO will function as the main liaison between a company's employees and managers and its board of directors. Making decisions that impact future strategies, financial approach, and the overall direction of the organization, a CEO works to interpret and fulfill the wishes of the board.
What does "CEO" stand for?
"CEO" is an acronym for "chief executive officer," which refers to the top management position in a company or an organization. This role stands at the head of a group of executive roles that's often called the C-suite and typically includes such positions as chief financial officer (CFO), chief operations officer (COO), and chief technology officer (CTO), all of whom collaborate with and report to the CEO.
Steps on how to become a CEO
If you'd like to know how to become a CEO, keep in mind that the process rarely has a set path. Companies look for a combination of education and experience when vetting CEOs. Due to the complex nature of such an important role, a board of directors will need to be confident that their candidate has the managerial foundation, vision, and decision-making abilities required to ensure the optimal success of the company.
Step 1: Earn a bachelor's degree
Across industries, the typical first step in how to become a CEO is earning a bachelor's degree. With this broad-based foundation, you can build your organizational and communication abilities, hone your time management skills, and learn to work well as part of a team. In addition, your bachelor's program should address the values-based systems that form the foundation of the effective leadership skills required for success in the role of CEO.
While various undergraduate majors may serve as useful backgrounds for successful executives, many students who already have their eye on top management roles choose business-related programs, such as a degree in organizational leadership, business, finance, or marketing. These focused programs can help individuals build the knowledge and skills required for most business management careers.
Step 2: Build on-the-job experience
Earning a coveted role in an organization doesn't happen overnight. You'll need to prove that you have the ability and extensive experience to lead a company.
On-the-job training is one of the best ways to hone your skills and demonstrate your abilities. This kind of practical training (especially when paired with a leadership-focused educational curriculum) can give you the opportunity to learn from mentors and experience firsthand how different organizations function.
One of the best parts about participating in a program that offers hands-on training is that you'll have the opportunity to make valuable connections. Passionate graduates who invest their time and future with an organization are often rewarded as companies look to promote from within.
Step 3: Earn a master's degree
Pursuing an advanced degree can prepare you for the nuanced details and challenges of leading a corporation. It also could demonstrate to prospective employers that you're serious about a future in business. These degrees might not be a requirement for some CEO roles, but they can also serve to impress those responsible for making hiring decisions.
The pathway to becoming a CEO can look different from one successful CEO to the next. So, whether you're looking to join the growing ranks of powerful female CEOs or you dream of leading your favorite company, you'll probably want to consider earning an advanced degree such as an MBA.
With many optional concentrations and degree formats available, choosing the right MBA program is crucial. By exploring options ranging from project management or human resources to marketing or accounting, you  can weigh which specialty will be most relevant to your  goals as you work toward building the key skills of a CEO.
Step 4: Earn professional certificates (optional)
The complexity of the day-to-day operations and regulations can vary broadly between industries, with some organizations requiring their leadership to have extensive knowledge of specific standards, technology, or legal guidelines.
For some of these industries, whether in areas like healthcare, law, finance, or international business, candidates with additional or specific professional certificates can have an advantage. When researching how to become a CEO, you'll want to make sure that you gain the skills you need to demonstrate a diverse set of qualifications that organizations value.
The skills of a CEO
Becoming a successful and inspiring leader involves more than an education. There is a multitude of skills for a CEO essential to successful leadership. The foundations for many of these skills can be learned through the educational and experiential steps outlined above, but you'll likely need to hone and develop them throughout your professional career.
As an aspiring CEO, you'll want to make sure that you develop hard and soft skills like: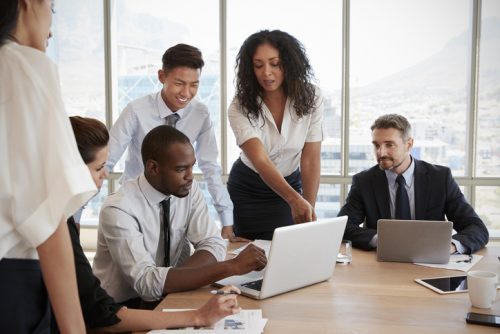 Leadership
Time management
Detail orientation
Communication
Decision-making
Problem-solving
Preplanning and delegation
Choosing to pursue professional certificates in fields that enhance your skill set in these areas will signal to potential employers that you're dedicated to your field and adept at learning new skills.
What types of industries can CEOs work in?
The skills and expertise of a CEO are needed across industries — not just business. Organizations operating in fields like finance, healthcare, technology, management, hospitality, construction, nonprofits, and more all need top-level executives to steer their growth and take responsibility for the results.
What positions report to a CEO?
CEOs function as the heads of their organizations. Working in tandem with or by answering to a board of directors, they sit at the top of the corporate ladder.
Below them are often other executive-level positions, such as the CFO or COO, as well as other levels of management or supervisory roles. The number of people who report to the CEO depends on the size of the company, ranging from small startups with a handful of employees to multinational corporations with tens of thousands of employees.
Is a degree required to become a CEO?
It's rare in modern business for an individual to become a CEO without higher education. For example, entrepreneurs might succeed in the CEO role without earning a degree. However, earning a degree (often an advanced one) is typically considered essential in climbing the corporate ladder.
CEO salary and job outlook
Companies of all levels and across industries turn to the expertise of a CEO to manage their futures. Depending on the size and value of an organization, CEO salaries vary widely, with factors such as level of education, experience, industry, annual goals, and market share playing a role in the salaries and job outlook.
For many executives or aspiring executives, a draw of becoming a CEO is the often lucrative and desirable compensation, which may include salary, bonuses, shares of stock, and other benefits. According to the U.S. Bureau of Labor Statistics (BLS), chief executives earned a median salary of $179,520 as of May 2021, making these positions among the highest-paid occupations.
Because CEO compensation in the business world is frequently tied to company growth, profits, and shareholder returns, some corporate leaders earn much more than the base salary reported by the BLS, and their total compensation can reach seven figures or more.
While it's true that becoming a CEO is competitive, with only a single executive holding down the top spot at a given business, the BLS also reported that "top executives" more broadly earned a median salary of $98,980 as of May 2021. The BLS projects a 6% increase in employment for top executives between 2021 and 2031.
Start your journey to becoming a CEO today
The lengthy process that defines how to become a CEO often requires formal education and years of on-the-job experience. However, for those who choose this educational and professional path and develop the skills to lead organizations effectively, the reward is a career that grants them the satisfaction of leading others and the ability to make a measurable impact on the world.
Learn more about how Maryville University's online BA in Organizational Leadership program can provide you with the critical first steps toward this exciting and lucrative career.
Recommended Readings
Cross-Cultural Leadership: Leading a Diverse Workforce
Organizational Change Management Guide for Developing Innovators & Leaders
Sources:
Indeed, "CEO (Chief Executive Officer) Job Description: Top Duties and Requirements"
Indeed, "How to Become a CEO (With Steps, Salary, and Skills)"
Investopedia, "Chief Executive Officer (CEO): What They Do vs. Other Chief Roles"
Investopedia, "How to Become a CEO"
The Balance Career, "Chief Executive Officer (CEO) Job Description"
U.S Bureau of Labor Statistics, "Chief Executives"
Be Brave
Bring us your ambition and we'll guide you along a personalized path to a quality education that's designed to change your life.