Personnel Management vs. Human Resource Management
Personnel Management vs. Human Resource Management
Personnel Management vs. Human Resource Management
Upward of 48 million Americans applied for unemployment benefits as of July 2020 due to COVID-19, Harvard Business Review reports. However, even before the pandemic transformed how and where many people work, human resource and personnel management roles had already changed.
Distinguishing personnel management from human resource management is key for individuals seeking to advance in a career that helps employees thrive and employers meet their business goals. This is especially true in an age of disruption — due to digitization, the gig economy, and, most recently, COVID-19.
These trends are driving the evolution of personnel management and human resource management. The two vital business roles are in some ways interchangeable, especially when it comes to hiring, employee management and orientation, compensation, and benefits administration areas. However, a comparison of personnel management vs. human resource management reveals noteworthy differences.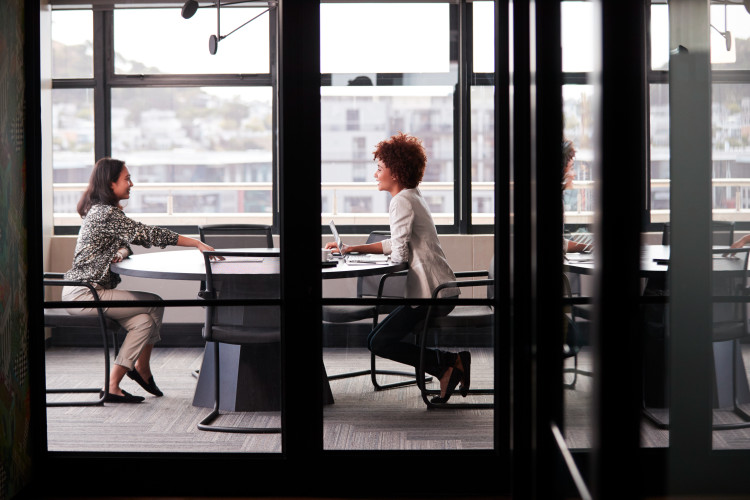 Personnel management is the operational arm of human resources. Key administrative responsibilities include:
Recruiting
Maintaining new and current employee files
Determining compensation
Administering benefits
Training and development
Employee orientation
Personnel managers also devise and enforce rules, policies, and procedures. For example, in workplace conflicts, including harassment, personnel managers address the issue.
In addition, they create employee guidelines and align employer hiring practices with employment regulations and laws.
They also play a pivotal role in helping business leaders improve employee productivity by setting performance standards — this includes conducting performance reviews.
What Is Human Resource Management?
Human resource management takes a strategic approach to the relationship between employees and their companies and managers. For example, human resource managers typically have a direct line to a company's executives. They work shoulder to shoulder with decision-makers across different functions — for example, marketing, finance, and sales — to make sure a company's hiring and employee goals dovetail with its business objectives.
Successful human resource management can improve employee satisfaction while supporting company efforts to reach business goals. Human resource managers strive to reach this dual objective by sparking employee excitement about the company's mission in ways that can boost productivity.
Human resource managers aim for a workplace environment that motivates employees to excel, promotes diversity and collaboration, and builds healthy business relationships. They also encourage employees to improve their skills through training.
Aspects of Each Role: Personnel Management vs. Human Resource Management
In comparing personnel management vs. human resource management, one clear similarity is that both roles focus on finding and retaining the best talent. Employees are the most vital asset of an organization; their efforts can improve a company's success. On the other hand, dissatisfaction can negatively affect how employees do their jobs.
The way employees do their jobs matters. According to Gallup, 54% of employees are "not engaged." This means they are emotionally detached from their jobs and employers, resulting in less enthusiasm and effort on their parts. Employees who aren't engaged with their jobs will likely consider resigning. For this reason, personnel management and human resource management play a critical role in keeping employees engaged.
Other key tasks shared by personnel managers and human resource managers include:
Launching employee workshops and training
Creating opportunities to foster teamwork
Recruiting and onboarding
Personnel managers and human resource managers may approach their efforts in different ways. For example, human resource managers may develop employee training strategies that respond to business trends, such as digitization or artificial intelligence. The aim is to upskill employees so they can help their companies succeed.
Personnel managers, on the other hand, may also develop as well as strategize training programs. However, personnel managers focus on educating employees about essential matters such as applying for benefits, achieving work-life balance, and mental health services.
Professionals serving in either role can help organizations align with the following employment trends.
Digital Transformation and Globalization
According to Gartner, a business research company, 88% of top HR leaders felt an urgency to invest in various HR technologies, thanks to automation and technology trends. According to a Forbes article, the shift toward a gig economy has 36% of adults in the U.S. working as independent contractors or freelancers full or part time. Digital transformation and globalization drives these trends.
Personnel management and human resource management can work together by embracing technology platforms such as Yammer or Jabber. These communication tools provide an easy-to-access forum for addressing employment-related issues, promoting collaboration, and monitoring employee satisfaction through data analytics. They help spur productivity and improve retention.
Moreover, as the gig economy grows, personnel management and human resource management professionals prepare for changes in the marketplace, including the call to supply contractors and freelancers with traditional benefits like health insurance and worker's compensation.
Workplace Diversity and Inclusion
Despite increased efforts, many companies currently fall short of providing equal opportunities for underrepresented groups. In fiscal year 2018, the U.S. Equal Employment Opportunity Commission (EEOC) resolved more than 90,000 charges of discrimination in the private sector and in state, local, and federal government workplaces.
Personnel managers and human resource managers alike have made it a business imperative to represent the country's diversity in the workplace. Human resource and personnel management professionals play a central role in communicating this priority to executives and hiring managers.
Climate Change and Social Justice
Confronting societal injustices and the effects of climate change doesn't stop when the workday starts. For many employees, simply doing their jobs isn't enough. They want to know they work for an employer who cares about environmental and social justice issues. According to a Gartner study, 87% of surveyed employees preferred employers who took a public stand on societal issues.
Human resource managers and personnel managers help organizations foster an equitable, sustainable world. Their efforts include organizing employee listening sessions and implementing town hall-style meetings. Offering chances for employees to speak up showcases a company's commitment to issues employees care about. This can end up improving outcomes, satisfaction, and retention.
Personnel Management and Human Resource Management Careers
Amid the trends and changes in today's marketplace, individuals interested in human resource management and personnel management roles can take advantage of growing career opportunities. According to the U.S. Bureau of Labor Statistics, the human resources manager role exceeds the average for all occupations with a 6% projected growth rate in the period from 2019 to 2029.
Similar positions applicable to both personnel management and human resources roles are projected to achieve stable growth. For example, according to the BLS, jobs for both human resources specialists and training and development managers are projected to grow 7% from 2019 to 2029.
Enrolling in a human resource management degree program can arm individuals with key leadership, interpersonal, and business skills to support their career advancement in the following roles.
Chief People Officer
The chief people officer (CPO) position is the highest role in the human resources field. It is an executive suite role that involves strategic leadership in aligning every aspect of human resources, from personnel development to benefits administration, with core business objectives.
Before reaching the CPO role, individuals typically have served in director or vice president roles. Expected skills for chief people officers include organizational development, strategic planning, and leadership competencies. As for compensation, the median annual salary for this role as of October 2020 was around $151,000, according to PayScale.
Employee Relations Manager
Employee relations managers focus on ensuring that the voices of employees are heard and their concerns are addressed. They work as liaisons between managers and employers to address issues and resolve conflicts. Key competencies for this role include communication skills, problem-solving capabilities, negotiation skills, and the ability to foster collaboration. The BLS reported a median annual salary for human resources managers, including employee relations managers, of around $116,720 as of May 2019.
Training and Development Manager
A training/development manager focuses on enhancing employee skills and knowledge through training programs. Responsibilities include overseeing training and development staff, performing needs assessments for employees, developing training programs aligned with business goals, and managing training budgets.
Besides human resources skills, training and development managers need to have teaching and training competencies, as well as exceptional verbal communication skills. According to the BLS, the median annual salary for training and development managers is $113,350 as of May 2019.
Recruitment Specialist
The role of recruitment specialist goes by various names: recruiter, staffing professional, and headhunter. Their responsibilities include advertising available jobs to attract and select applicants. They also guide applicants through screening processes and conduct interviews.
Ideal candidates for this role are detail-oriented with strong communication, interpersonal, and decision-making skills. As of May 2019, the BLS reports the median annual salary for human resources specialists, including recruitment specialists, is $61,920.
Enhance Your Organization's Business Success
Distinguishing personnel management from human resource management is vital for organizations wanting to hire and keep the best talent. Individuals in human resources and related fields play a key role in empowering employees to perform their best work and support business objectives.
To succeed in the field, professionals need to know how to recruit and retain the best employees, foster collaboration, resolve conflicts, and set business goals. Maryville University's online Bachelor of Science in Human Resource Management program can help you gain the knowledge and skills to make a substantial impact on the success of talent, an employer's most valuable asset.
For example, Maryville's online Bachelor of Science in Human Resource Management prepares graduates with a deep understanding of leadership, interpersonal relationships, and business practices. Courses cover recruitment and talent management, employment law, labor relations and negotiations, human capital management systems and technology, and managing a diverse workforce.
A degree in human resource management can help individuals pursue their professional goals in personnel management and human resource management. Explore how you can prepare to advance your career by enrolling in Maryville's online Bachelor of Science in Human Resource Management program.
Recommended Reading
Human Resource Management Careers: Essential Roles in Business
The Importance of Human Resource Management in the Modern Workplace
Sources
AIHR Digital, "7 Human Resource Management Basics Every HR Professional Should Know"
The Balance Careers, "What Is Personnel Management?"
Forbes, "6 Trends That Will Shape the Gig Economy in the 2020s"
Forbes, "13 Human Resources Trends Expected in H2 2020"
Forbes, "Seven Human Resources Competencies That Drive Company Success"
Gallup, "Historic Drop in Employee Engagement Follows Record Rise"
Gartner, HR's Role in Leading Digitalization
Harvard Business Review, "Gig Workers Are Here to Stay. It's Time to Give Them Benefits."
Houston Chronicle, "Personnel vs. Human Resources"
Inc., "Human Resource Management"
PayScale, Average Chief People Officer Salary
PayScale, Average Employee Relations Manager Salary
People Managing People, "Human Resources Job Titles: Ultimate Guide to HR Career Ladder"
Smarter With Gartner, "Corporate Advocacy of Social Issues Can Drive Employee Engagement"
U.S. Bureau of Labor Statistics, Human Resources Managers
U.S. Bureau of Labor Statistics, Human Resources Specialists
U.S. Bureau of Labor Statistics, Training and Development Managers
U.S. Equal Employment Opportunity Commission, EEOC Releases Fiscal Year 2018 Enforcement and Litigation Data
Be Brave
Bring us your ambition and we'll guide you along a personalized path to a quality education that's designed to change your life.